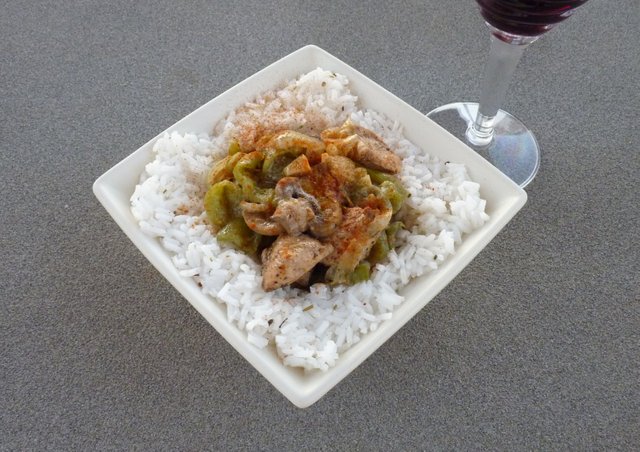 I do love a stroganoff but I don't often have cream in the fridge when the desire takes me, so I compromise with another ingredient. For me, it doesn't sacrifice the taste; it may be less creamy but still a delicious variation of this Russian dish and probably with less calories.
Ingredients:
2 tbsp of ground peppercorns
1 tsp of ground paprika (I use "pimenton picante" chilli pepper powder)
400 g of meat (for this meal, I used turkey)
50 g of butter
loads of extra virgin olive oil (or oil of your choosing)
1 large onion sliced
3 garlic cloves finely chopped

150 g chopped mushrooms
250 g chopped peppers

200 ml of unsweetened soy milk (or other type of milk available)
4 tbsp or more of brandy
rice
dried rosemary
Method:
1 Place the ground peppercorns and paprika on a plate.

2 Mix together and add meat. Coat the meat evenly with mixture. Add more if desired. Set aside.

3 In a large frying pan or wok, heat half of the butter with a little oil. Add the onion and cook for 2-3 minutes until softened. Then add garlic and cook until aromas appear.

4 Remove from wok and place in a pan on a low heat (with oil) to stay warm.
5 Stir fry the mushrooms and peppers.

6 Remove from wok and place in the same pan as onions to keep warm.
7 Heat the remaining butter with some oil and cook the meat as desired. Add enough oil to cover the bottom of the pan. Add brandy and cook for a few minutes.

If you are serving with rice - put the rice on now (based on 15 minute cooking time). TIP: rinse the rice thoroughly in a sieve before you boil it. This eliminates the need to rinse after. For this recipe, I also added some dried rosemary to the rice before cooking.
8 Gradually add the milk to the wok by stirring with a wooden spoon. Do not boil - simmer on a low heat.

9 Add the rest of the ingredients to the wok and simmer until everything is warm.

10 Serve your tasty stroganoff with rosemary rice and a nice glass of wine.

Serving Suggestions:
May be served with pasta too.
Garnish with herbs of your choice or paprika.
All quantities may be adjusted to suit personal tastes.
This recipe will make about 4 portions.
I hope you enjoy this alternative stroganoff. I did on Saturday night!