Hello dear steemit friends,
We all know the famous slogan advocated by all dieticians and doctors encouraging to eat "5 fruits and vegetables a day". Yet awareness of the true benefits of vegetables is far from being universally recognized. Why do you have to eat vegetables? What are the benefits of vegetables on our health?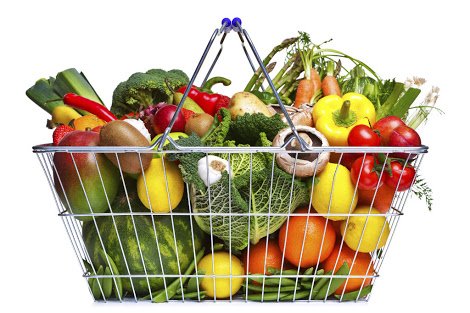 WHY IS IT RECOMMENDED TO EAT VEGETABLES?
1. THEY ALLOW TO DIVERSIFY AND BALANCE THEIR DIET:
Vegetables allow, with happiness and greediness, to diversify and balance our diet . And yes, because no category of food is so rich in varieties, aspects and tastes...
2. A BOMB OF VITAMINS:
The vegetables are an excellent source of vitamins , which, even if they are not used as a source of energy , are essential for the proper conduct of biochemical reactions that occur in the body . Whatever their flavors and colors, they have a great nutritional variety , bringing us a wide range of benefits .
3. THEY IMPROVE THE ACID-BASE BALANCE OF OUR BODY:
In order to maintain the proper functioning of the biochemical reactions that occur in our body , it is necessary to maintain an acid-base balance , that is to say to maintain a pH of our organism at an adequate level .
Consuming vegetables (and fruits) that are alkaline prevents our body from reaching a too acidic load, which, according to many studies, would have a negative impact on the functioning of our body (increased risks of osteoporosis , development of carcinogenic cells).
4. THEY REDUCE THE RISK OF HEART ATTACK AND CANCER:
This is an indisputable fact demonstrated for many years by many medical studies : infarction and cancer are less common in countries where the consumption of vegetables is important. According to other sources, vegetarians who make vegetables and cereals most of their diet are particularly less affected by these diseases.
5. THEY PROMOTE DIGESTION:
Vegetables are an important source of fiber . These help, among other things, prevent constipation and reduce the risk of developing intestinal diseases or colon cancer .
6. THEY MAKE THE SKIN MORE BEAUTIFUL:
Vegetables are an important source of carotenoids, among them beta-carotene, known for its antioxidant properties that neutralize free radicals , substances that damage the cells of the body and are responsible for the premature aging of our cells . Beta-carotene is known to make the skin more beautiful and slow the aging of the skin of people who consume it.
7. THEY HYDRATE OUR BODY
Water is not the only way to hydrate! Indeed, some vegetables are also composed mainly of water and are an excellent way to provide our body with the amount of water it needs (such as cucumber).
8. BENEFICIAL FOR BONE HEALTH:
Other studies have shown that regular consumption of vegetables (and fruit) can also be beneficial for bone density and thus in the prevention of osteoporosis . This is thanks to their contribution of potassium and magnesium because the union of these two minerals reinforces the action of calcium.
9. THEY PREVENT THE BREAKDOWN OF MUSCLE TISSUE:
The beneficial impact of fruits and vegetables on health is obvious, but that on physical performance is much less. And yes, it may seem surprising, but vegetables, consumed in large quantities, have the ability to reduce the activity of enzymes that break down muscle proteins . In other words, they reduce the catabolism of the body (= the degradation of muscle tissue), particularly feared by the elderly or athletes.
10. TRUE SLIMMING ALLIES:
Vegetables have the advantage of providing very few calories . Everyone, even those who diet, can consume without limit and without scruple.
If you like my post please do upvote, resteem with friends and write down a comment. And don't forget to FOLLOW me for more interesting posts.
With regards,
@realsteemian