Croquetas de arroz con crema de queso-tocineta, gratinadas con queso y mortadela (Croquettes Rice with cream cheese-bacon, au gratin with cheese and mortadella)
Buen dia estimada comunidad, en este dia les dedici este sencillo desayuno para que se sientan reyes de su casa, es muy sencilla su preparacion. Espero que les guste mucho.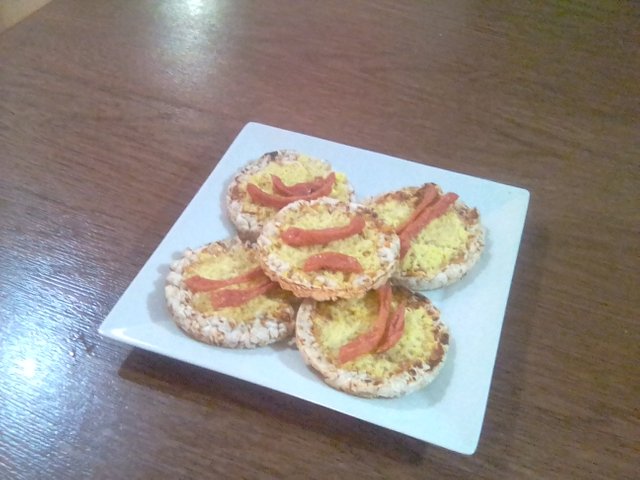 Ingredientes:
Croquetas de arroz
Crema de queso-tocineta
Queso blanco
Mortadela de pollo
Para empezar la preparacion la de estas ricas croquetas, se debe freir la mortadela, mezclar o untar la crema de queso y tocineta a la croqueta, luego se le agrega el queso blanco o queso de su preferencia, despuea pasan al horno por 10 minutos para que el queso se gratine, y por ultimo se adorna xon la mortadela de pollo. Es un desayuno muy san, muy rico y a la vez muy sencillo de preparar, espero que lo realicen y les guste.
Good day estimated community, in this day them dedici this simple breakfast to feel Kings of your home, is very simple its preparation. I hope they like a lot.
ingredients:
croquettes Rice
cream cheese-bacon
Jack cheese
mortadella chicken
To start the preparation that of these rich croquettes, should be Fry the mortadella, mix or spread cream cheese and bacon to croquettes, then added the Jack cheese or cheese your preference, despuea pass to the oven for 10-minute for the cheese gratine, and finally is decorated xon the mortadella chicken. is a breakfast very San, rich and at a time very simple prepare, I hope it made and I like it.
I'm @rcupido, I hope you like it, vote for me and follow me