Eggless Plum Cake
Basically, plum cake is made with chopped candid fruits and/or dried fruits, eggs, nuts and spices soaked in alcohol (optional). In this we will replace eggs with applesauce.
Hope you people like this recipe :)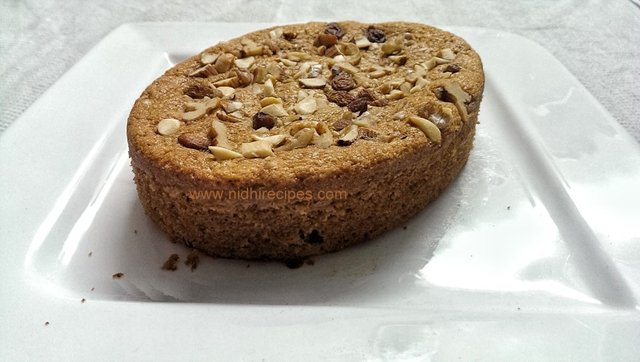 Ingredients
All-purpose flour (maida) – 1 ½ cups
Amul Butter – ¾ cup
Baking soda – ½ tsp
Demerara sugar – ½ cup
Granulated sugar – ½ cup
Applesauce – 1 cup
Vanilla essence – 1 tsp
Orange/Lemon zest – 2 tsp finely grated
Cream – ½ cup
Cloves – 4-5 (powdered)
Cinnamon Powder – ¼ tsp
Cardamom Powder – ¼ tsp
Plums – 2(chopped)
Dry Fruits – ½ cup (raisins, cashews, walnuts, almonds)
Method
Preheat oven to 160°C. Grease and dust the baking dish.
In a large bowl, sieve together maida and baking soda.
Beat butter, brown sugar and granulated sugar until light and fluffy.
Beat in applesauce, until blended.
Add vanilla essence, cloves powder, cinnamon powder, cardamom powder and lemon zest.
Beat in half of the flour mixture and cream. Add remaining flour mixture, mix just until combined evenly.
Pour batter in the dusted pan and smooth the surface with a spatula.
In a bowl, toss plums and dry fruits with 2 tbsp maida and sprinkle them over batter.
Bake until cake is golden, it takes about 25-30 minutes or bake until cake pulls away from side of pan and a toothpick inserted in center comes out clean. Let cake rest on wire rack for 10-15 minutes.
Eggless Plum cake is ready to eat.