Quick and easy Cooked Beans and Tuna Salad 🥗
Hello there!
How are you steemit people? How do you do? What have you been eating lately?
If you're 'no more ideas' on what to eat, then maybe this recipe of tuna salad can help you. This recipe is that type of meal that you make in a hurry but the result is just Perfect -->
Healthy | Fresh | Nutritious | Delicious

These are the INGREDIENTS:
Cooked Beans in tomato sauce
Olive oil for dressing, Salt and Pepper
The instructions are basic. In case you don't use beans that come in a can, you need to precook the beans. The same goes with the crutouns. Cut small peaces of bread, mix them with 1 Tbsp of Olive Oil and Spices like Oregano, Basil, Thyme, Rosemary and bake them for 15 min. In the end, combine all ingredients and done.
Enjoy!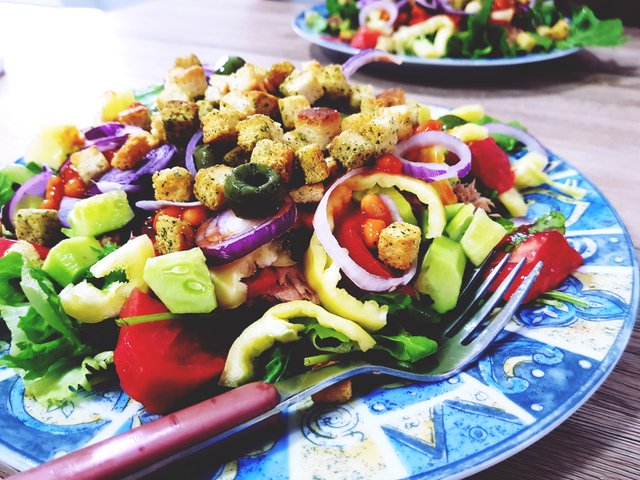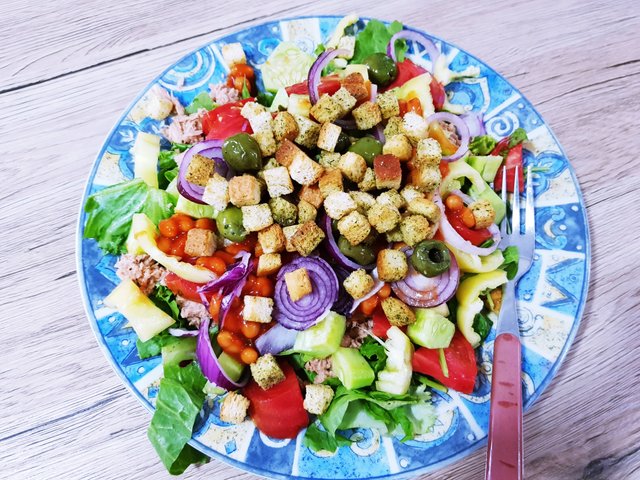 ALL CONTENT IS MINE AND ORIGINAL! ALL THESE PHOTOS WERE TAKEN WITH MY SAMSUNG S8.
If you like my work, comment, upvote and resteem!  Or if you want to stay in touch with me for more delicious healthy recipes and articles on health, HIT the Follow button on my blog! 
Wish you a wonderful day!
Love,
Miss Deli ❤️