Have you ever eaten unagi kabayaki at a Japanese restaurant, for example at Sushi Tei, Sushi Groove, Shin Men, Midori ?, the menu consists of delicious unagi kabayaki (roast eel) eaten with rice, plus miso soup, and cold ocha (green tea ) which was very delicious.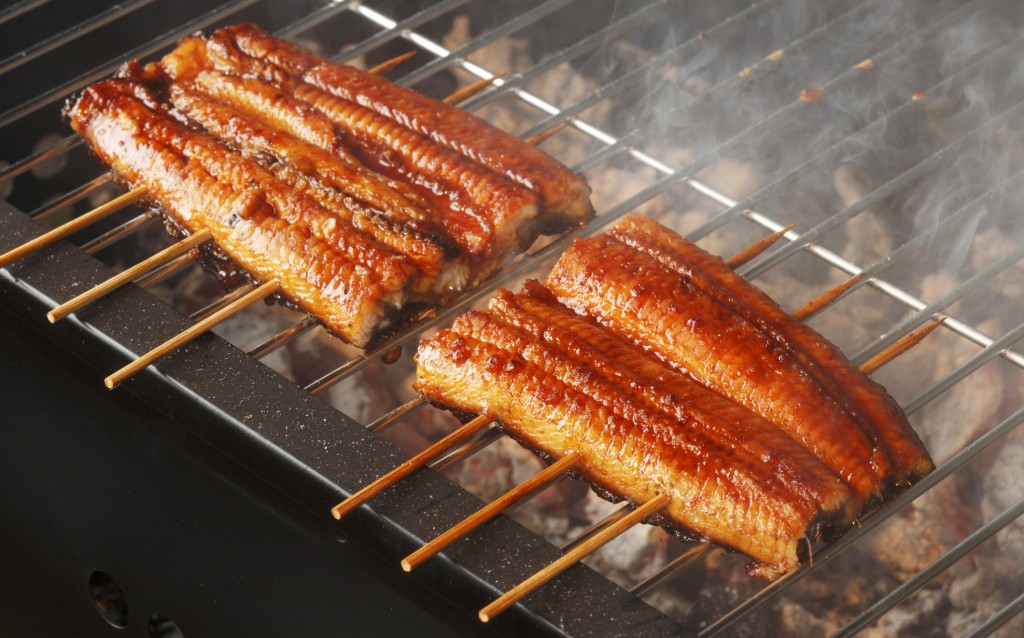 Unagi Kabayaki, Image Credit :   https://alchetron.com
Unagi kabayaki is a eel dish served by splitting eel into two parts and making the eel more flattened by pounding and cut long.
Kabayaki comes from the word kaba or gama, the Japanese name for aquatic plants called stock (Typha latifolia), and yaki. The female flower Typha latifolia shaped like a golden brown like a unagi pierced throughout the body and burned.
Types of fish commonly made kabayaki, for example eel (Japan name: unagi), Conger myriaster (anago), sauri pacific (sanma), and sardine (iwashi). However, the most commonly made kabayaki fish are the Japanese eel and Conger myriaster. If only called kabayaki, then most likely the intended is unagi kabayaki. Sauri pacific and sardines are cooked kabayaki way more often sold as canned food.
In the process of making unagi kabayaki, eel fish in the fillet, without head and bone. Then baked with original sauce, until fragrant and soft, then packed in vacuum packaging, and frozen in a cooling machine (durability in freezing conditions can be frozen).
How to present unagi kabayaki is very simple, frozen eel fish in vacuum packaging soaked in warm water (water do not get into the packaging), until soft, opened the packaging and put it said microwave then put into the microwave for 2 minutes. If using an oven remove the cabbage unagi (wrap it with aluminum foil, then feed into the oven, serve with kabayaki sauce, also with teriyaki sauce, and soup miso, eaten with rice.
Regards......!!!

Reference :
https://id.wikipedia.org/wiki/Kabayaki