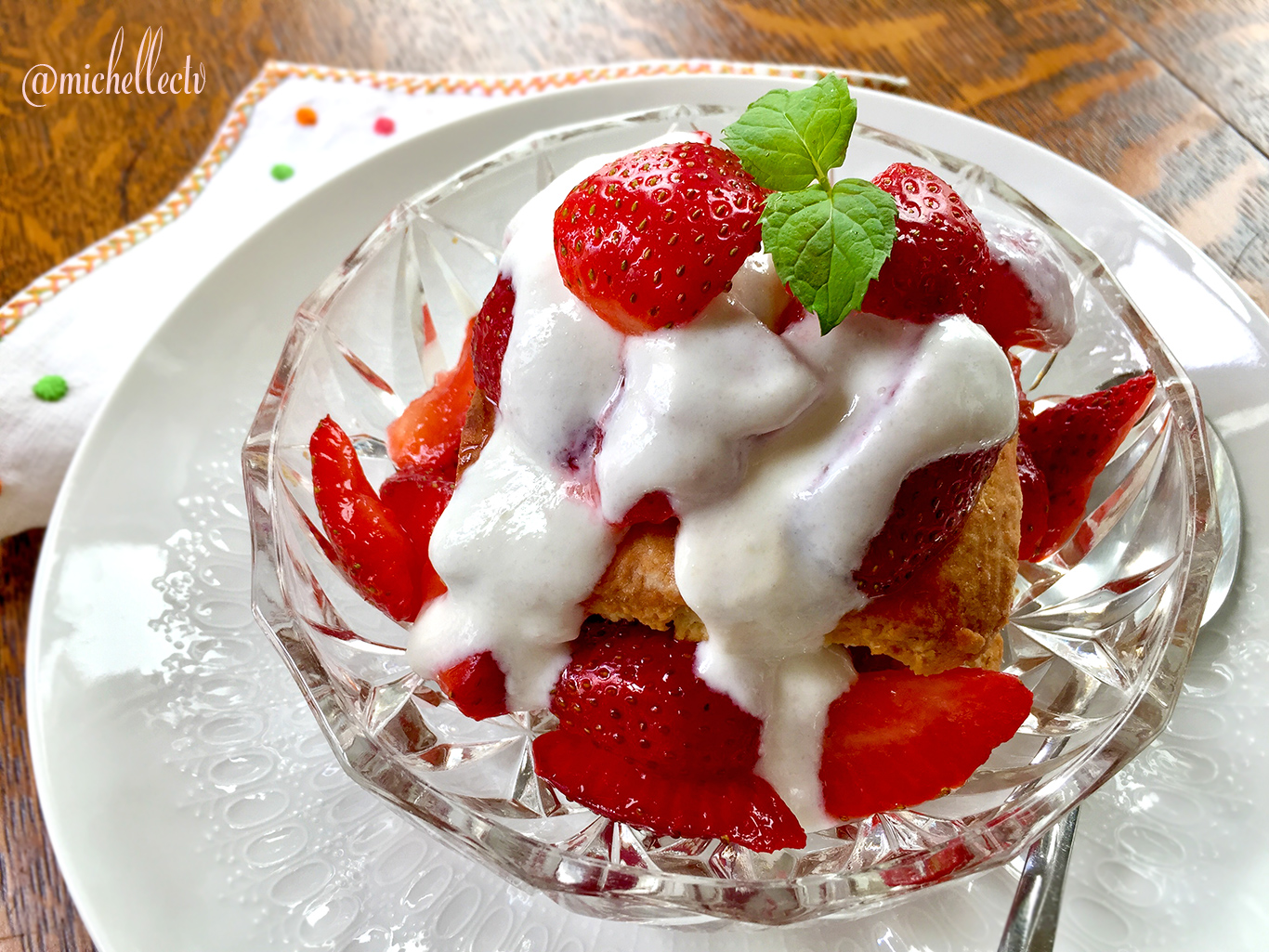 🍓🍰🍓🍰🍓🍰🍓🍰🍓🍰🍓🍰🍓🍰🍓🍰>
Ahhh
,
Strawberry Shortcakes
, how
berry
nice to meet you! Do ya taste as sweet as ya look? Oh, goody gumdrops, I bet ya do! Lemme take a lil' nibble and find out... (nom nom nom)......
Salutations Steemit Friends!
To me, summer just wouldn't be complete without a quintessential summertime dessert like simply scrumptious Strawberry Shortcakes.
This simple combination of macerated strawberries and European shortbread biscuits topped with whipped cream has become synonymous with a true taste of Americana.
Today, I'll share with you my adaptation of this classic shortcake recipe. I've added a lemony zest to the dough, and my sweet 'n tangy twist to the cream topping.
I hope you won't be able to resist this refreshingly sweet treat! 😉
Strawberry Shortcake Biscuits with Greek Yogurt Cream Recipe 🍓🍰
Ingredients
For the Strawberries:

4 pints fresh strawberries, hulled and quartered
1/2 cup white sugar
1 tbsp fresh lemon juice

For the Shortcake Biscuits:

2 cups of all-purpose flour
1 tbsp baking powder
1 tsp fine salt
1/4 cup white sugar, plus more for topping*
1/4 cup heavy cream, plus more for brushing
1/2 cup whole milk
4 tbsp butter, melted, and lightly toasted to a golden-brown
1 tsp vanilla extract
1/4 tsp almond extract
1 tsp lemon zest, grated
*or Turbinado sugar for topping

Makes: 8 servings | Prep Time: 15 minutes | Bake Time: 15 - 20 minutes | Ready In: 2 hours 15 minutes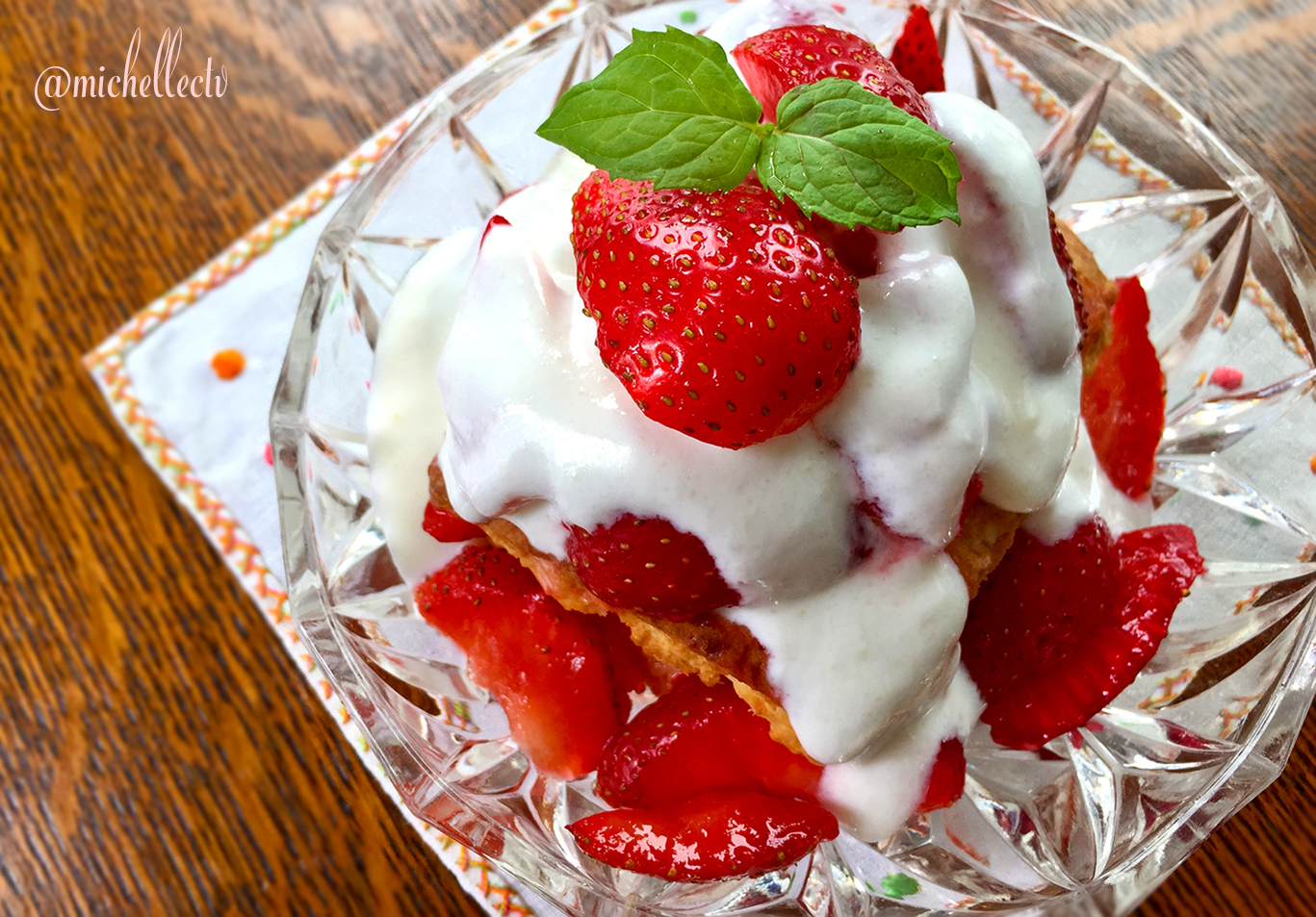 Directions
For the Strawberries:
In a large mixing bowl, sprinkle sliced strawberries with sugar and 1 tbsp of fresh lemon juice. Stir until sugar begins to dissolve.

Next, cover and refrigerate the strawberry mix for at least an hour (or until the juice of the berries is extracted).
That was easy-peasy! Next, let's make and bake our shortcakes...
For the Shortcake Biscuits:
Preheat the oven to 425 °F (220 °C).

Line a baking sheet with parchment paper.

In small saucepan, melt butter over medium. Stir continually, allowing the foam to dissipate, just until the butter begins to brown (2-3 minutes). Then remove from heat.

In a mixing bowl, whisk together the flour, baking powder, baking soda, 1/3 cup white sugar and salt.

Add milk, 1/4 cup cream, toasted butter, extracts and lemon zest. Mix just until ingredients come together.

Transfer dough to a lightly floured surface and press or roll dough into a rectangle about 1" thick. Score and cut in half lengthwise, then cut each half into 3 portions. Next, place shortcake portions on prepared baking sheet. Brush the tops with cream and sprinkle with Turbinado sugar.

Bake in the preheated oven until golden brown - 15 to 20 minutes. Once baked, allow biscuits to cool, then split each biscuit in half.
That was a cakewalk! We just need the yogurt cream topping...
Now, having made homemade strawberry shortcakes, I think it's fair to say it would be an egregious mistake to top them with whipped cream from a can (however tempting)!
I had an awful lot of plain Greek yogurt in the fridge to experiment with, along with the homemade heavy cream substitute I made for the biscuits. I should disclose that my heavy cream substitution may have resulted in something closer to buttermilk.
After experimenting with those ingredients (with a few added drops of vanilla extract), the result was something like a thinner, vanilla Greek yogurt crème fraîche (or rather, that's what I'm calling it).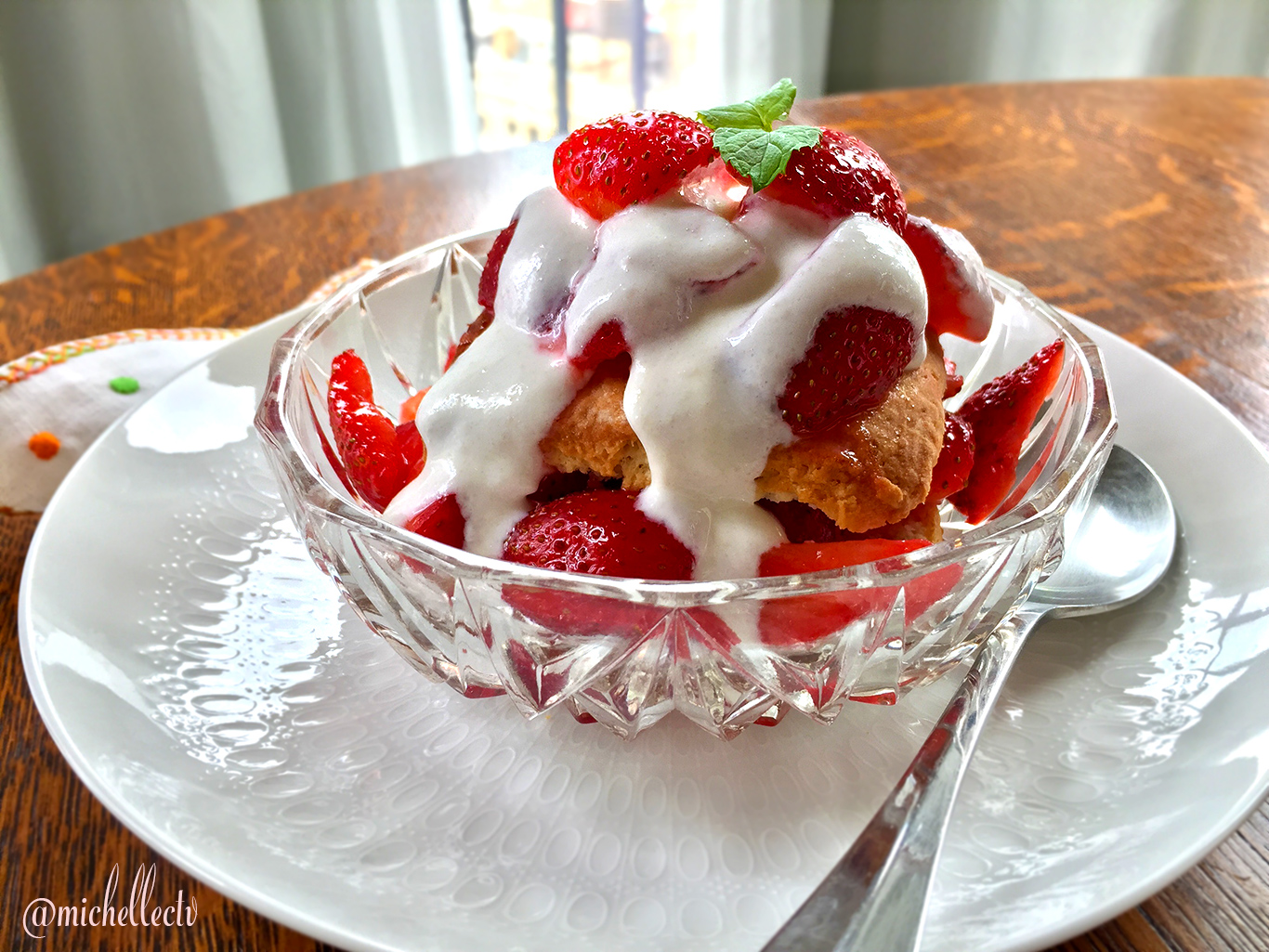 I was starving and too impatient to tweak the topping ... ssoooo, I decided it was ready to serve as is. You know what?! To me, it was divine! The topping had a sweet 'n tangy taste, and it's thinner consistency soaked into the biscuits well too (without making 'em mushy).
This made for a lovely Sunday evening dessert for four with room for a second helping. I'm happy to report that all four bowls were licked clean. I think it's safe to say that they were a big hit!
Next time, I might try cottage cheese with these... what d'ya think?
Thanks for commenting, upvoting and resteeming this post! I hope my post will inspire you to make and create or treat yourself to something sweet. Until next time...
Bon Appétit!
Michelle
xx
---
P.S. If you enjoyed this post (and I hope you did!) FOLLOW @michellectv for more Fun, Food, Drinks, Beauty, Travel & Style! ❤
---
In case you missed these posts...
GOT A LOTTA LEFTOVERS? MAKE A QUICK FRITTATA! 🍳 (PHOTOS + TUTORIAL)
Link: https://steemit.com/food/@michellectv/got-a-lotta-leftovers-make-a-quick-frittata-photos-tutorial
PINEAPPLE PARSLEY GREEN JUICE 🍍 (PHOTOS + RECIPE)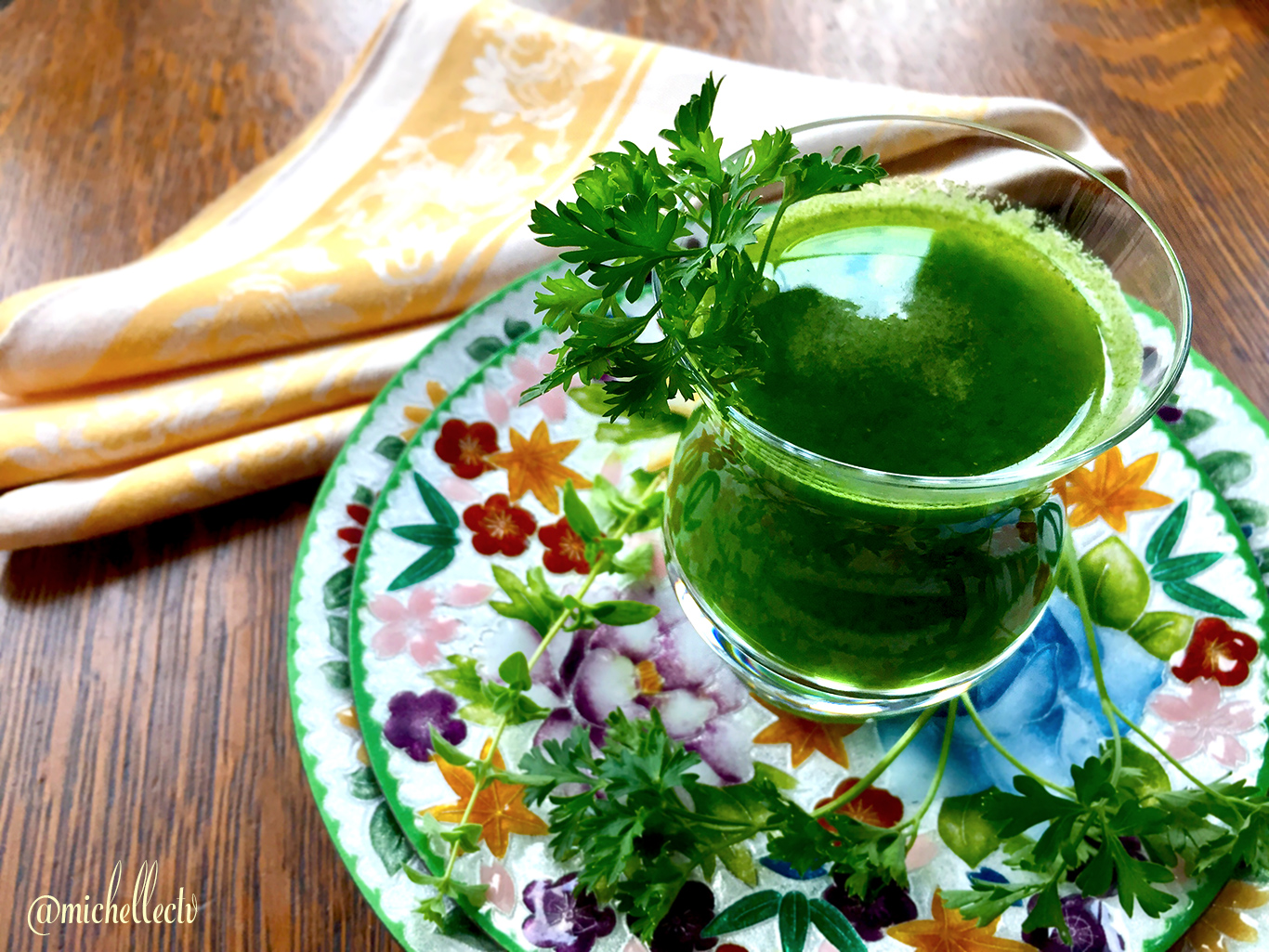 Link: https://steemit.com/food/@michellectv/pineapple-parsley-green-juice-photos-recipe