Since I was a child always I really love this dish and I wanna share with you how make this.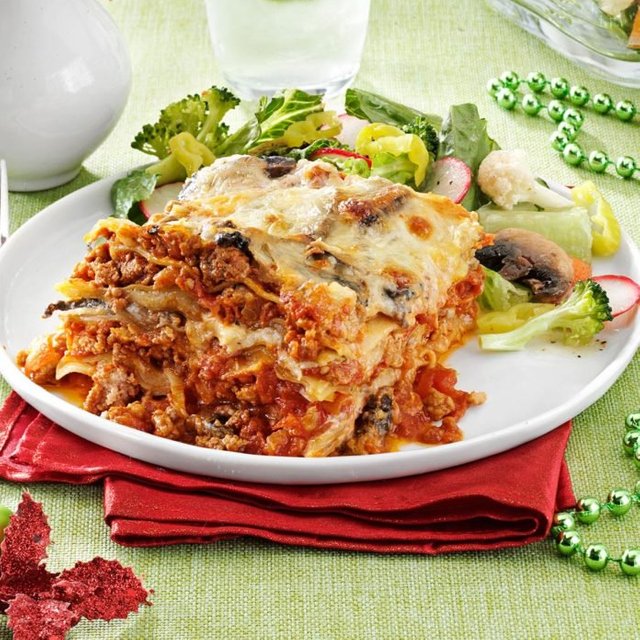 To prepare it you need the next ingredents:
1 Pround ground beef
1 Prond ground pork
1 Large onion, finely chopped
1 Celery rib, finely chopped
1 Small carrot, shredded
3 Tablespoons olie oil
4 Garlic cloves, minced
2 Cans (28 ounces each) whole tomatoes with bassil, undrained
1 Can (29 ounces) tomato pure
1 Bay leaf
1 Teaspoon salt
Mushroom sauce:
2-1/4 Cups sliced baby portobello mushrooms
1/3 Cup butter, cubed
1 Tablespoon olive oil
6 Cups heavvy whippin cream
1/2 Teaspoon salt
1/4 Teaspoon pepper
1-1/4 Cups shredde parmesan cheese
Layers:
3 Packages (9 ounces each) no-cook lasagna noodles
7 Cups shredded partskim mozzarella cheese
2 Cups shredded parmesan cheese
Directions:
In a duch oven, cook the beef, pork, onion, celery and carrot in oil over medium heat until meat is no longer pink. Add garlic, cook 1 minute longer. Drain; stir in the tomatoes tomato pure, bay leaf and salt. Bring to a boil. Reduce heat; simmer, uncovered for 1 hour.

Meanwhile, in a dutch oven, saute mushrooms in utter and oil until tender. Add the cream, salt and pepper. Bring to a boil. Stir in parmesan cheese, cook and stir for 20-25 minutes or until thickened.

Discard bay leaf from meat sauce. Spread 1-1/4 cups meat sauce into a greased 4-qt. Baking dish. Top with six noodles. Layer with 1-3/4 cups meat sauce, 1 cup mozzarella cheese, six noodles, 1-1/4 cups mushroom sauce, 1/3 cup parmesan cheese and 1/2 cup mozzarella cheese. Repeat layers three times. Top with remaining noodles , meat sauce, mushroom sauce, mozzarella cheese and parmesan cheese (dish will be full).

Cover and bake at 400° for 20 minutes. Uncover; bake 15-20 minutes longer or until golden brown and bubbly. Let stand for 10 minutes before cuttin.
You can prepare this at 2 hour 30 min and 20 servings.