Today I prepared the Italian Tiramisù.
This is an italian cake, a quite recent recipe, because it was created in the 1960s, probably in Tuscany, or Veneto or Friuli Venezia-Giulia (three regions in the north-center of Italy).
It's basically a variation of the "Zuppa Inglese" recipe, or "Trifle".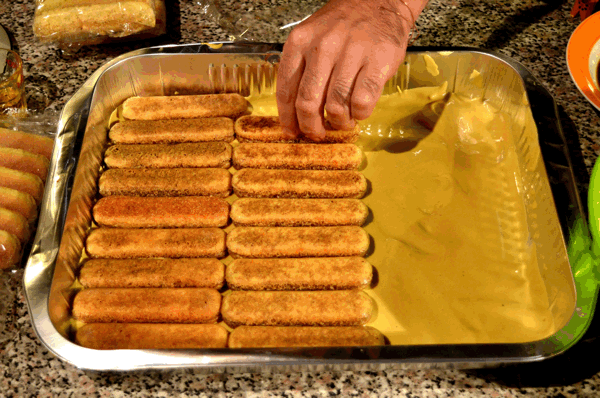 This is a collaboration post with @audegritt and @andrew0, all STEEM and SBD earned with this post will be equally shared with them!
Ingredients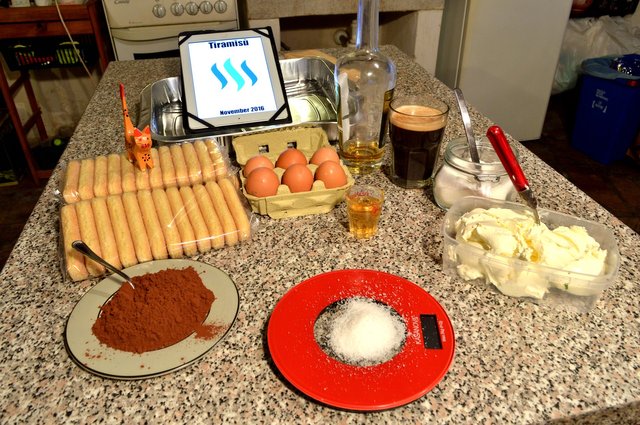 6 fresh eggs
sugar (150 gr.)
mascarpone (400gr.)
one small glass of liquor (I used Rum)
8 cups of italian espresso coffee
Savoiardi buiscuits (400 gr.)
unsweetened cocoa powder (20 gr.)
sweetened cocoa powder (20 gr.)
Preparation
separate the eggs' reds from the whites of the eggs and put them in two bowls
whip the eggs' reds and add 70gr. sugar, little by little. After having added all the sugar, start gradually adding the mascarpone to the mix while whipping, until you get a creamy mix
whip the eggs' whites in the other bowl until stiff, gradually adding 70 gr. sugar to it: be careful, first whip the eggs' whites for a while, then start adding sugar very gradually, otherwise the mix will not be stiff enough
gradually add the stiff eggs' whites to the reds, trying to keep the mix airy and soft, this will be your final cream!
prepare the coffee adding about the liquor and 10 gr. of sugar to it and putting it into a large soup plate
take a baking tray or another square container and start creating a first layer of cream
dunk the Savoiardi one by one into the soup plate with the coffee and then put them over the cream, until you don't cover it entirely
add another layer of cream, then put a very thin layer of cocoa powder over it
create a new layer with dunken Savoiardi, then cream and another layer with cocoa powder
cover the baking tray and keep it in fridge for 6 hours before eating it (if you are able to resist so much time before eating it) :)
Some Steps of Preparation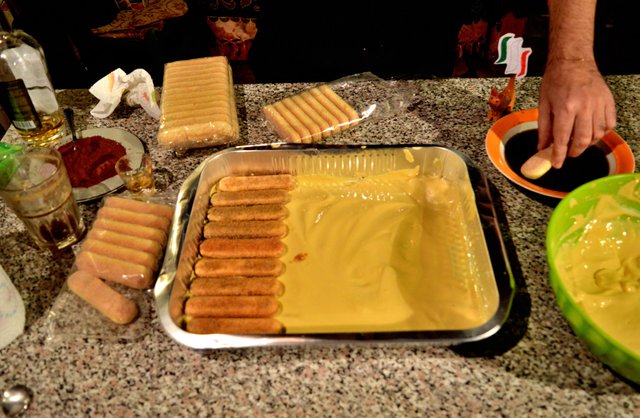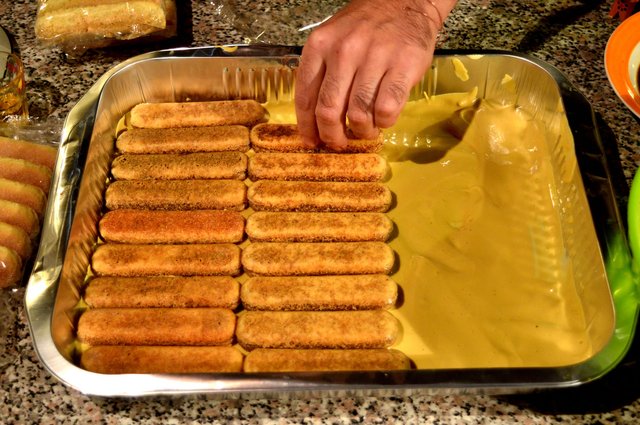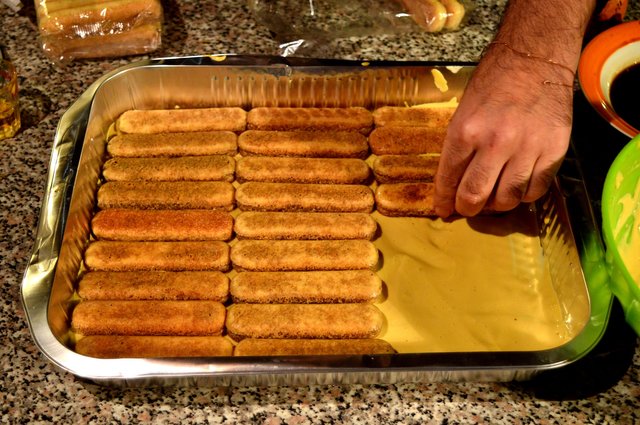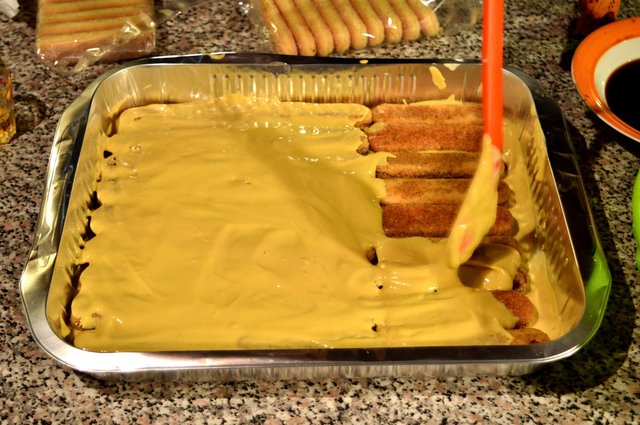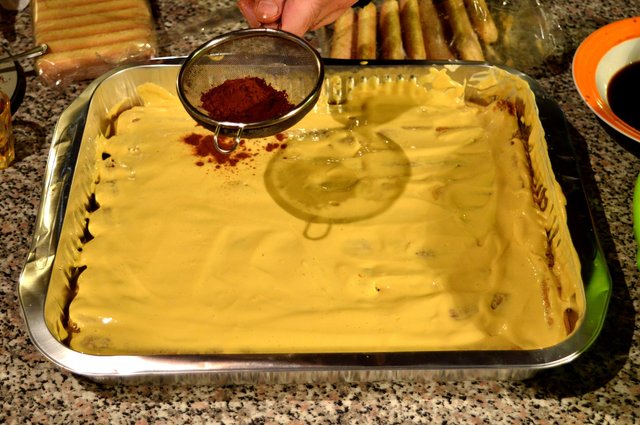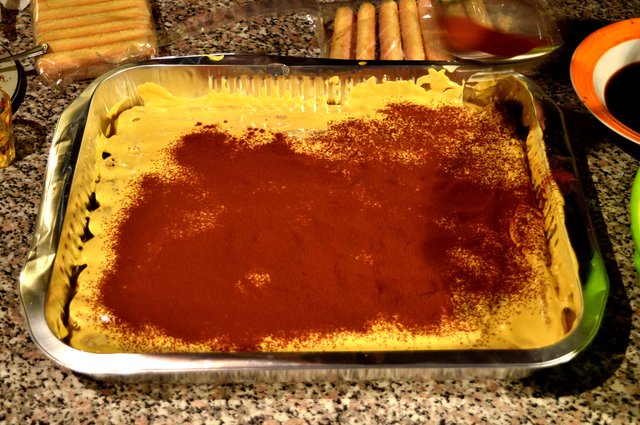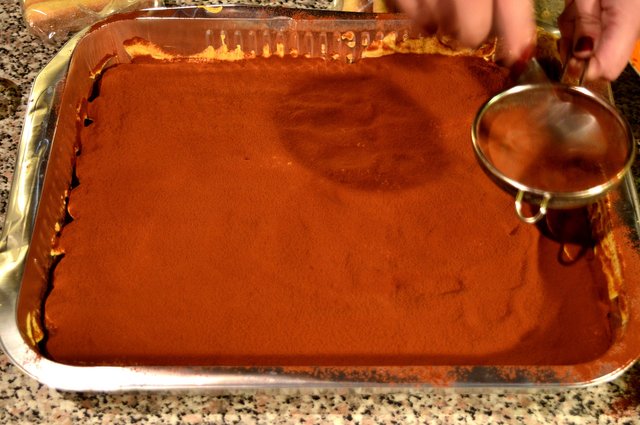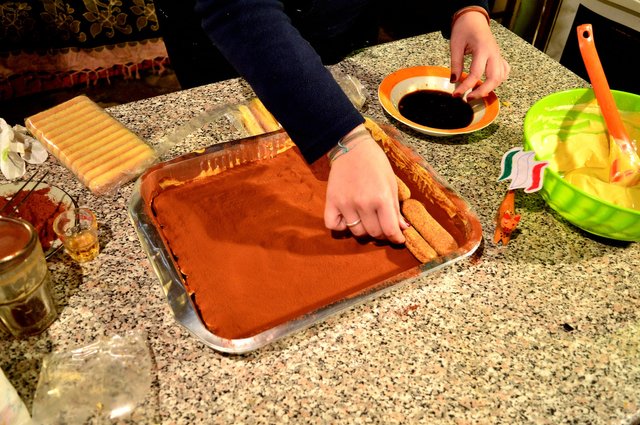 The Final Result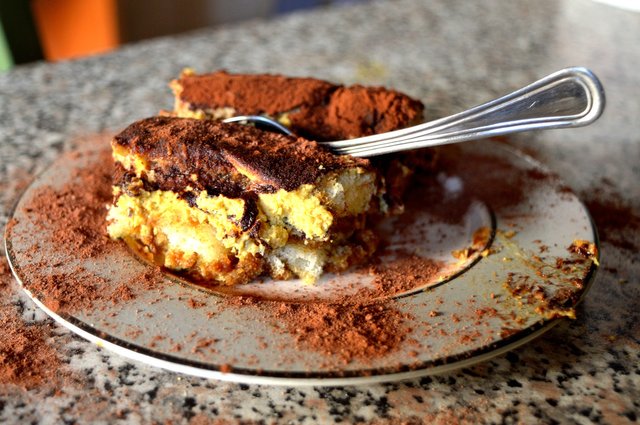 The Authors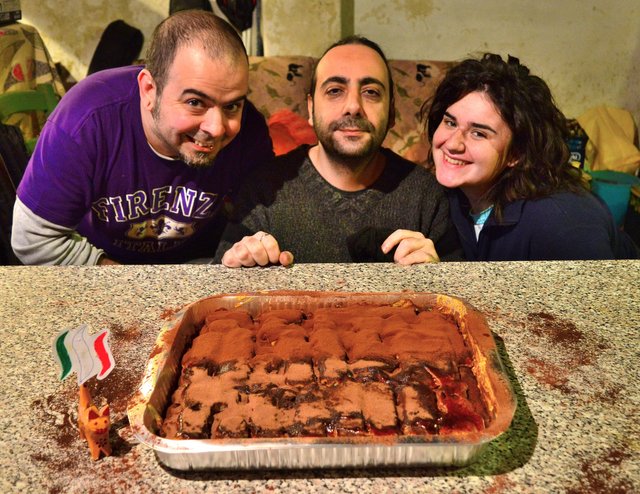 ---
Note - Pictures are under the Creative Commons license Attribution-NonCommercial-NoDerivatives 4.0 International
Device: Nikon D3200
Lens: Nikkor 18-55mm
To certify my authorship please visit my steemit page. You will my last posts!
Thank so much and follow me!!! @lordemau (;