The last weekend i cooked a Brazilian Feijoada for my italian friends with my mother, who arrived from Brazil last week, and brought brazilians ingredients to make it. There are many ways to prepare the feijoada, but this is the classical São Paulo way, adapted with some italians ingredients. The dish is realy good!!! You can try this recipe and let m know!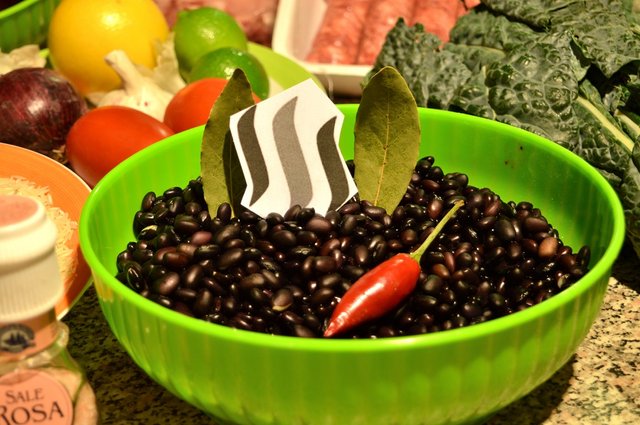 black beans and chili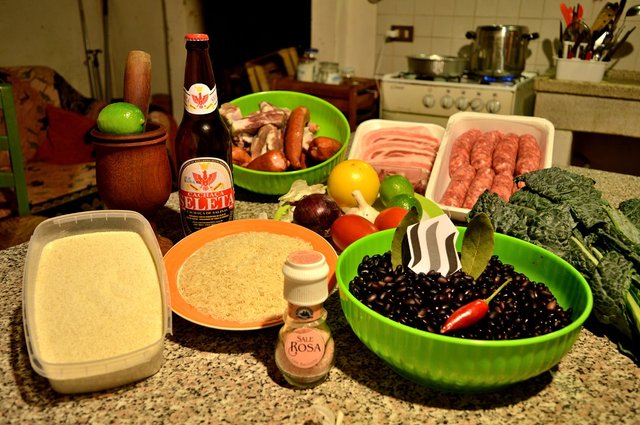 ingredients needed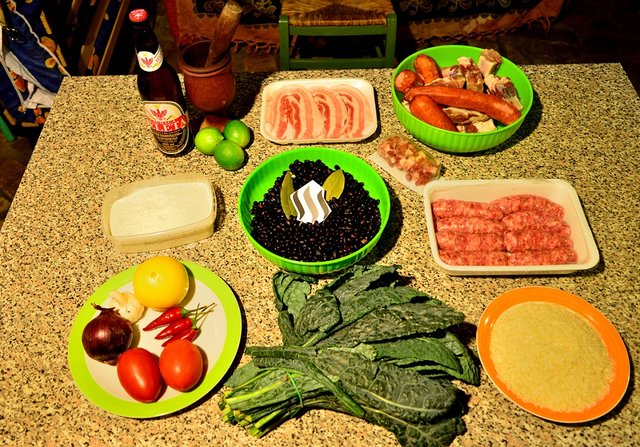 ingredients, different view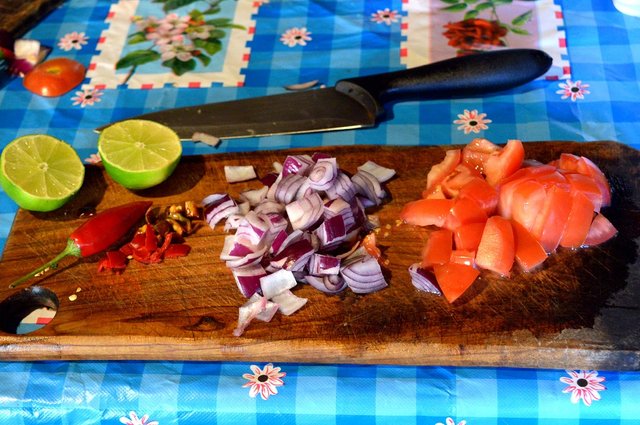 cutting ingredients
Ingredients for 8 persons
0,5 Kg black beans
0,5 Kg white rice
1 Kg of salt-cured, smoked pork ribs
0,5 Kg smoked sausage (paio)
0,4 Kg tuscan smoked sausage
0,3 Kg regular sausage
0,25 Kg bacon
0,25 Kg bacon cubes
0,3 Kg cabbage
0,5 Kg mandioca flour (farofa)
one onion
two tomatoes
2 hot chili peppers (or more if you like...)
half lime
salt
1 garlic
two leaves of bay
half orange fruit
Recipe
Soak black beans in water for 12 hours.
At the end of soaking, don't throw away the black water that the beans have produced, it's necessary for the final color and for the taste!
---
Put in the pressure cooker:
enough water to cover the ingredients (use also the water where the beans were soaking)
black beans and bay
put first the harder meat like the pork ribs and then the softer meat like sausages and bacon.
After the meat is almost cooked, close the pressure cooker and open it from time to time to check if it's ready (the whole cooking takes about one hour).
Now you need to wait for the next day, to finish preparation.
---
The next day open the pressure cooker and start cooking again, put the half orange too and wait about 15 minutes. Then the orange must be removed and you need to wait until the water is evaporated and the mix becomes more dense. Remove all the meat and cut it in smaller pieces, and then put it again with the beans.
---
In another pot you fry two gloves of garlic and half (medium) onion, then add the white rice and toast a little bit, before adding water, covering 5 cm. over the rice and wait to water to evaporate. Add salt as you like.
---
Cut the cabbage before cooking it.
In a different pot, fry 2 clover of garlic and the cabbage.
---
Now in another pot fry the bacon cubes with 2 clovers of garlic, then you add the mandioca flour and toast it, mixing it until it becomes brownish.
---
You also need to prepare the sauce, you will put it in a ceramics or plastic container, doesn't need to be cooked. Cut the half onion, the tomatoes, hot chili pepper and two spoonfuls of the beans' broth . Also put the juice of half a lime in it.
How to serve
Put all the ingredients on a single dish, all together but not mixed.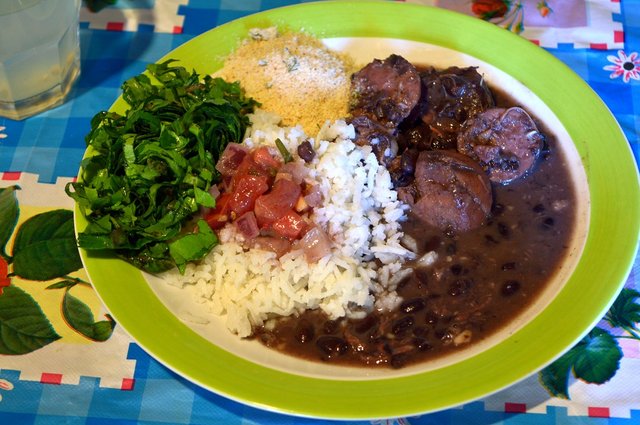 Also serve it with caipirinha and/or beer :)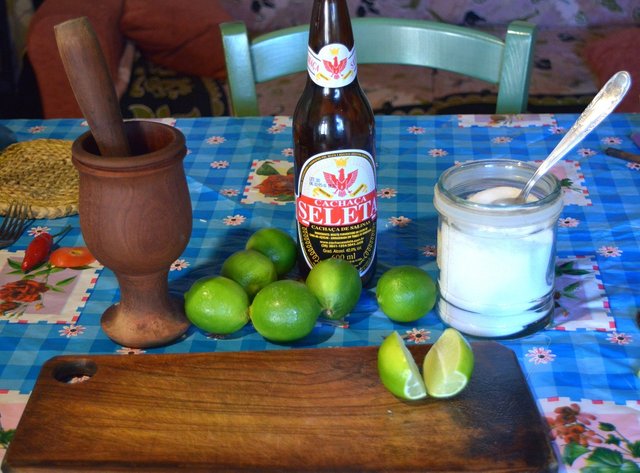 To certify my authorship please visit this page and you will find a link to this post!
Please feel free to check my other posts on steemit and follow me @lordemau. Thanks