Ajvar is a basic nutritional content that you have to have in winter if you live on Balkans. Usually in my family it is made out of red 'rog' peppers and eggplant, but it can contain garlic, chili peppers, or whatever else you'd like to put inside. This is a traditional ex-Yugoslavian dish, that is popular to make for 'zimnica' (winter stores of food) in Balkan countries. To me ajvar gives that special feeling of autumn. You know that the winter is very near, and you're happy with cooking it because when there's tons of snow outside and it's deep minus, you'll be eating ajvar with scrambled eggs next to a warm radiator. :)
Sooo let's see..for starters you need a lot of peppers and eggplant (we took about 15kg of peppers and 5kg of eggplant for one round). And then you have to manually clean all of that. Here we have our lovely Diana in the middle of the battle with rog paprika.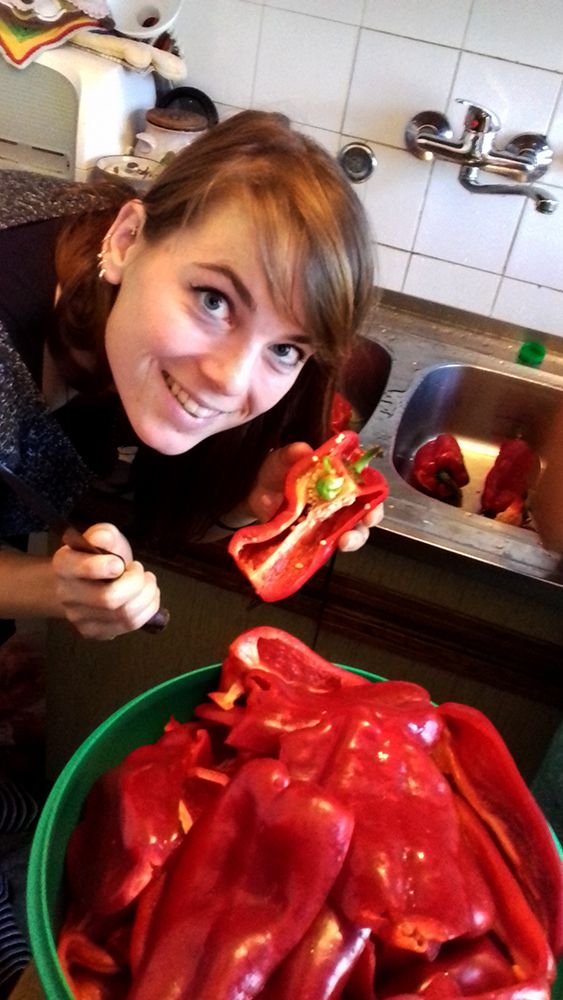 And of course, my mother is leading the work here as the expert on ajvar, with me helping too on the side.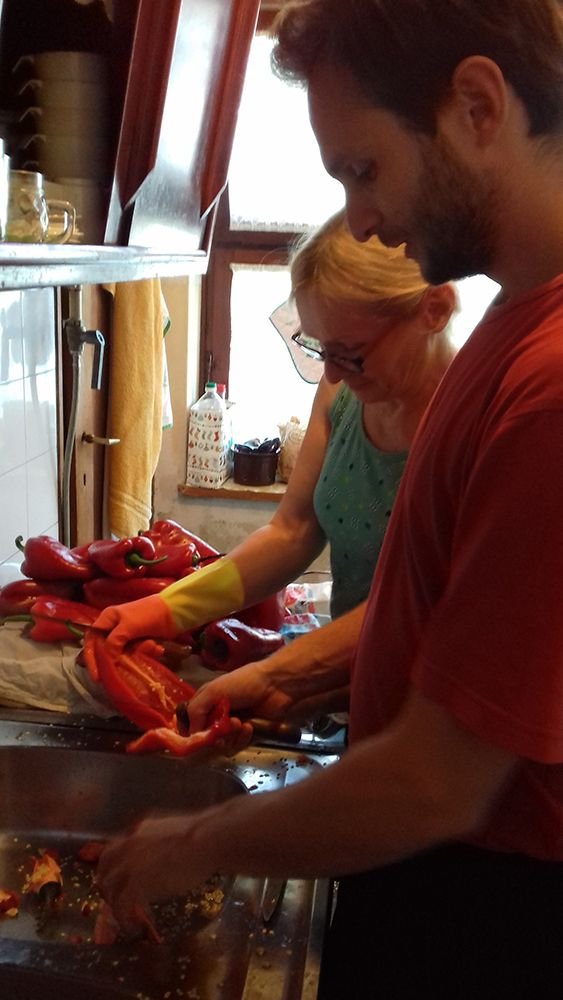 And here are the remnants of this deadly battle. :D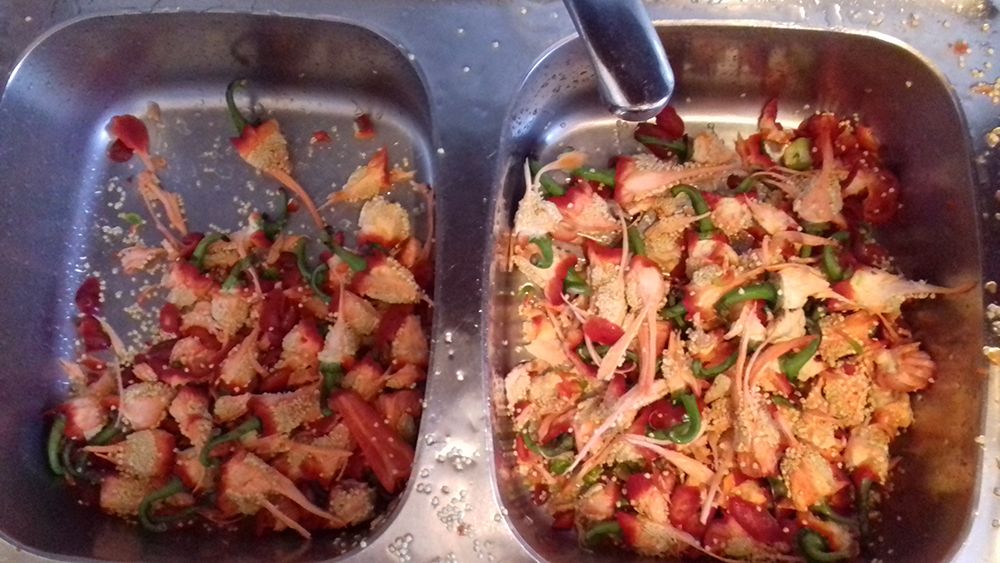 And as we finish with the pepper, we're boiling it in vinegar, water, salt and pepper just for a minute or two. Mind it here that some recipes state that you can bake the pepper, and both options are equally good, with different flavor of ajvar. :)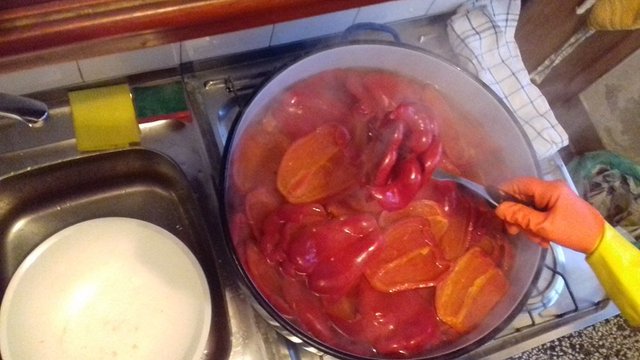 So now we repeat the same procedure with eggplant.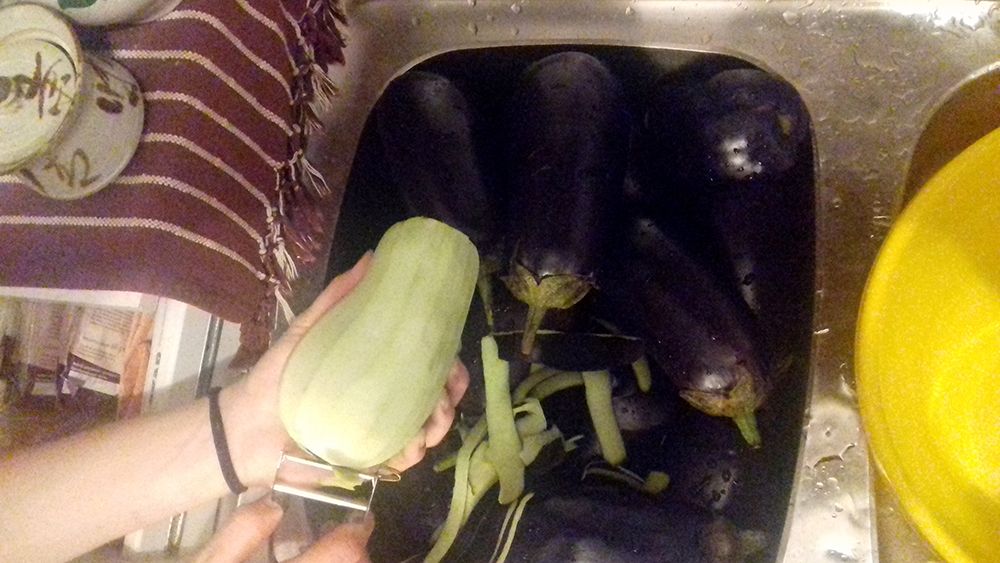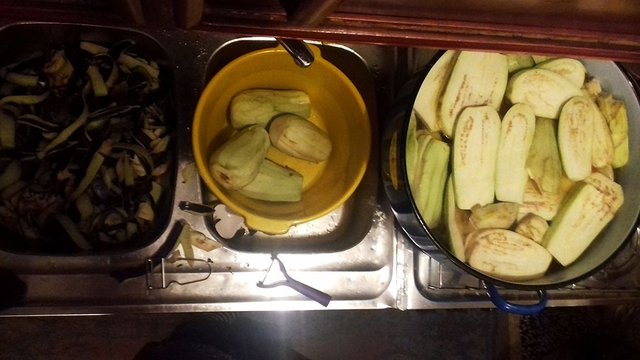 And when we finish cooking the vegetables, we get to the grinding part. This year was the first time that we borrowed an electronic grinder from our neighbour, which made things A LOT easier than grinding by hand, and it saved us a lot of time, so we could make more ajvar. :)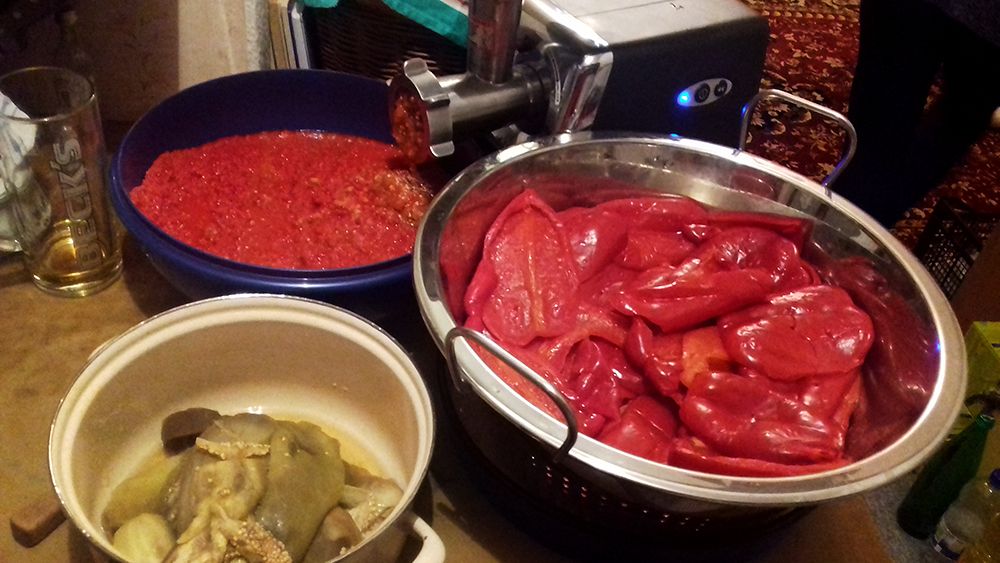 Here's one of our master grinders. :P You can see the Christian iconography in the background which is quite common in these areas. Those are my father's relics, he is a regular churchgoer.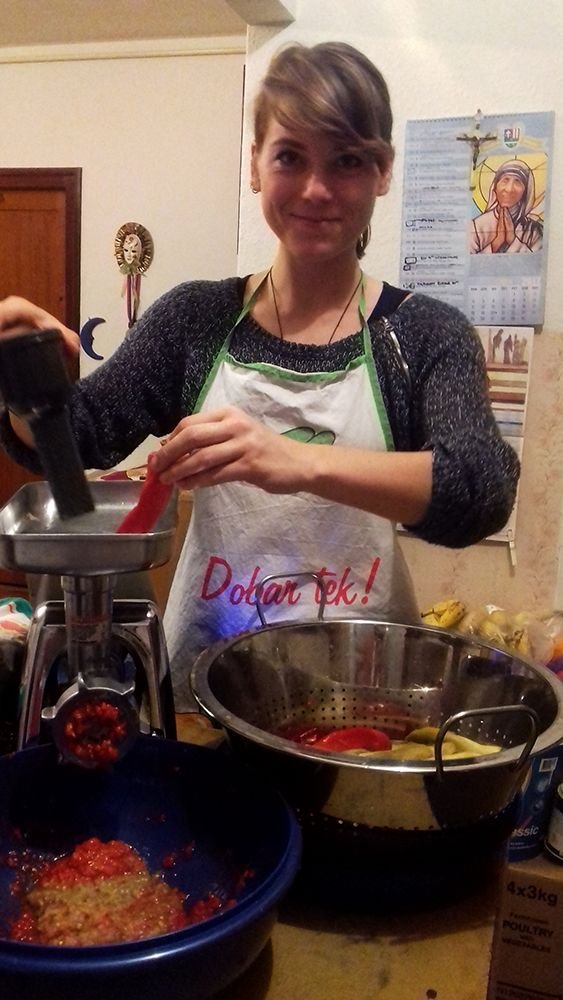 So, as we grind, we're slowly filling up this huge pot.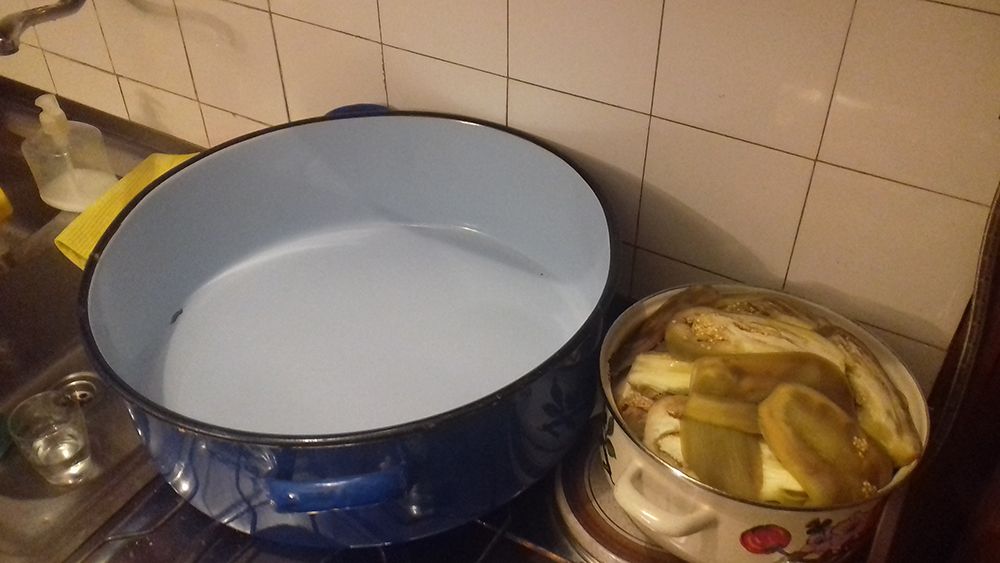 Right up until it looks something like this.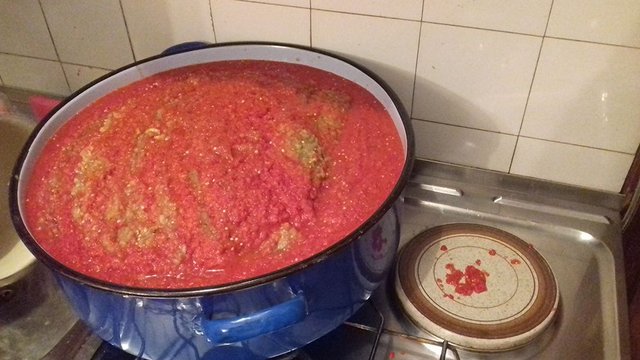 At that moment we have to stir everything inside so that the ingredients mix evenly, and for the sake of cooking it better, we transferred it to two smaller pots. Also, you have to add a few deciliters of oil, not too much, or it will be too greasy.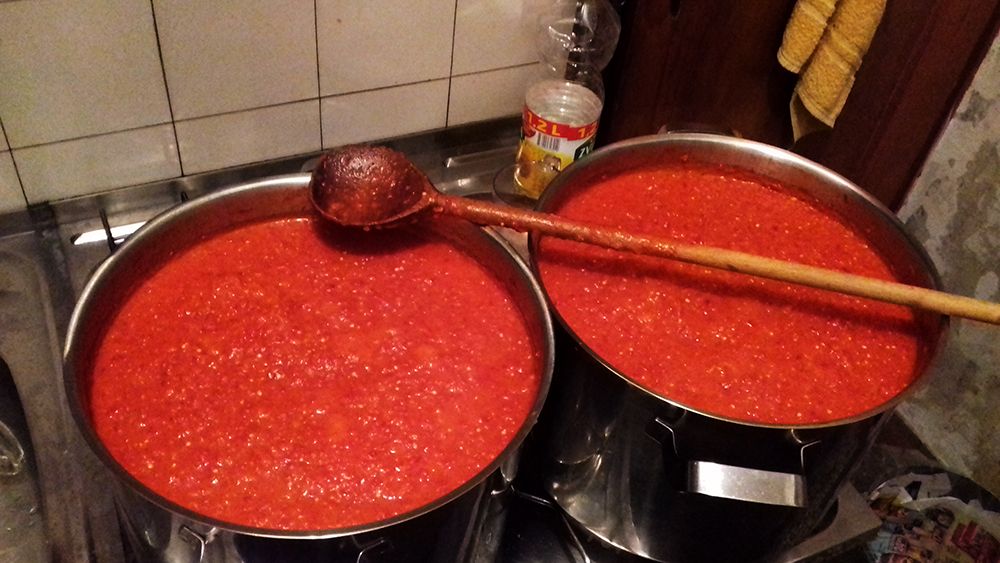 In the meantime, we have to preheat the glass jars to disinfect them, and prepare them for hot ajvar.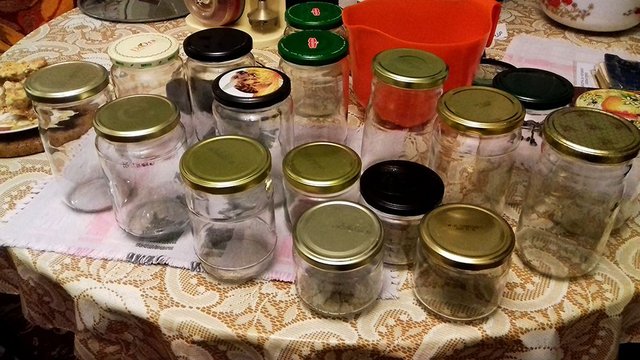 Aaaand then we get to the magic part of pouring the ajvar in the jars. With, of course, disinfected and prepared jar covers.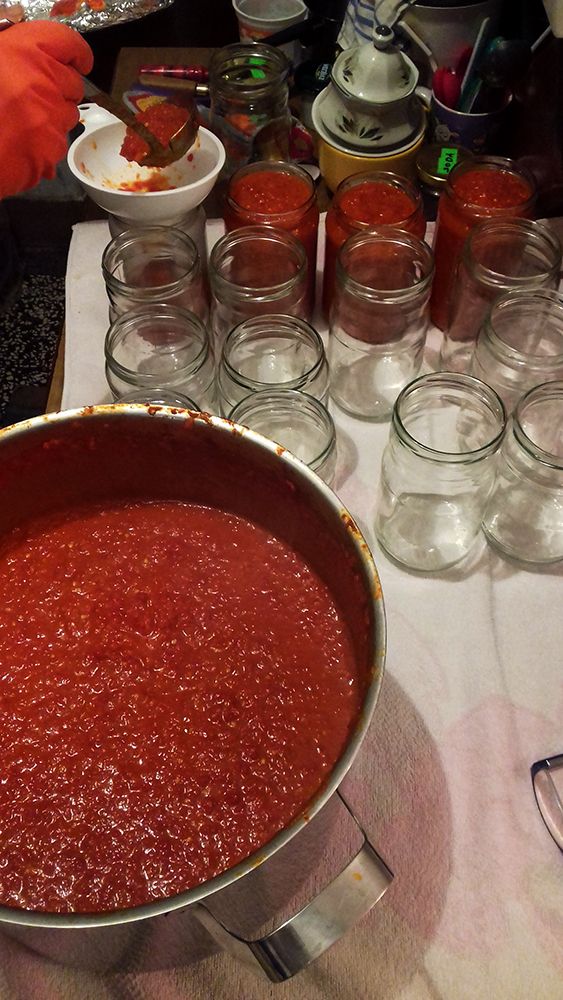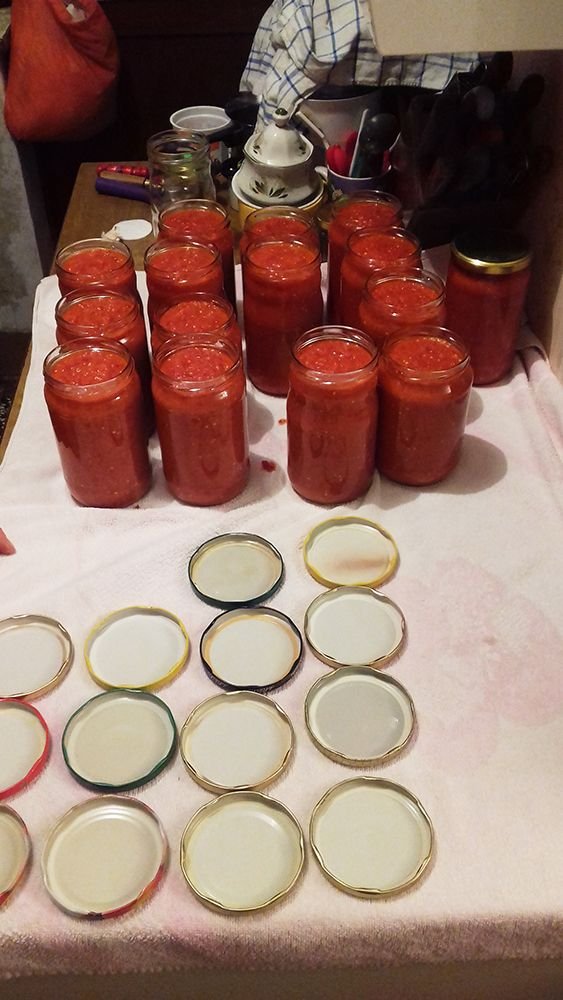 Until all of them are full, then we get them upside down for the sake of pasteurization.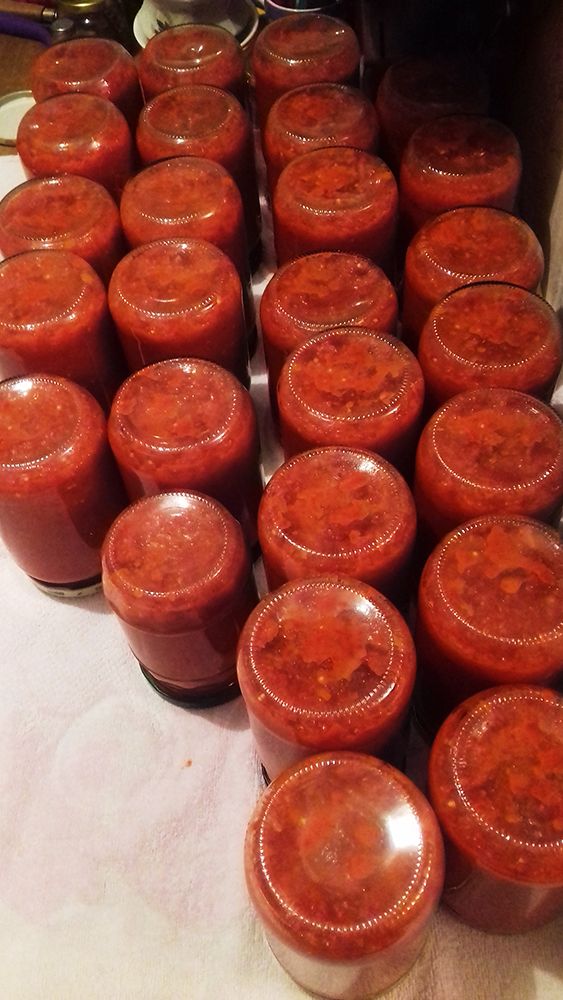 And voila, the ajvar just needs to cool down slowly, and after that it goes to špajza (pantry), and it is best consumed cold. If you ever decide to try and make this legendary balkan dish, feel free to ask for any details about it!
Goes with any dish if you ask me. Bon apetit! :)