Apple and Toffee Crumble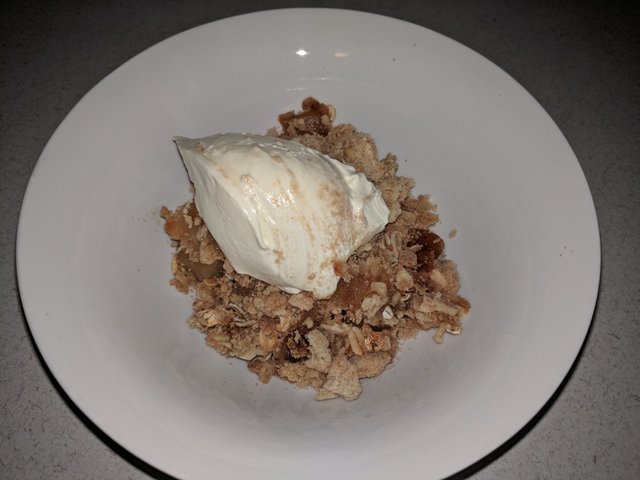 Hey Steemians,
I am getting into the kitchen to bring you a twist of mine on a classic dish: Apple Crumble.
I have modified this classic to combine another flavour that goes great with Apple: Toffee!
The weather here in Australia is pretty awful and cold as we're in the middle of winter. So that makes it perfect crumble weather!
Let's begin!
Ingredients:
10-15 Apples depending on how big of a crumble you want.
Few dashes of water.


Toffee sauce:

50g of butter.
1/3 cup of brown sugar.


Crumble topping:

1 1/2 cups of Oats
1 1/2 cups of Plain flour
1 cup of Brown sugar
100g of Butter


Topping:

Sour cream. (You can also use whipped cream, ice-cream or pouring cream).
Method:
Prepare the apples by skinning, coring and roughly chopping. Place in a saucepan with a high heat and add a couple of dashes of water to help the stewing. Stew for approximately 20-30 minutes.
Once the apples have stewed, softened and experienced a colour change take them off the heat and place the apples in a casserole dish.
Then place the butter and sugar into a saucepan and stir on a high heat until it forms a caramel sauce. Before it cools, pour it over your stewed apples in the casserole.
Place the oats, flour, brown sugar and butter in a bowl. Use clean hands and rub the butter into the mixture until it consistently rubbed through the dry mix.
Pour the mix over the top until the apples is consistently covered.
Bake in the oven for 20 minutes at 180degrees.
Serve with your favourite topping. I like to use sour cream because it is not sweet but it still delivers the nice creamy texture to contrast the crumble mixture.
Thanks for reading!
~La Dolce Firma~