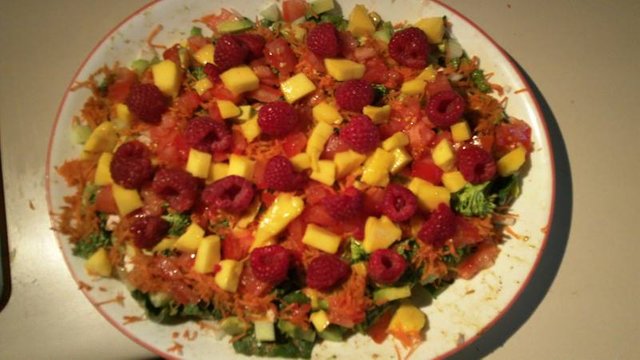 A taste bonanza, mixing divine sweetness with a spike of tart dijon mustard dressing to tantalize the taste buds.
What's in it?
• romaine salad
• broccoli
• cucumber
• tomato
• avocado
• carrot
• mushroom
• onion
• celery
• raspberry
• mango
Dressing:
• dijon mustard (1tb)
• olive oil (1t)
• balsamic vinegar (a dab)
• pepper
Chop up the veggies and fruit into small pieces. This allows you to taste multiple pieces at the same time to increase the palette flavor.
I start with the salad, mix in the dressing, add the veggies on top (celery, onion and mushrooms last), then grate some carrot, followed by the sweet-tooth touch of the fruit on top.
Yum :)
You can add any veggies, any fruit. It tastes great usually. On a rare occasion a mixup might be a slight bad match ... hehe.
This makes a nice brunch meal as well, with both vegetables and fruit mixed it.
---
@krnel
2016-11-22, 11:40am