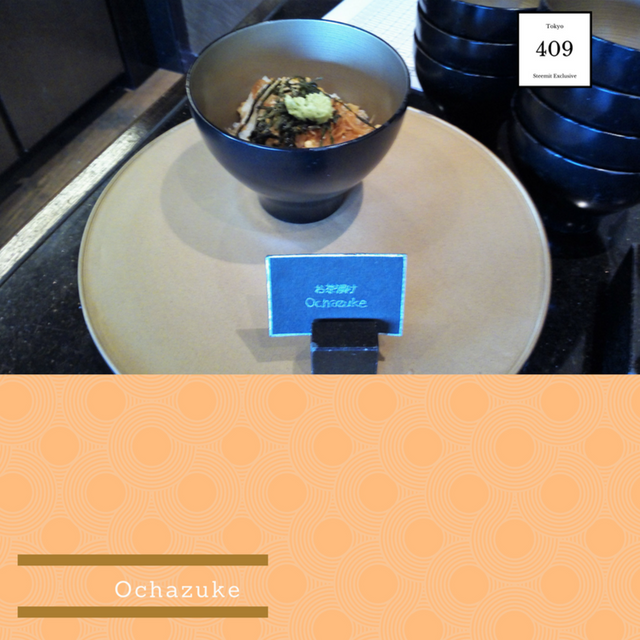 Japanese Soulfood Ochazuke
Ochazuke is a genius invention. For example if you have rice which got a bit hard or it is cold and you want to eat something warm Ochazuke is the perfect dish for you. It is basically rice with toppings and than tea will be poured over the rice.
The Ritz Carlton in Tokyo had a Ochazuke day last time, so I tried it and it was super delicious.
Ochazuke
Tofu
Dessert
In the past it was probably food for poor people but these days (same with Sushi) it is celebrated by chef's from all over the world. The finest rice and toppings and great tea used for a great Ochazuke. There is simple fastfood Ochazuke packs too, where you just have to add hotwater over the rice and the tea powder, wasabi, ume and nori etc.
I have seen Ochazuke stores in UK, USA and many Asian Countries so if you want to try this just google it in your neighborhood.
Do you like Ochazuke ??? I am blogging about the following topics :

I travel the world (Travel and Restaurant Blog)
Exposed (Uncovering Stories you need to know)
Lifehacks (How to save money,etc) 
SPOTTED (Limited Edition Food, Drinks, Gadgets)
Steemperlen (German Version, Series Ended)
SQUEEZE (Interview Series) 
COOKED (10 Episodes Cooking Series)
Working anytime, anywhere (New series for freelancers)
Frequent Traveller (New series about Travel Hacks and FFPs) 
HEAVEN (NEW Luxury Travel Magazine)
FARM
German Sausages
GADGET

ABOUT ME: Some insides into my Steemit life