Hello steemers,
this recipe is hearty and it made me feel so cozy! nice to have on a chilly day, or when you are craving a risotto but can't afford all the carbs. It's pretty basic to make; I divide the prep time into two segments. The first is to start the frying process, and while that happens, I measure the rest of the ingredients. With time to spare, as vegetables take time to brown and cook, I clean up the knife and cutting surfaces. If it wasn't for needing to make it look nice for the photos, I would usually eat it right off the pan. 😋
It's pretty filling and I got by eating one simple dish that kept me full till the next day. I hope you get to try it and give me feedback, good or bad. I am always working to improve each recipe, and I already have some internal notes on this one, and would love to hear what you think. Ok, into the kitchen we go...
Total Time: 30 minutes
10 minutes of prep time.
15 minutes of cook time.
5 minutes clean up.
a word about a tool used:
All-Clad Stainless 12-inch Frypan:
I highly recommend this pan for anyone who cooks at home! They are a bit pricey, but considering how many pans I've thrown out in the past, I think this is worth the investment, and I've put so many hours in it. It also does a perfect job at distributing heat, which effects the cooking in a major way. I bought mine here.
back to the recipe.
---
ingredients
---
steps
Dice the onions into quarter inch cubes and slice the mushrooms long ways.


preheat the ghee on medium high heat until it sizzles, then drop in the onions, mushrooms, and cauliflower. Cook on medium-high heat, stirring occasionally for 10 minutes or until browned.



meanwhile in a separate bowl, measure out and combine the cheese, salt, pepper, egg yolks and chop the chives up.



The veggies should be done cooking now, turn off the heat and stir in the rest of the ingredients.

---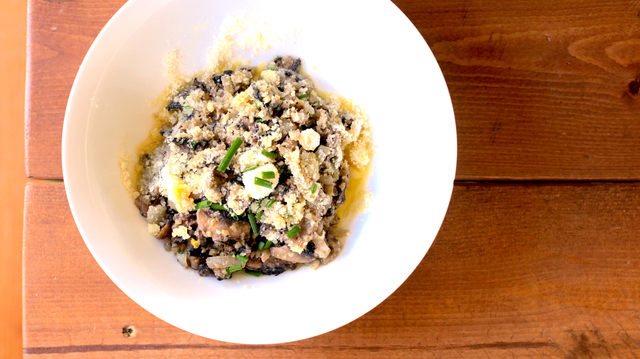 😋
---
1034 Calories
85.5g Fat | 44.6g Protein | 17.25g netCarb