Food Journal #2: The beauty of soft boiled eggs
Day 2-5 of the calorie diet, down 2.5kg!
To eat healthier and keep my calories down, I have been trying to eat more vegetables and more frequent smaller meals. It has been working fantastic so far and I find I'm always full and have more energy than ever. I didn't come into this calorie diet planning to starve myself and I also didn't plan on eating a lot of junk foods with countable calories. That's not to say I won't eat junk food, because one of the main reasons I picked this type of diet was so that I could still have 'cheat' days whenever I wanted as long as I counted the calories. It's just easier to stay on track if you give in to your cravings every now and then. I'v really started to love soft boiled eggs during this diet as well. I'v always liked runny yolks and eggs are always my go to thing when dieting so I'v been incorporating soft boiled eggs into a lot of the meals I cook. I really need to learn how to make a poached egg because they're much more presentable and usable than a single soft boiled egg (due to the shape).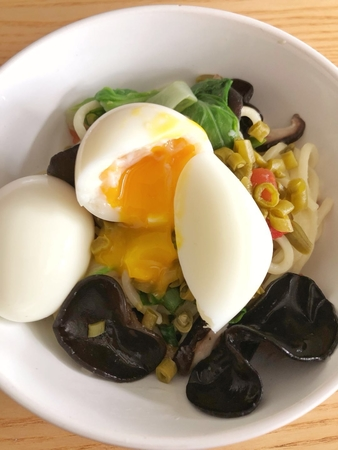 I just finished day 5 and I am already down to 74.9 kg from the previous 77kg! That's almost 5lbs and to be honest, it's way too fast. I'm trying to slow it down some by upping my calorie intake and being less strict because otherwise I'm going to finish this diet in 3 weeks and then put the weight back on my next month. I think I'v lost weight so fast mostly because my previous calorie intake was really loaded from too much drinking and too much eating.
Some food from the past 4 days
Most mornings I have been waking up and having either a bowl of yogurt with fruit and bananas or some veggie filled steamed buns. For lunch, I have been doing fried rice or noodles. There was one day I went out and got a sandwich from 711 and a nuomiji 糯米鸡 which is chicken and flavored sticky rice wrapped in a lotus leaf. At dinner I'v been trying some random delivery places with health options or eating the leftover fried rice / noodles.
I call this yolk sauce noodles!
I bought some homemade noodles from my local food market and cooked them in a vegetable broth. I wanted a drier saucy noodle so I used a strainer to fish the noodles and vegetables out (I know, the broth is awesome so I drank it on the side). I boiled 2 eggs for exactly 5 minutes and dropped them straight into cold water afterwards to stop the cooking process. Next time I'll try 4.5minutes because a small bit of the yolk started to cook but majority was a beautiful runny yolk. I mixed some pickled beans into it 豇豆jiangdou and broke the eggs over the noodles so I could have a yolky sauce noodles. I used 100g of noodles and 2 60g eggs and the total calories came to just about 500 per bowl.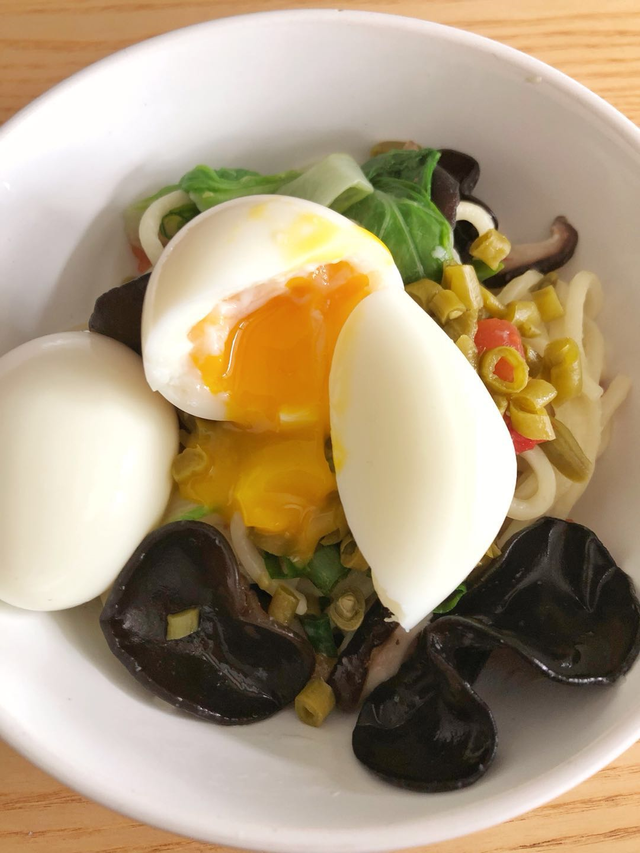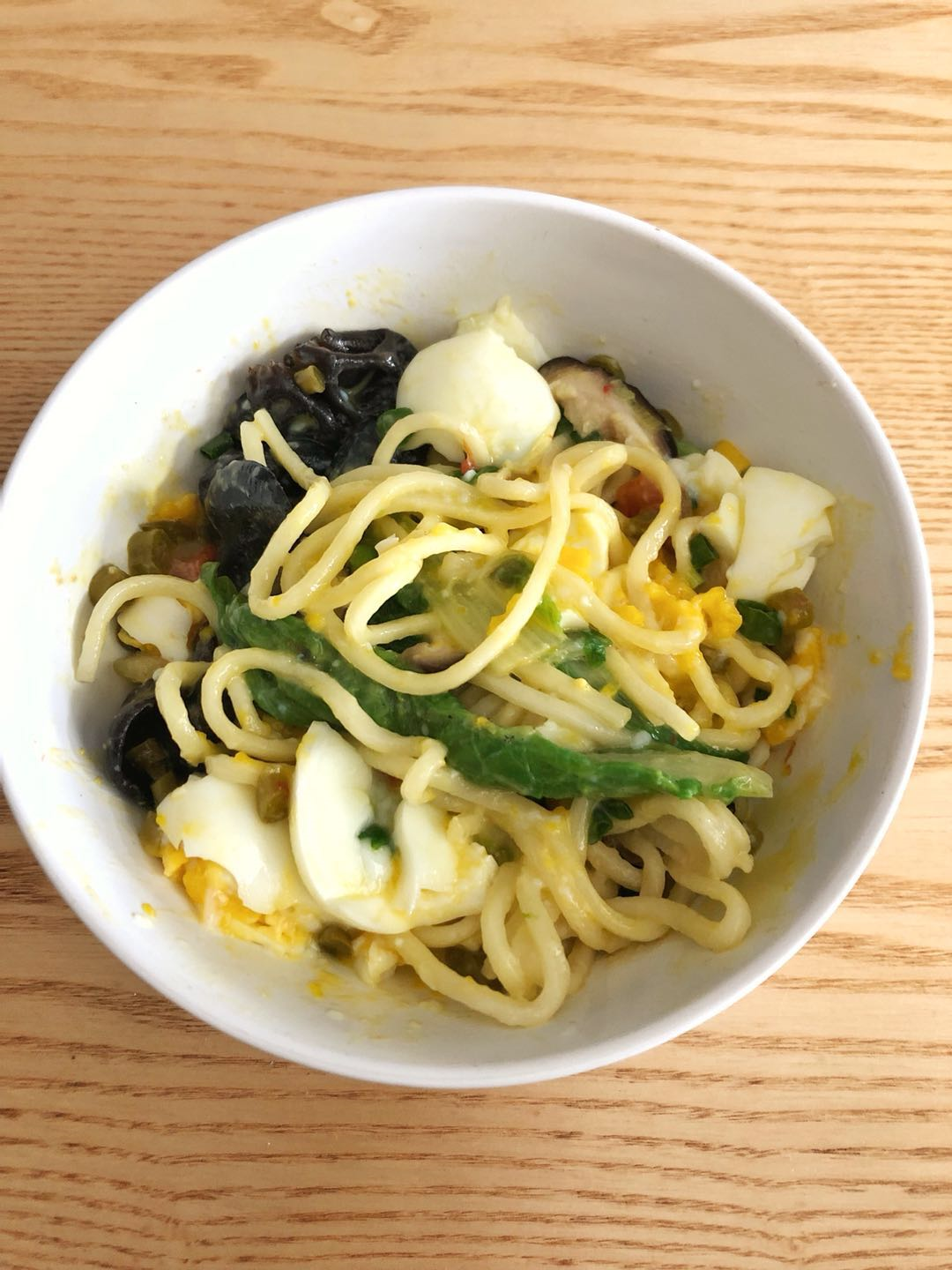 And then we have yolk sauce fried rice!
Keeping on my soft boiled egg trip, I fried up some purple rice (this rice is so healthy and delicious!) and then threw some soft boiled eggs ontop to mix the yolk into the rice. I actually made this way too salty. I used a sichuan fermented bean paste 豆瓣 as a base flavor for frying and then mixed in some soy sauce as well as salt. At the very end I also mixed in a ton of my favorite pickled beans because I love the sharp flavor contract of the sourness and the little crunch they give. All 4 of these are very salty and was just way too much. I always get afraid when I do fried rice that it won't be salty enough and I always ended up over salting it (I really like salty foods but too salty is too salty). I was batting on the egg yolk covering up the saltiness and it did help a lot but there just wasn't enough yolk to coat the entire dish.
I used 255g of purple rice, 1 tbsp of olive oil, a bunch of random vegetables, 2 softboiled eggs and other random seasonings for a total of 600 calories.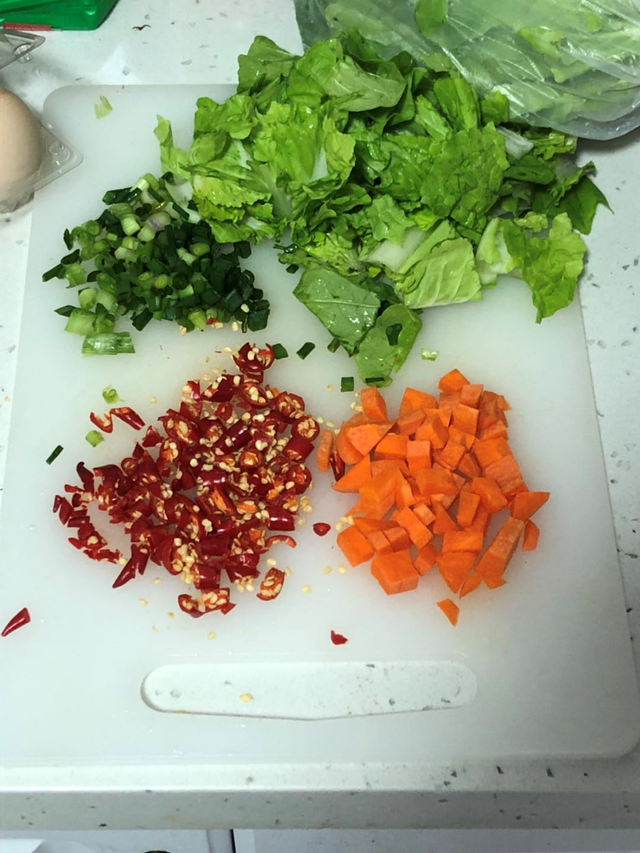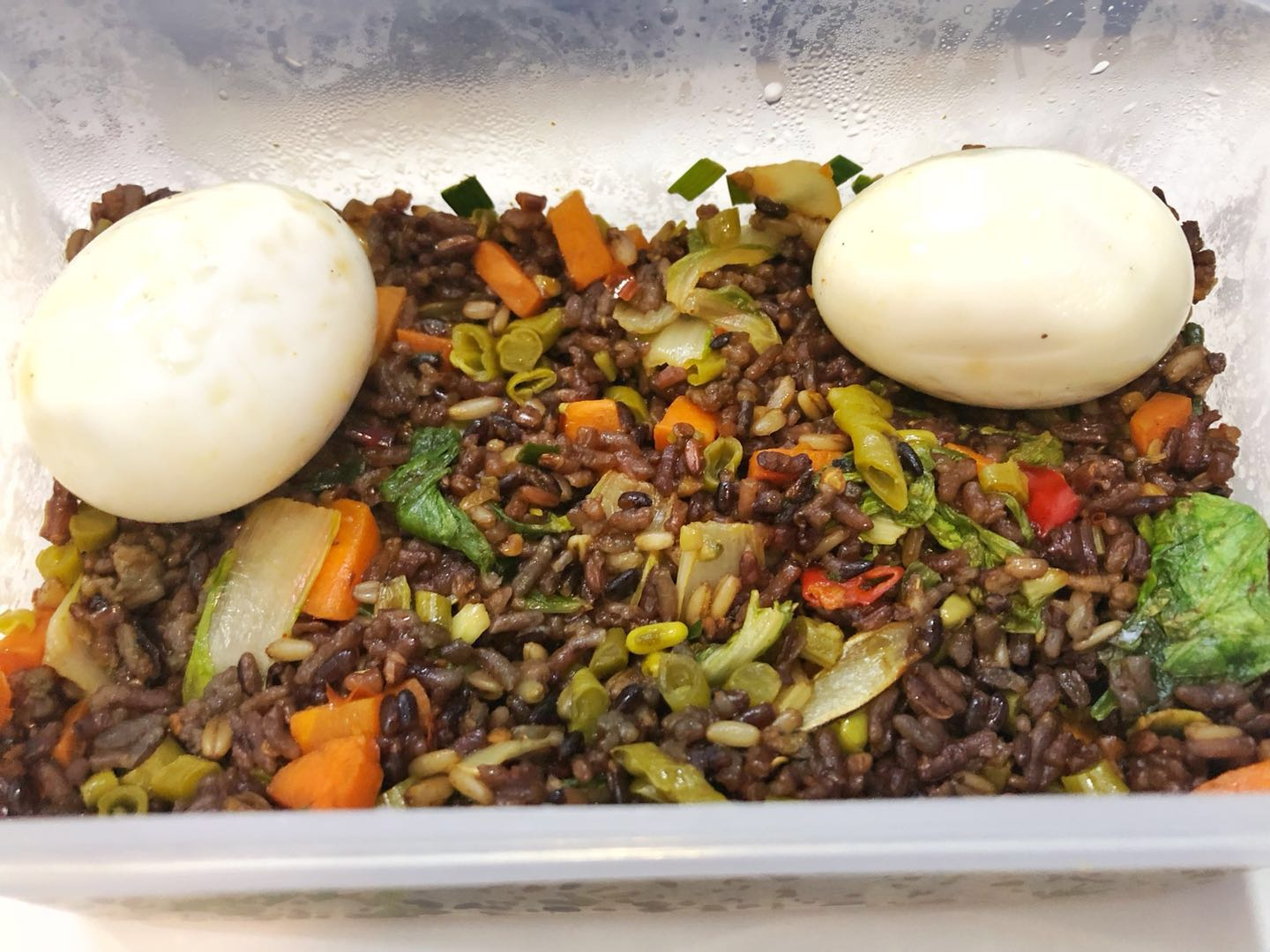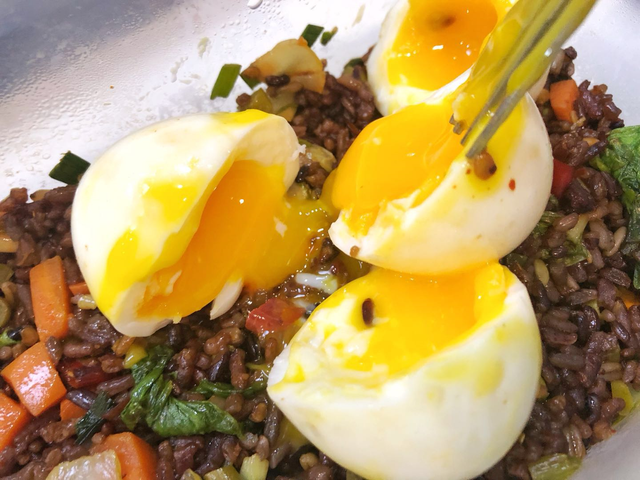 Sugar free Yogurt with Mulberries
I'v gone crazy over this yogurt, it's my first time eating it by itself but I have actually used it in the past to make a yogurt cream cheese (tastes exactly like cream cheese but less calories and you can incorporate any flavor you want into it. Easy process and only takes 2 days with almost no effort at all. I'll post a blog about it one day)!
Despite being sugarless, it still has a really nice flavor and when you mix fruit or berries into it, the yogurt acquires a really nice sweetness. It's super low calorie too, almost half the calories of normal yogurt and you can really go crazy eating this stuff! A huge bowl filled to the top with 400g yogurt and 60g chopped mulberries was only 200 calories!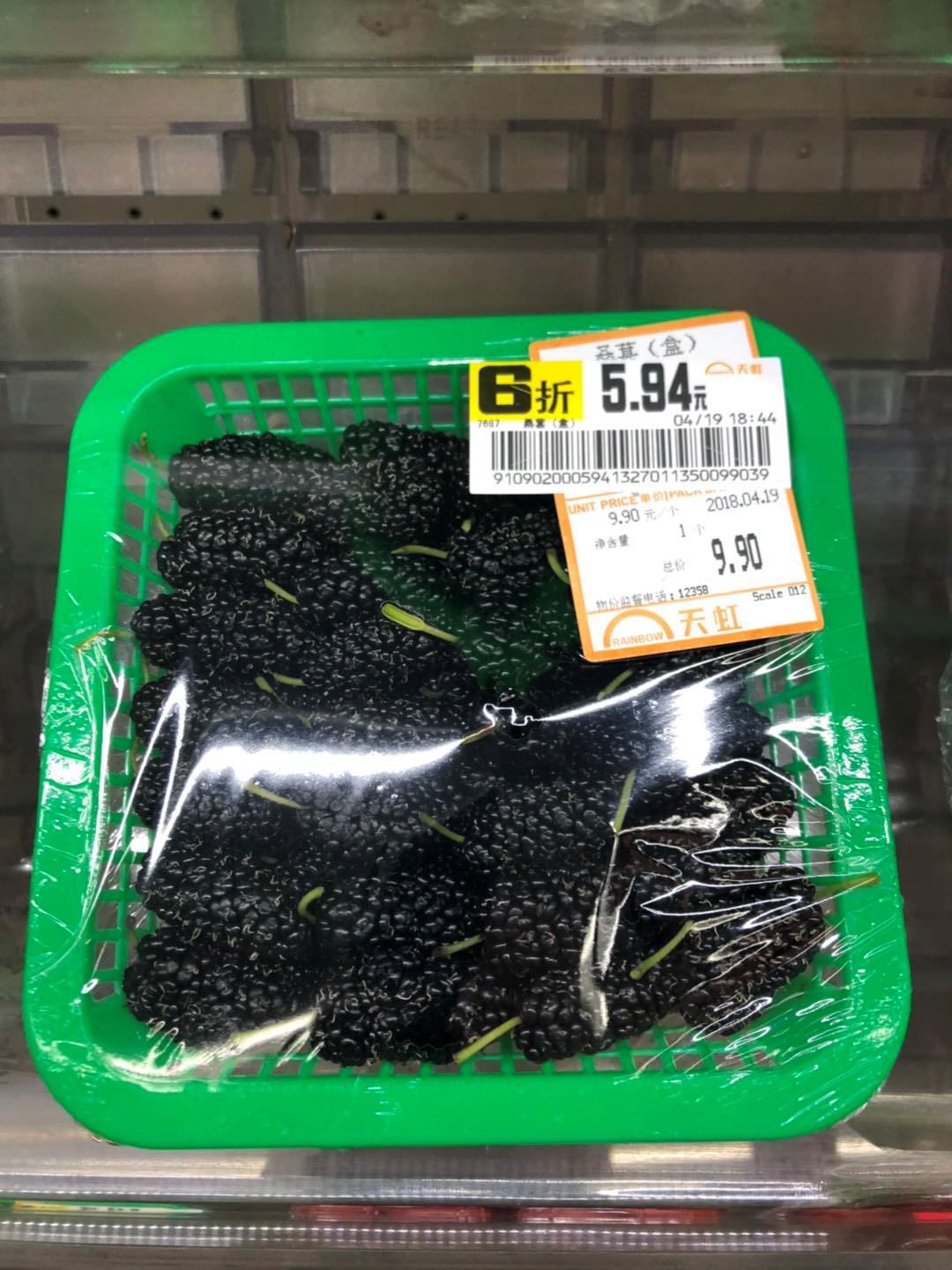 I forgot to take a picture when I first made it but I managed to remember to take a picture before I finished it haha!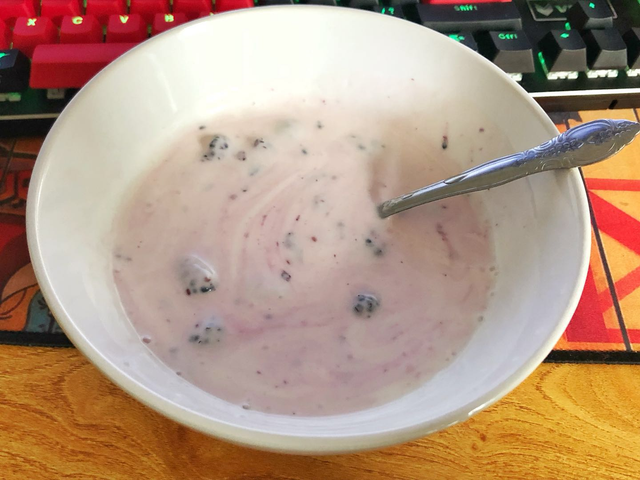 Smoked duck breast salad
I'm being more wary of these online "health" restaurants because I'v found some of them aren't giving anywhere near accurate calorie counts. My first day for example I almost went over because they listed their rice as only being 71 calories but after weighing it and looking it up myself, I found it was around 300 calories. Luckily, this new place I ordered from seemed to check out with their calorie information so I ordered myself a smoked duck breast salad with a side of pickles and extra beans. I actually forgot the calorie count but it was really low, less than 400 calories.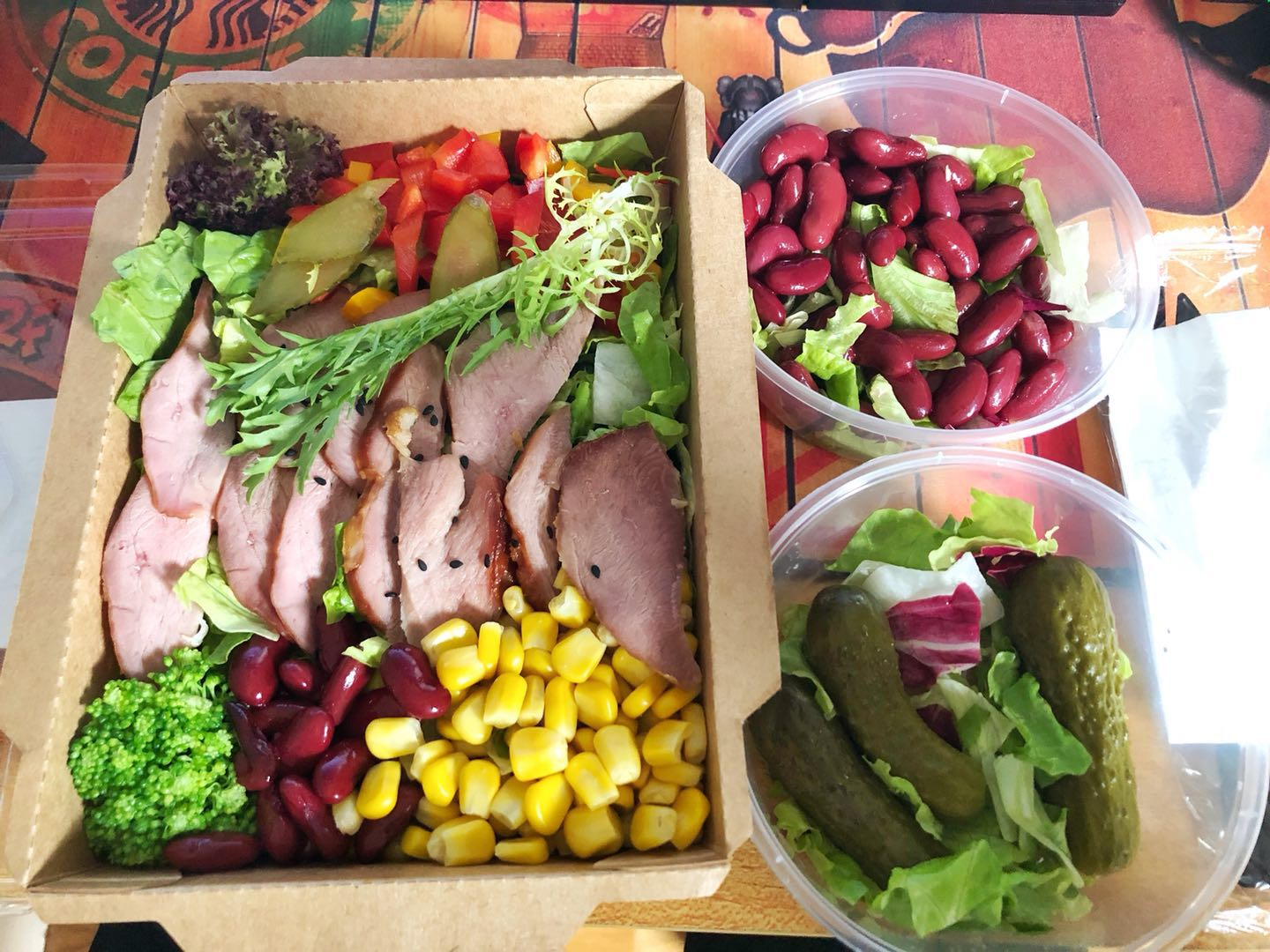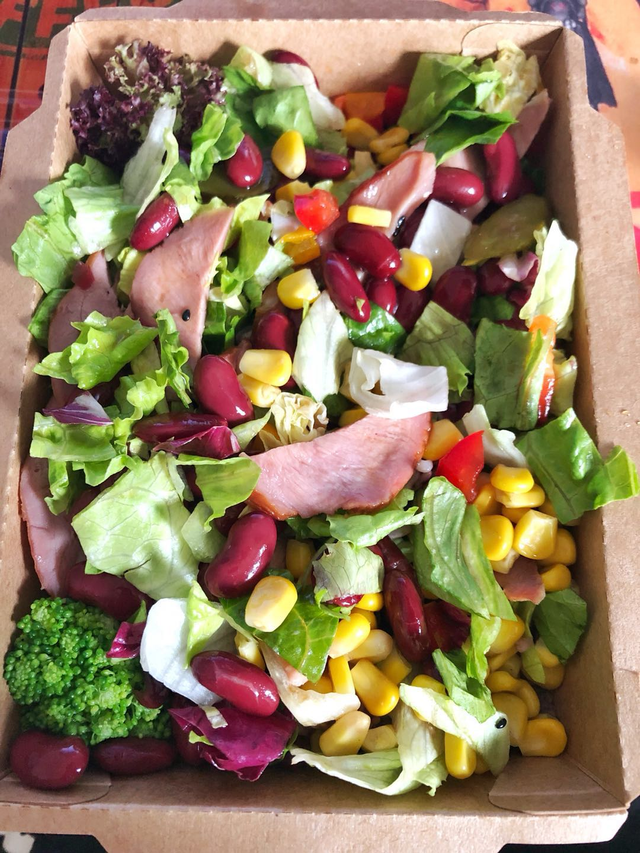 Observations
I'v found that at night I have had a really low calorie intake day and need to gorge on 800-1000 calories. I always eat all the calories because otherwise I'll lose too much weight too fast. It's kind of crazy to me though because I am completely full during the entire day from multiple small meals and then at night i'm just eating everything in sight regardless of not being super hungry to finish the calories. I should probably up the calories of my little meals during the day but I don't really like being super stuffed while i'm at work (i'm still eating until i'm full).