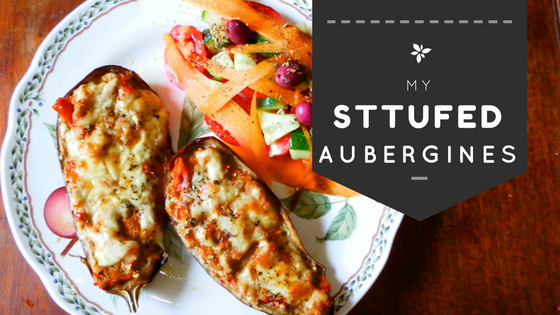 Hello Steemit people !
It has been a while I haven't been here... A bit to busy at work, but also busy in my kitchen!
I never shared with you recipes but maybe some people will be interested... Tell me in the comments if I should carry on with some food recipe sometimes!
Sorry by advance for my english !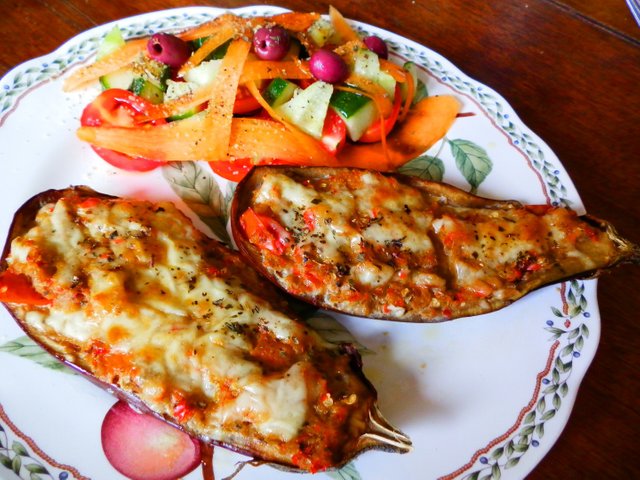 I am a vegetarian. For those who don't know exactly what it is or what is the difference with a vegan let me remind you :)
Vegetarians simply don't eat animals: it means no meat and no fish. But they eat all the products coming from animals: milk, cheese, yoghurt, eggs, honey etc...
Contrary to what people think there is a lot of things we can eat ! And very yummy stuff ! The good thing is, if you are not vegetarian and not interested by changing, you can still eat what we cook. You will see it's not bad at all.
Today I will show an easy and fairly quick recipe: my Vegetarian stuffed aubergine:
For two people you need:
2 aubergines
1 tomato
1 onion
1 pepper
A bit of crushed garlic
Salt and pepper (other spices if you like)
Some basil, fresh preferably
Some cheese (mozzarella or parmesan)
1 egg
A blender if possible, but if you don't have you can chop finely by yourself.
Take your 2 aubergines and "empty" them. Use a spoon for that and be careful to not break the skin as you will stuff it later. Try to remove flesh as much as possible. Put the flesh into a blender.

Cut your onion and pepper and put everything into the blender and start to blend. Add the garlic. Personally I like when the mixture is quite smooth but you can decide as you prefer.

Put a bit of olive oil in a pan and cook your mixture on small fire. Cut your tomato in small dices and add it in the pan. Let cook for 20 minutes more or less. Add salt and pepper: be generous with pepper and try it !

Start to heat your oven. When the mixture is cooked (the colour turn brownish), put it in a bowl and add the egg.

It's time to put the mixture in the "empty aubergines". Be generous and add cheese on the top. I don't eat too much cheese so I always cook my aubergines without cheese and it is good also. But for my boyfriend I add a lot of cheese. Just do it as you like, that is the secret to enjoy your meal !!!
If you are using dry basil add it on the cheese. I you have fresh basil, add it at the end when the stuffed aubergines are cooked.

Put a bit of olive oil on a dish and put your aubergines in it. The olive oil will cook nicely the bottom of your veggies. Let it in the oven for 30 minutes more or less. PS: it depend on your oven !

Serve with a salad and enjoy !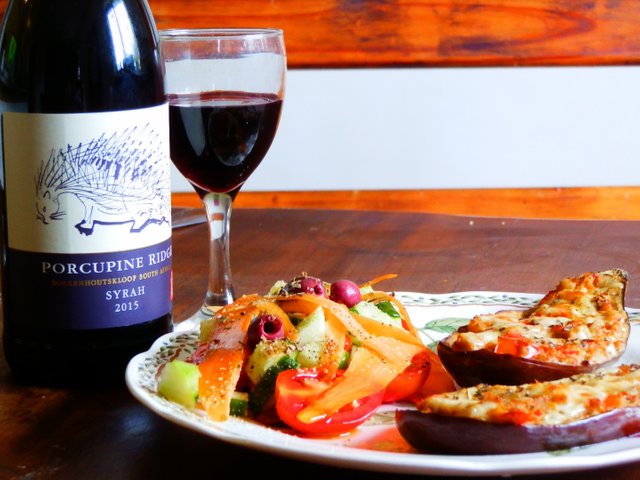 I like salad with my aubergines but also a bit of wine. The Porcupine Ridge is a South African wine and it is a good wine for small budget. I personally prefer the Syrah variety.