Rice with Chicken Recipe - FOOD PHOTO SHOOT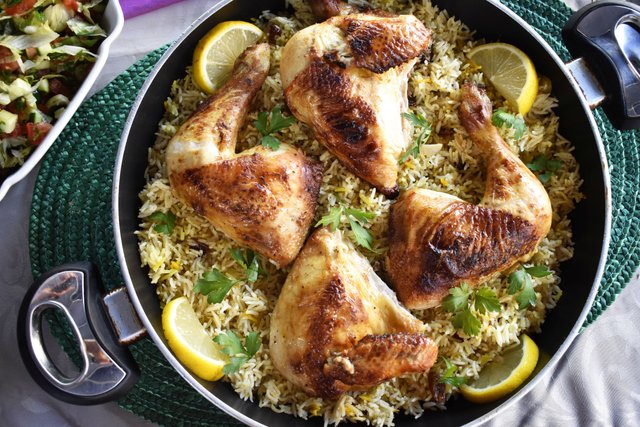 Rice & chicken is my family favorite meal. I like to introduce you a world wide food recipes from east to west, and today our recipe is from middle eastit is so delicious and easy to make perfect for family gathering and feast. They called it Kabsa it is a spicy rice with grilled chicken, you can make it in different ways with beef meat, lamb meat or with chicken. I prefer it with chicken because it is more lighter and easier, also i don't like much red meat.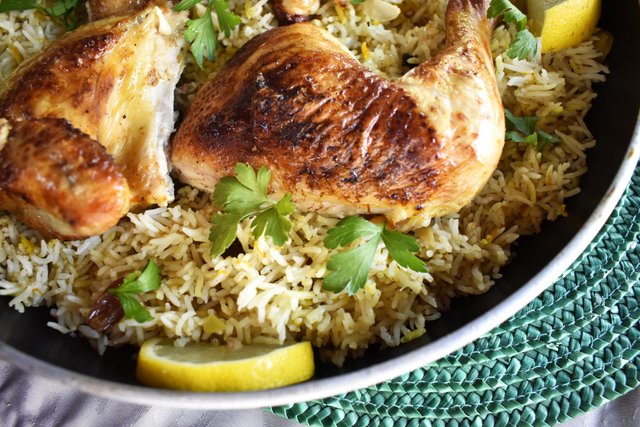 I seasoned my rice with a 7 spices mix, it is a mixture of 1 tsp of each following ground spices: cumin, cardamom, cinnamon, black pepper, coriander, cloves and curry. Mix all spices together in a small jar and used it to season your rice. I season each cup of rice with 3/4 tsp of 7 spices or you can buy it from arabian stores. Also i seasoned my chicken with the same spices it gives the chicken a tasty spicy taste.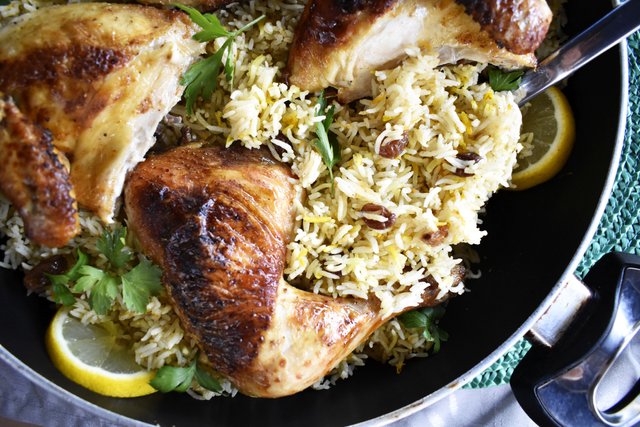 This recipe is perfect with salad and every time i made it, it reminded me with Indian chicken Biryan and oh Namaste i love rice so much especially the spicy as Biryani with garam masala spices. I'll soon share with you Indian or hyder abad Biryani recipe.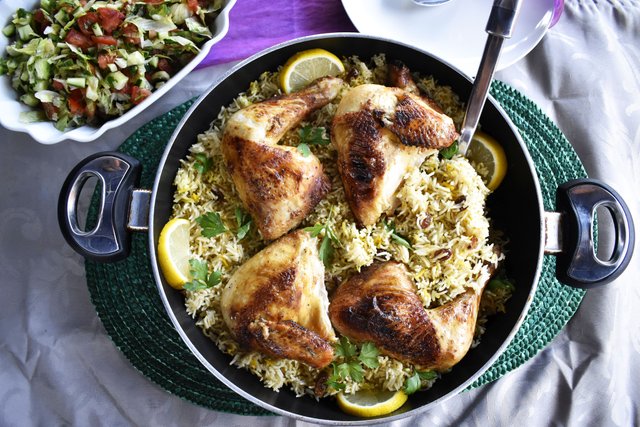 Rice with Chicken Recipe
Prep time: 20 mins
Cooking time: 45 mins
Servings: 3
Ingredients:
For rice:
3 cups Basmati rice
2 cup chicken broth
1 smal onion
1 midume carrots
1/2 cup raisins(optional)
6 cloves
6 cardamom
1 cinnamon stick
2 tsp 7 spices mix
Pinch of black pepper
Salt to taste
2 tbsp vegetable oil
For chicken:
1 medium chicken
1 tsp 7 spices mix
1/2 tsp garlic powder
salt to taste
1/4 cup lemon juice
1 tbsp yugort
1 tbsp melted butter
salt to taste
The way:
Cut onion into small pieces, finely grated carrot. Wash rice and soak for 10 minutes.
Heat oil in skillet and saute the chicken until golden color, remove into oven tray. Mix butter with yogurt and all mentioned chicken ingredients and brush your chicken, grill in a preheated oven 200° C for 30 minutes or until well cooked. In the same skillet saute onion with cardamom, cinnamon stick, cloves and grated carrot for a minute on a high heat then add the raisins just give it quick stir add the drained rice, stir to combine. Pour chicken broth and season with 7 spices mix, salt and pepper. Bring it to boil for 2 minutes until the water evaporate then reduce heat. cook in a light heat for 20 minutes.
At the top rice place the chicken. Serve it with salad.
Enjoy!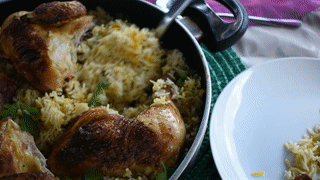 Thanks for stopping by. All my contents are original and were taken with my Nikon D3400; Be free to UPVOTE, COMMENT and RESTEEM my post also check out my latest posts here:

Join us now @steemitbloggers

Love,
Angie