---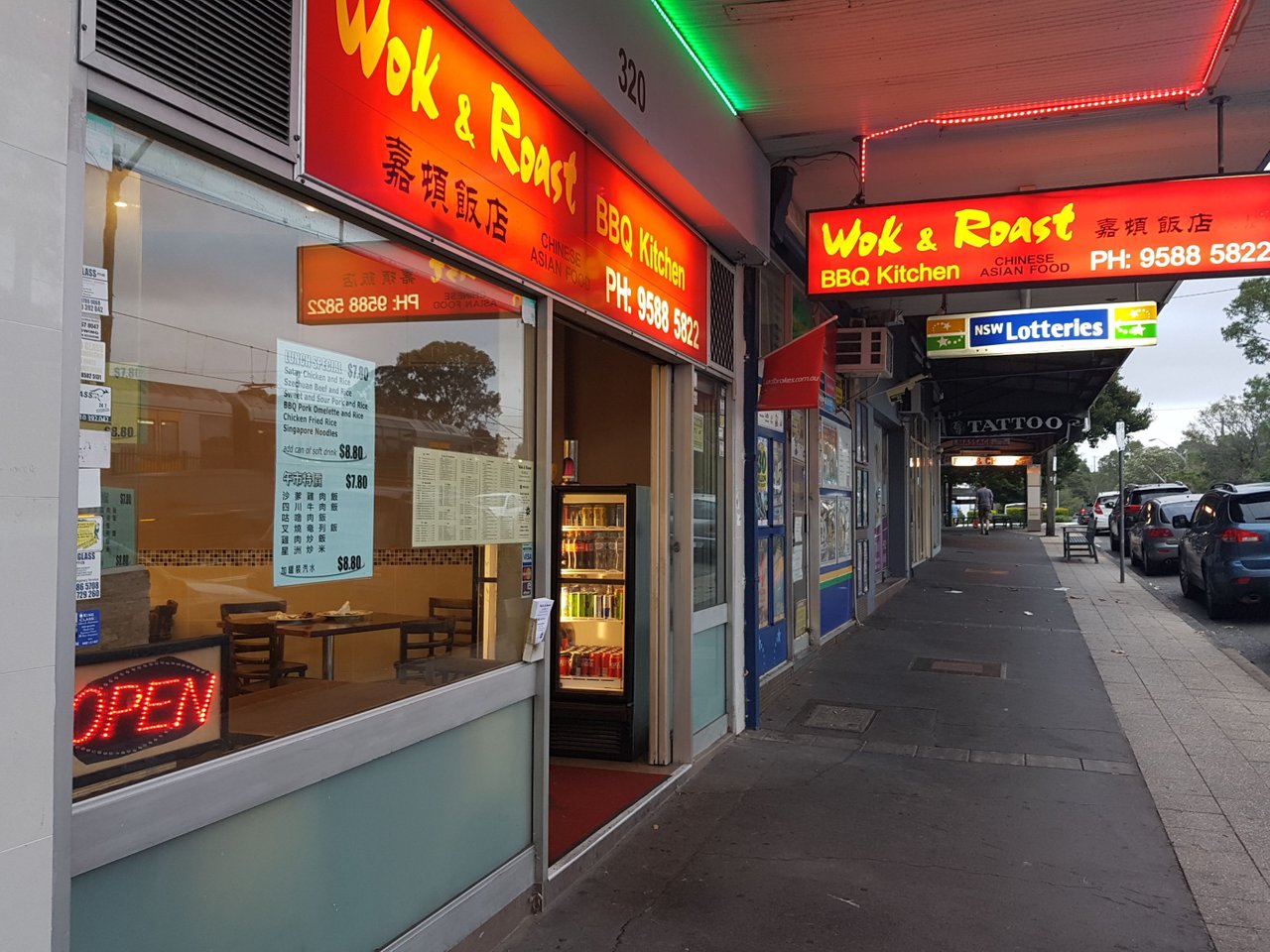 ---
I am not one to eat out too often anymore as a result of the budget and paying down those extra repayments on the mortgage. Nevertheless, there is always a place I love to eat at, time and time again.
Wok & Roast is one place I can count on for quality taste and affordability. Not only that, the owner is lovely and will always politely say 'hello' and 'goodbye'. It is almost like a nod you give to a fellow motorbike rider as you pass by. I really do get pleasure from them taking notice of their returning customers, even though they may be very busy at times.
Now, how did I find out about this wonderful place? Firstly, I would always drive past and would never think of stopping by. A prime example as why you should never judge a book by its cover. A few years back, I had asked a good friend who is a chef about a place he recommends to eat in the local area. Surprisingly he replied 'go down to Carlton across the road from the railway station, there is a place called Wok & Roast. They do really good food and always have fresh ingredients'.
So I decided to give this takeaway joint a shot. The first dish I ever had was the 'BBQ pork omelette'. All I can say is there are no words to explain how good it was, but please do try it, they even have a lunchtime special. The flavours are perfect and to die for. They have some sort of gravy that is delicious, it goes exceptionally well with the egg and pork.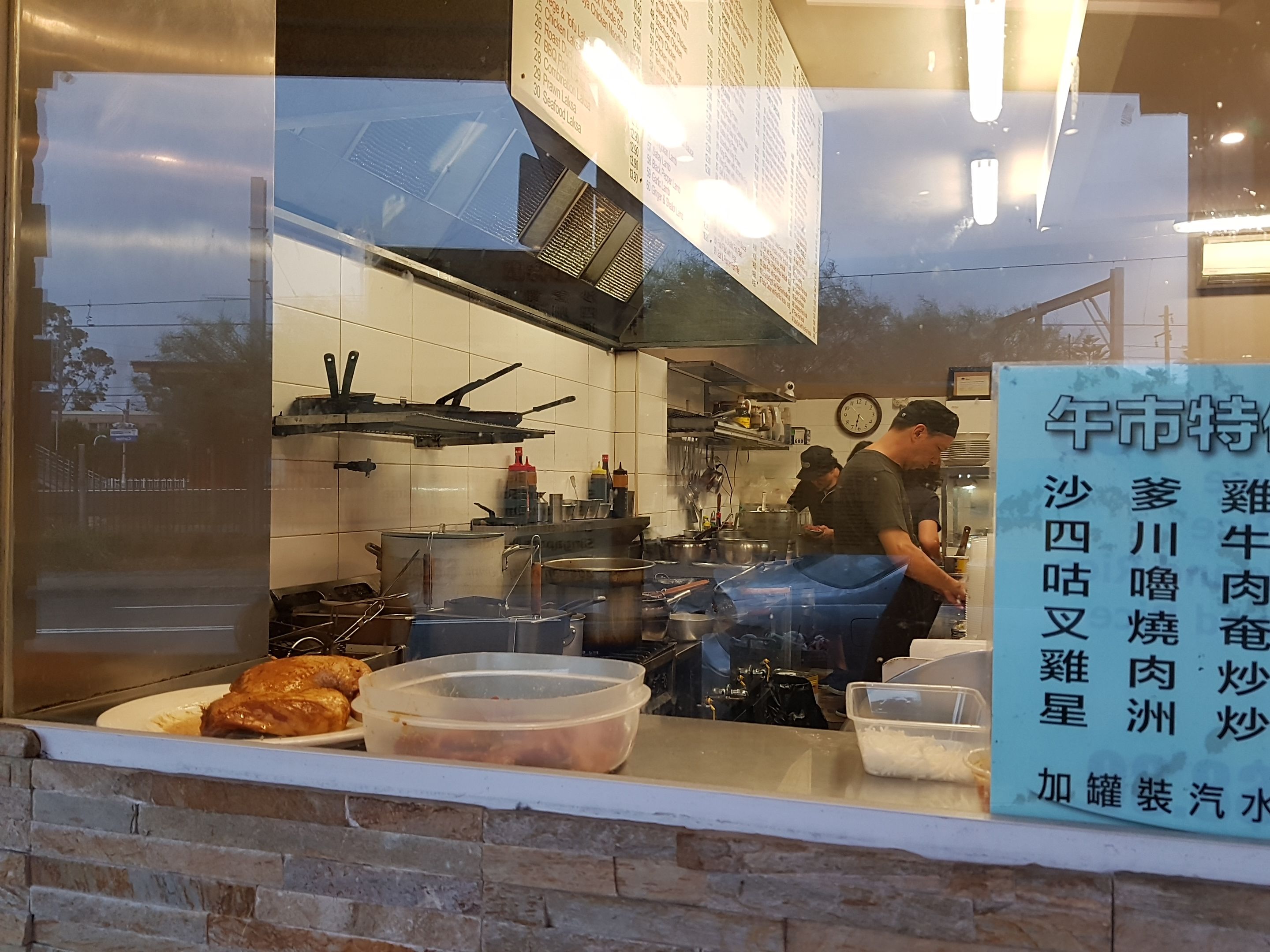 The owners are always hard at work with the authentic Wok creating those well known 'clink' and 'clang' sounds. It really does add to the experience of eating out and observing them tossing the food like ninja's. The wok is an integral part of Chinese/Asian cooking as a result of it being such an efficient cooking method that will produce incredible flavour. The Wok will cook a large quantity of food at one time without losing temperature. This excessive high temperature created by the wok is such an important feature to produce the profound Chinese/Asian flavours. The cooking technique seems to produce well seared stir fry and is agreed upon by many chefs that it cannot be reproduced by any other pan. The Wok is important cooking equipment for many with a variety of choices and a long history that cannot be known for sure as to where it originated. The wok can be seen throughout the history of the Chinese culture and was possibly invented by the Han or was adopted by trade from India or Asia. Interestingly there are only theories as to where the first Wok originated. What we do know for sure is that it has been used by many different cultures in a variety of differing metals such as cast-iron and the most recent woks are made with carbon steel.
Interestingly Woks made of cast iron may increase iron intake. It could be a myth but a Chinese doctor once told me this, nevertheless it was an interesting story. On the cooking stove there is water running from a tap behind the burners. The running water surrounds the woks and is to protect the stove from damage. The woks and burners produce an excessively high heat previously mentioned and the heat will damage the stove if not kept cool. There are new techniques and designs, though running water is a common method in the majority of many Chinese/Asian restaurants.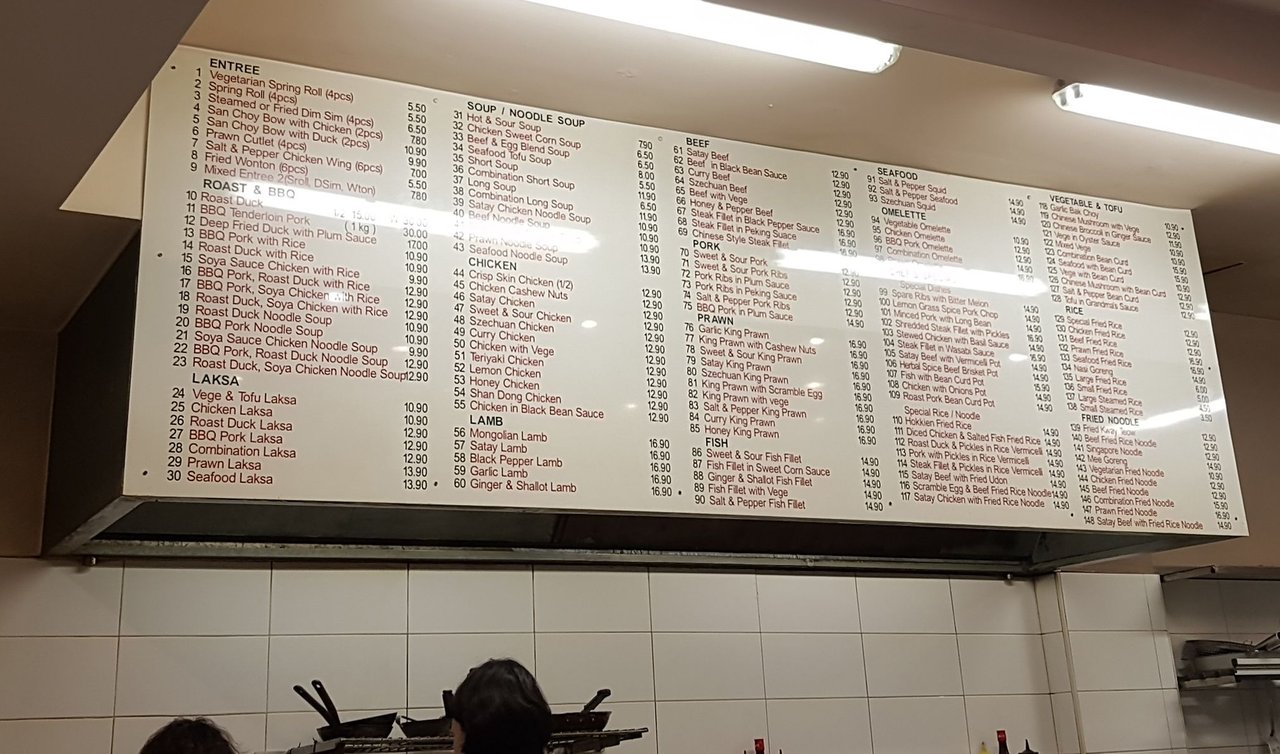 The other night I went with a friend of mine that is always keen to join myself for some good old 'Wok & Roast'. It is surprising for anyone when they first try this place; as it tastes better than all the other Chinese/Asian food I have tried locally. It seems like we are visiting china, almost like eating in a Chinese village where no one else can make the food exactly like this. The taste is genuine and unique, like no other.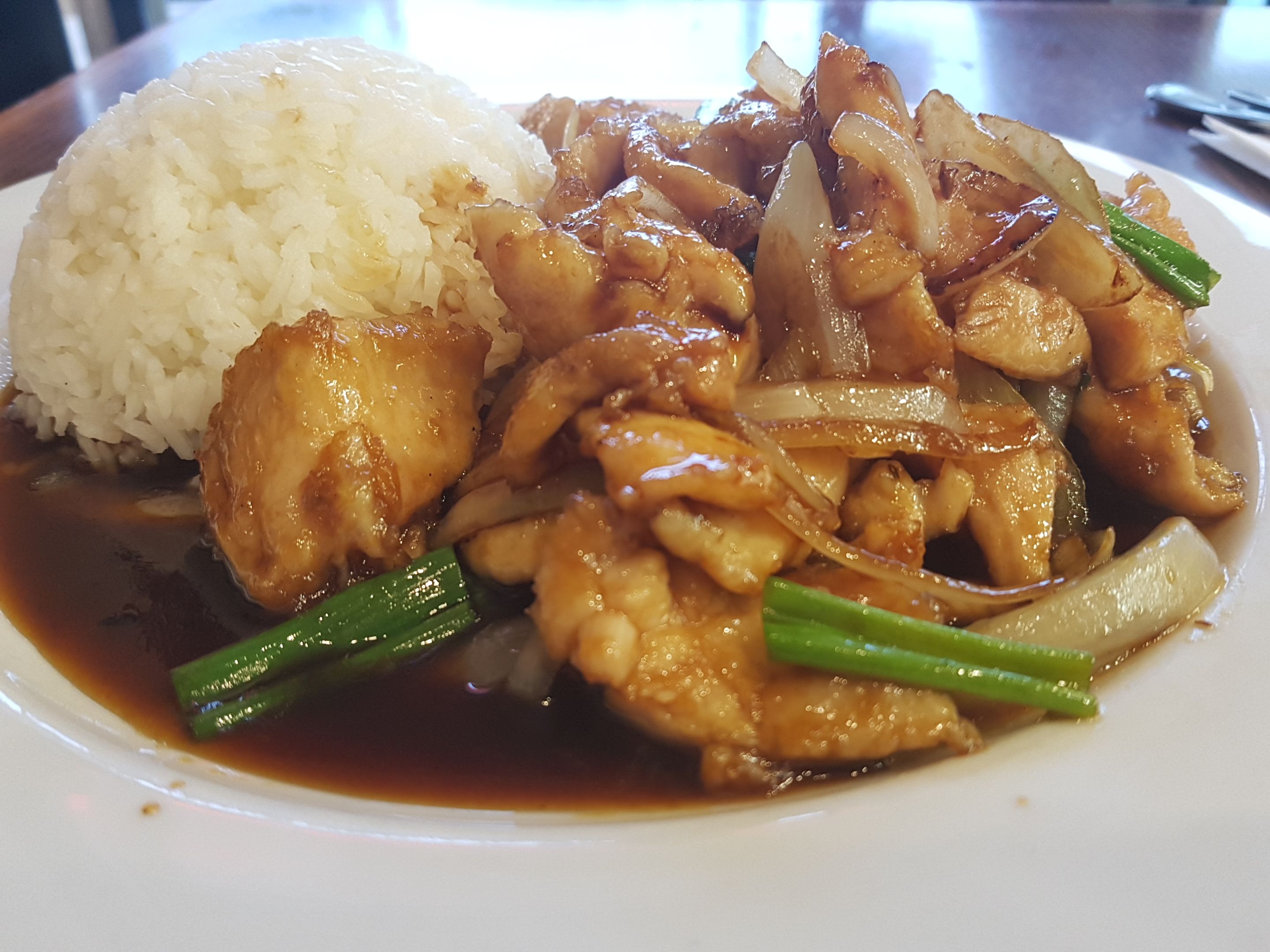 51. Teriyaki chicken with rice. The texture was perfect and the sweet seared aroma was mouth-watering. Only an experienced cook with a wok can produce authentic flavor like this.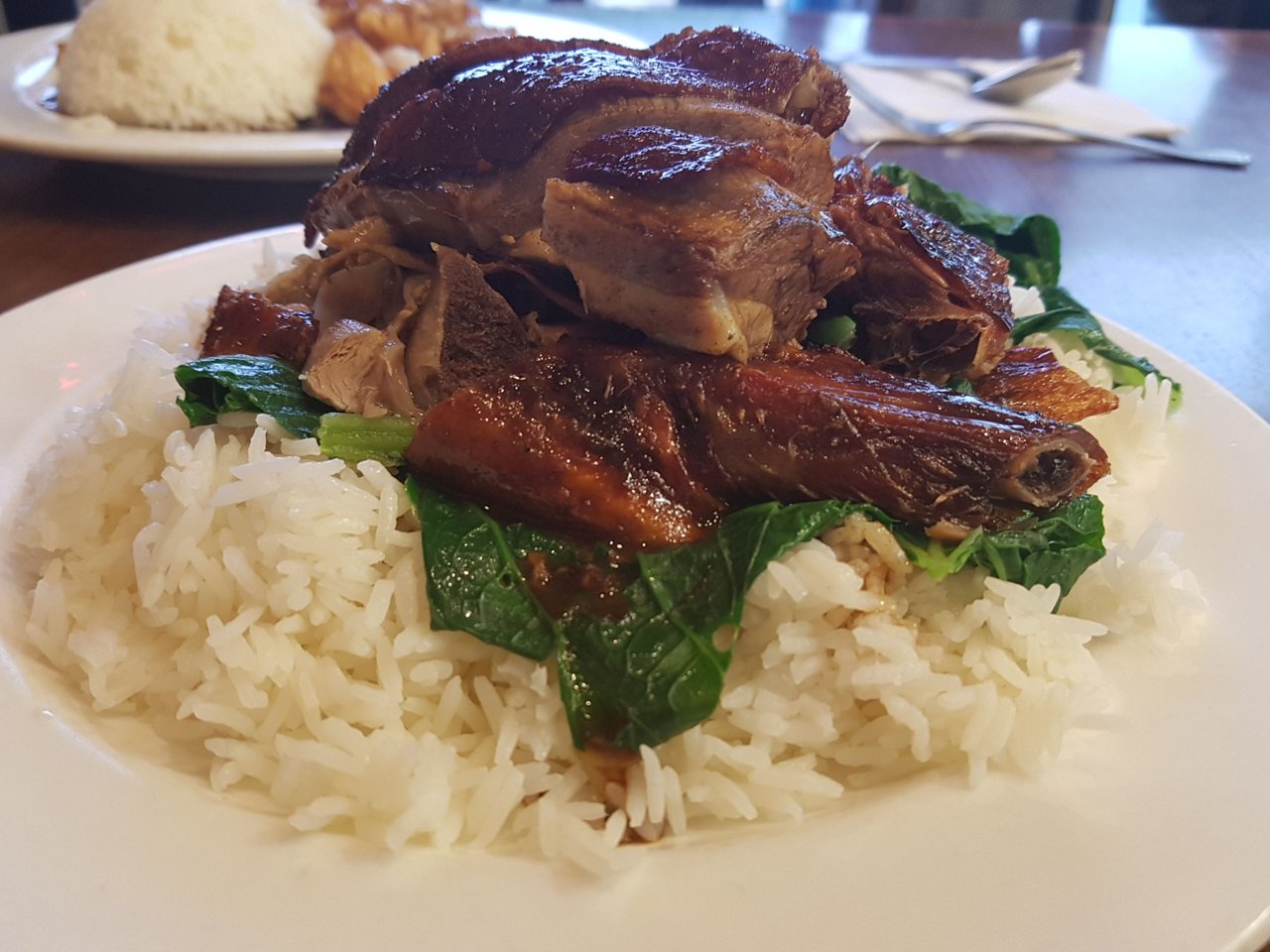 14. Roast Duck with rice. I always get this dish or the BBQ pork, Roast Dick with rice.
As you can see the portions are very generous. Most importantly the food is consistently cooked with love and fresh ingredients. I hope you enjoyed my post and if you pass by the area, please do try this authentic Chinese food, you will not be disappointed. I can also vouch for the Singapore noodles. 5 star rating everytime.