Risotto de Camarones. Recetario parte #6/ Shrimp risotto. CookBook part #6 Spanish/English
Hola Queridos Steemers
En mi entrada de hoy quiero hablarles acerca de un plato muy conocido y muy Italiano que en mi país es bastante costoso y no en todos los restaurantes es servido como es el deber ser.
Hello Dear Steemers! In my entry today I want to talk about a very well known and very Italian dish that in my country is quite expensive and not in all restaurants it is served as it should be.
El Risotto. Es uno de los platos mas populares del norte de Italia junto con la pasta y la pizza.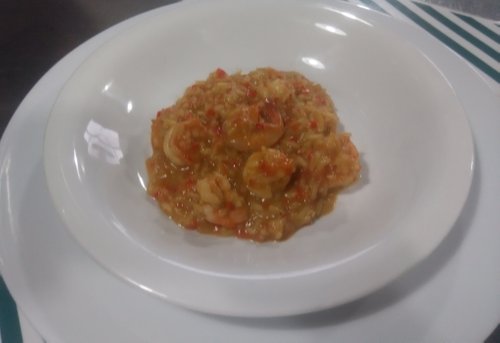 Cuenta la historia que al rededor del siglo XV hubo un joven renacentista italiano que se enamoró de una hermosa señorita, hija de un maestro de mucho renombre y poder de Italia. El joven encantado con la belleza de la dama quiso contraer matrimonio. El novio era un aficionado de la cocina y mandó preparar para el día de la celebración un plato para sorprender a todos sus invitados. El plato debía de ser sencillo y rápido de preparar. Decidió darle color con hebras de azafrán. Los comenzales quedaron encantados al ver una preparación tan colorida, y a partir de ahí se comenzó a utilizar este condimento para este tipo de preparaciones.
The Risotto It is one of the most popular dishes in northern Italy along with pasta and pizza.
History tells that around the fifteenth century there was a young Italian Renaissance who fell in love with a beautiful young lady, daughter of a teacher of great renown and power of Italy. The young man, delighted with the beauty of the lady, wanted to marry. The boyfriend was a fan of the kitchen and he ordered to prepare for the day of the celebration a dish to surprise all his guests. The dish should be simple and quick to prepare. He decided to color it with saffron threads. The beginners were delighted to see such a colorful preparation, and from then on they began using this seasoning for this type of preparation.
Ingredientes para nuestra preparación: (01 Porción)
1/4 de taza de arroz arborio
6 camarones
1/4 de taza de cebolla cortada en cubos medianos (emincé)
1/4 de pimentón rojo cortado en emincé
1 tomate pelado
2 hebras de azafrán
1/4 de taza de vino blanco
2 tazas de fondo de camarones (fumet)
1 cda de mantequilla
c/n de sal
c/n de pimienta
Ingredients for our preparation: (01 Serving): 1/4 cup arborio rice, 6 shrimp, 1/4 cup onion cut in medium cubes (emincé), 1/4 red pepper cut in emincé, 1 peeled tomato, 2 strands of saffron,1/4 cup white wine, 2 cups shrimp bottom (fumet), 1 tbsp butter, q / n salt, q / n pepper
Preparación:
Sofreír la cebolla junto con el pimentón y el ajo
Añadir al sofrito el azafrán
Con llama media añadir el arroz, remover un poco y luego añadir el vino blanco, remover mientras se deja reducir.
Añadir el fondo de camarones, dejar cocer un poco más, nunca dejar de remover para que el arroz tome textura cremosa. El tiempo de cocción del arroz arborio es exacto de 18 min.
En una sartén a parte sellar los camarones limpios, cortados a la mitad, condimentar con un toque de sal, pimienta y ajo.
Desglasar la sartén y agregar los jugos obtenidos junto con los camarones al arroz.
Agregar queso parmesano
Retirar del fuego
Servir como caiga en el plato
preparation: Fry the onion with the paprika and the garlic, Add saffron to the sauce, With medium flame add the rice, stir a little and then add the white wine, stir while letting reduce. Add the bottom of shrimp, let cook a little more, never stop stirring to make the rice creamy texture. The cooking time of arborio rice is exactly 18 min. In a separate skillet, seal the shrimp clean, cut in half, season with a touch of salt, pepper and garlic. Deglaze the pan and add the juices obtained along with the shrimp to the rice. Add parmesan cheese. Remove from the fire and Serve as it falls on the plate
...Y buen provecho!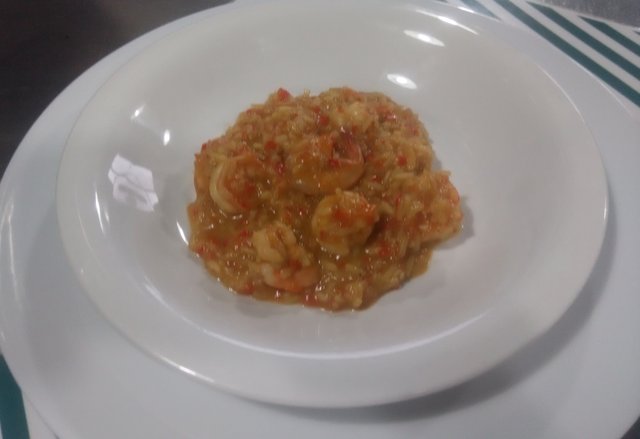 Fotografía tomada desde mi dispositivo móvil ZTE V5/ Picture taken from my ZTE V5 mobile device
... And good profit!

Puedes seguirme haciendo click aquí: