I love oats they are so nutritious! They are known for well balanced nutrition profile containing vitamins, minerals antioxidants, amino acids and fiber.
Did you know that oats contain soluble fiber called beta-glucan which is used to make medicine!
Beta-glucans are known to lower cholesterol levels and control your blood sugar and insulin levels.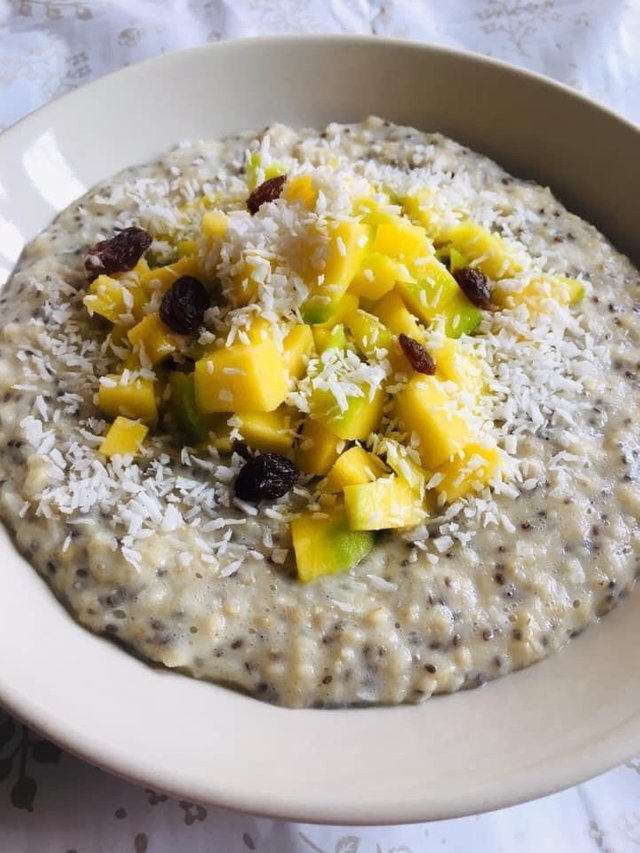 I only discovered recently that they contain amino acid called tryptophan which is responsible for the production of serotonin in the body. It is also key to brain function and has a role in healthy sleep and better mood.
People cannot make tryptophan in their bodies, so must obtain it from their diet(My reason to eat more carbs😬)
Oats are also very filling which means they could help you eat fewer calories.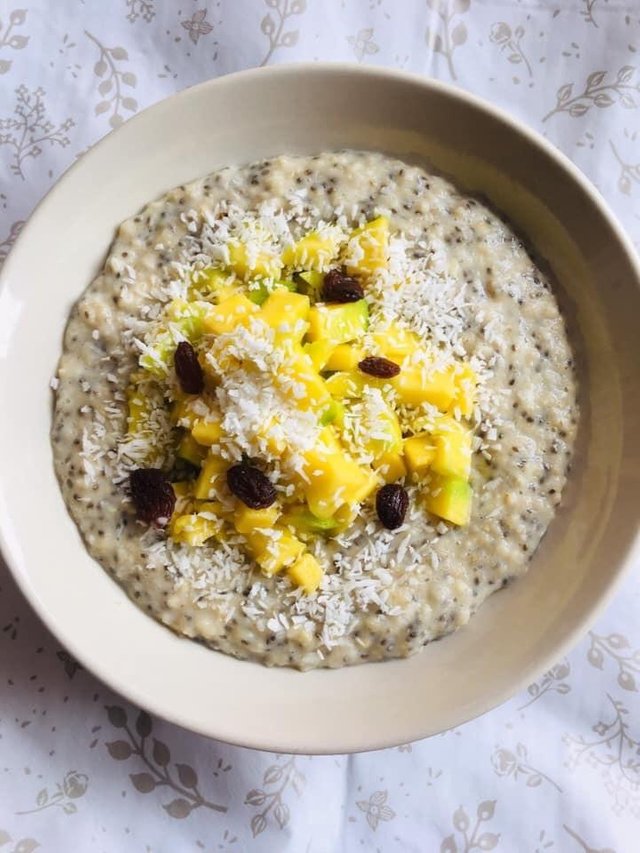 Few tips before you cook this:
1.I soak my oats and chia seeds in hot water for a minimum of 30min for easier digestion.
2.You can use 4 egg whites to replace protein powder and cook with oats but i never tried this method.
3.Add cocoa powder and almond butter if you want "bounty version"
Ingredients:
35g Oats
30g Vanila protein powder
250ml hot water/Milk or more
100g Chopped fresh mango
1tblsp chia seeds or linseed
1tblsp sweetener ( Erythritol )
10g Unsweetened desiccated coconut
Method:
1.Add to your soaked oats 250ml water or Milk of your choice and cook in microwave for 2 min.
2.Mix with spoon and add protein powder. At this stage you might need more liquid as protein powder will absorb a lot liquid.
3.Add sweetener, coconut and mix again.
4.Decorate with mango and enjoy!
Macros
cal 431
Protein 29g
Carbs 48g
Fat 14g
Fiber 12g😍 Half recommended daily amount!
This is my quick version.
For batch cooking i use my overnight oats recipe posted few months ago😉
How do you like your oats?
Evidence: https://www.ncbi.nlm.nih.gov/pubmed/9353622
https://www.ncbi.nlm.nih.gov/pubmed/22622709/
...........Polish translation........
Uwielbiam platki owsiane, są tak pożywne! Znane są z dobrze zbilansowanego profilu żywieniowego zawierającego witaminy, minerały, przeciwutleniacze, aminokwasy i błonnik.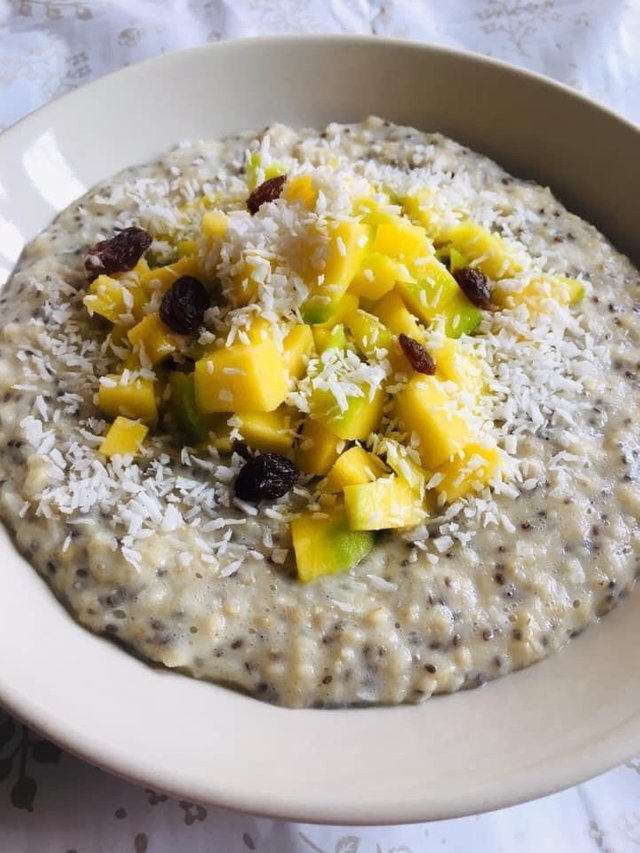 Czy wiesz, że owies zawiera rozpuszczalny błonnik zwany beta-glukanem, który służy do wytwarzania leków!
Beta-glukany obniżają poziom cholesterolu i kontrolują poziom cukru we krwi i poziom insuliny.
Dopiero niedawno odkryłam, że zawierają one aminokwas zwany tryptofanem, który jest odpowiedzialny za produkcję serotoniny w organizmie. Jest również kluczem do funkcjonowania mózgu i pomaga nam byc w lepszym nastroju.
Ludzie nie mogą wytwarzać tryptofanu w swoich ciałach, dlatego muszą je otrzymywać ze swojej diety (Mój powód, aby jeść więcej węglowodanów😬)
Owies jest również bardzo sycący, co oznacza, że ​​mogą pomóc ci jeść mniej kalorii.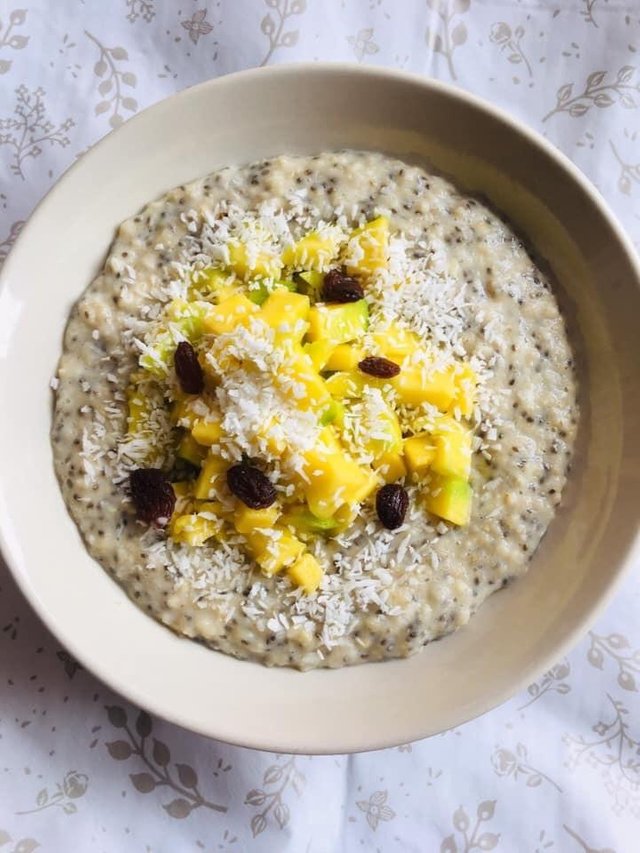 Kilka wskazówek przed ugotowaniem tej owsianki:
1.Moczę platki owsiane i nasiona chia w gorącej wodzie przez co najmniej 30 minut, aby ułatwić trawienie.
2.Możesz użyć 4 białek jaj, aby zastąpić białko w proszku i gotować z platkami owsianymi, ale nigdy nie próbowałam tej metody.
3.Dodaj kakao w proszku i masło migdałowe
Składniki:
35g platkow owsianych blyskawicznych
30g odzywki bialkowej
250 ml gorącej wody / mleka lub więcej
100g Pokrojone świeże mango
1 łyżka nasion chia lub siemienia lnianego
1 łyżka słodzika (Erytrytol)
10g Niesłodzonego, wysuszonego kokosa/wiorki
Metoda:
1.Dodaj do namoczonych platkow owsianych 250 ml wody lub mleka do wyboru i gotuj w kuchence mikrofalowej przez 2 min.
2.Wymieszaj łyżką i dodaj białko w proszku. Na tym etapie możesz potrzebować więcej płynu, ponieważ białko w proszku wchłonie dużo płynu.
3.Dodaj słodzik, kokos i ponownie wymieszaj.
4.Udekoruj mango i zjedz!😁
Makra
cal 431
Białko 29g
Węglowodany 48g
Tłuszcz 14g
Fibre 12 g😍 Połowa zalecanej dziennej ilości!
To jest moja szybka wersja.
A wy jak lubicie swoja owsianke?
Biblioteka: https://www.ncbi.nlm.nih.gov/pubmed/9353622
https://www.ncbi.nlm.nih.gov/pubmed/22622709/