I'm no different to most people in that I like to eat, not excessively, although that's been known to happen at times. No, not binge eating, just eating in general. I typically have three meals like most other's: Breakfast lunch and dinner. OK, so there may be a snack or two thrown in here and there but not always. I like sharing meals with others too. I find it very social and enjoyable.
I generally spend my lunch break, when I'm actually at the office, with a couple of my colleagues. We decide on somewhere to eat and either eat there or bring it to the park if weather permits and sometimes we just eat in the kitchen at the office. It's really social and fun too. We talk about all sorts of things...Lately though lunch times have been somewhat disappointing...Well, not disappointing, maybe one-dimensional is a better way to say it.
My two colleagues are interesting of course, that hasn't changed...Ah hell, who am I kidding...Yes it has! The have stopped eating and it's ruined everything!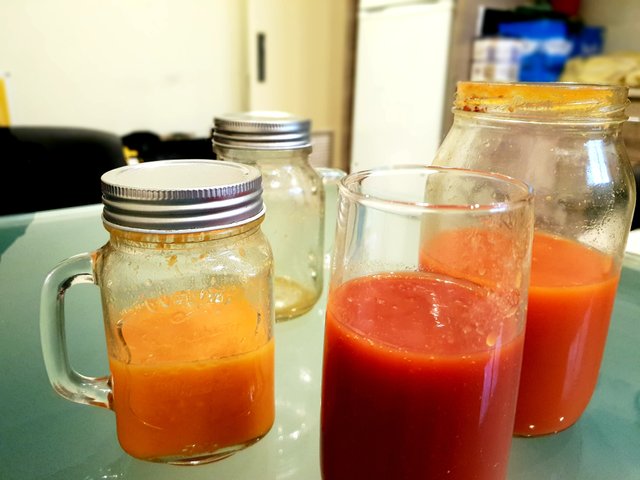 Alright, let me explain. My two, usually talkative and engaging colleagues, are on juice diets for 30 days. Yep, nothing but vegetable/fruit juice blends or some such nonsense for 30 days! It's supposed to be good for them. It's day 11 or 12 I think and since they started it all they actually talk about is food. Pizza, toasted sandwiches, soup, chocolate...Everything...And there they are sipping on their bloody juice. I'm sure they will reap the benefits of their juice diets but I miss the usually interesting conversation that now centres around every item of food they ever ate, will eat, or want to eat. Don't get me wrong, talking about food is great, but I wonder if they're simply torturing themselves.
Today I walked over the road to the supermarket with them, I was off to get some food as people tend to do at lunch time...They just went for the walk. I selected my food and we headed back to the kitchen at work to eat. I ended up having a bread roll with hot salami and cheese on it and a green salad with feta cheese and roasted pumpkin. It was nice and healthy. We were sitting there chatting about food, pizza to be exact, whilst I ate and they sipped. I took the image above of all the juice upon the table. Talk about getting juiced!
They say the detox will pay dividends and I have no doubt it may, however I don't think I could ever do such a diet for a day, let alone for 30 days. I like food too much. Having said that I also had a juice which is the red one in the glass in that photo above. It's vegetable juice I bought from the supermarket. If you can't beat them join them? Something like that. At least it got them off my back for two minutes; They've been on at me about getting into the juice diet. Nope, ain't going to happen.
We discussed the juice diet coming to its conclusion and what we are going to eat for lunch when it does. I think pizza is going to win the day. For me, well, I'll be glad to have my lunch-colleague's back on track and actually eating lunch rather than sipping it. We can then resume eating normal food, eating in general, for lunch.