As we approach the height of fall apple season, I notice there are two different kinds of apples in my fruit basket. One is called Golden Delicious; these apples actually came from a tree in our neighborhood. The second variety is called Jonagold, which is one of my favorite apples when eaten fresh. While I sat there eating a handful of strawberries (sorry, apples!) I realized that these two apples had a common ancestry. The story of how the Golden Delicious apple was found is a good one. So I'll tell that story and will also explain how the Jonagold was developed from the same Golden Delicious apple.
With apologies to early North American apples, the Golden Delicious has been called the most important apple in American history. For starters, it's sweet, juicy, and a good keeper that can be stored and shipped. Its consistency (crisp when freshly picked, crumbly as it ages) also creates great apple sauce and apple butter, which once were important ways to preserve the fruit for winter and spring time use. These favorable properties have made the Golden Delicious into one of the most popular parent varieties for the development of other kinds of apples.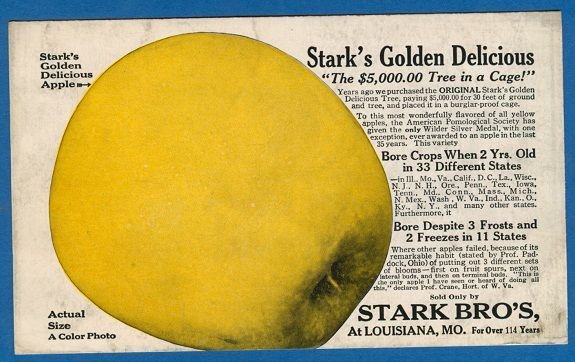 Most old varieties of apples were tart and brought different flavors to the table. Also, most of them were red or green, so gold was a novelty color that most people had not seen. The Golden Delicious is a sweet, golden, and juicy apple that isn't particularly flavorful. There is just enough flavor to make it enjoyable to eat, but the sweetness is what you notice (which is a nice way of saying it's not as deeply flavorful as some others). Its relatively plain and sweet aspect has made the Golden Delicious a good match for crossing with the more flavorful and tart varieties in hopes of creating something new.
Many significant types of apples have sprung from crossing the Golden Delicious with different varieties. Have you ever heard of or tasted a Gala apple? How about a Mutsu (Crispin), Pink Lady (Cripps Pink), Cameo, Elstar, Rubinette, Opal, or Pinata (Pinova)? The Jonagold, also in this post, is another example. All of these apples were developed by crossing a Golden Delicious with another variety.
The Stark Nursery
During the War of 1812, a man named James Stark began planting apple trees in Missouri. His family's land sat in the hills above the Mississippi River. The apple varieties he planted came from Kentucky. These trees became the basis of his family's nursery. Stark Brothers Nursery still exists today and it may have the most storied history of any nursery in the United States.
Five generations after it began, the family nursery was being run by two brothers, Lloyd and Paul Stark. Lloyd Stark was the businessman who ran the front office. Paul Stark was the horticulturist who operated the nursery. Lloyd Stark was best remembered for becoming Governor of Missouri (and once challenging future president Harry Truman for Senate, a race which Truman won). But both before and after that, he ran the family nursery business.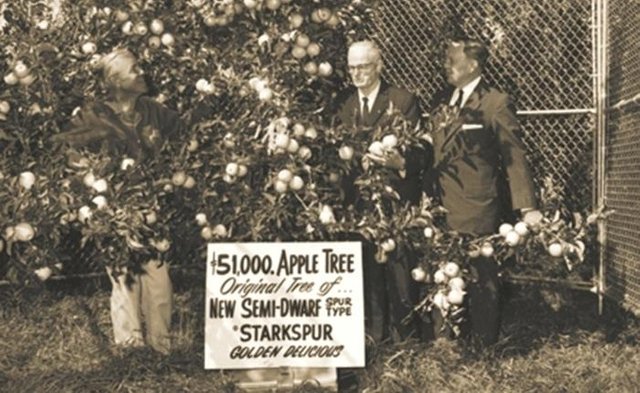 As for Paul Stark, the title of his obituary in the New York Times reads, "Paul Stark, Nurseryman, Dies; Found Golden Delicious Apple." That's his most famous accomplishment.
Origins of the Golden Delicious Apple
Over the years, I have heard a couple of different stories about how Paul Stark came upon the Golden Delicious apple. And when I investigated further, I found that both stories are true. They are both portions of the story of how he found his golden fruit.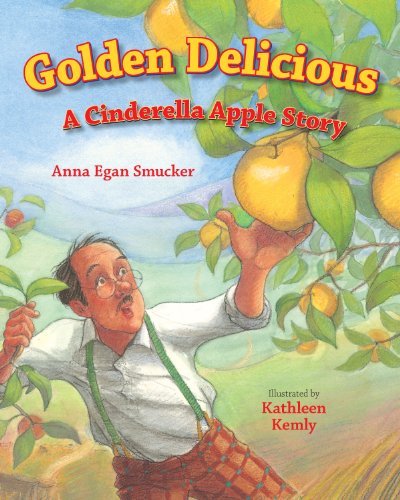 There's even a children's book about the Golden Delicious story. Image from Amazon.com.
The reason that Red Delicious and Golden Delicious apples have similar names is because the Stark nursery branded and sold both of them, though the two were not related. By 1913, the two brothers had decided that they needed a famous apple tree that they could market. They put out the call to orchardists that they would pay for the rights to a special apple. And they received submissions by mail from all across the country.
Lloyd Stark was the first to unpack and taste the Golden Delicious. Both brothers knew they had found their perfect fruit when they first tasted it. This submission had come from Anderson Mullins, a farmer in Clay County, West Virginia, who had long been a customer of the nursery's mail order fruit trees.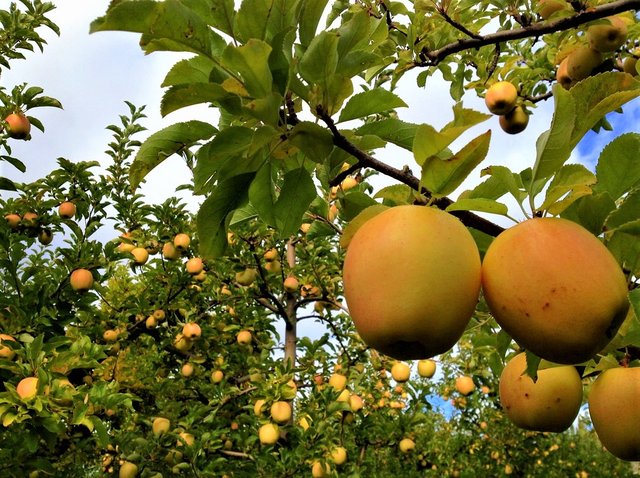 Golden Delicious apples in an orchard. Creative Commons via Flickr.com by lacatholique.
Anderson Mullins had first noticed a tree with golden apples growing on his farm in 1905. This wasn't a grafted apple, but a chance seedling with unknown parentage, possibly a seedling of the old Grimes Golden variety. This was bigger and sweeter than the Grimes. But it wasn't until years later that he sent some to the Starks. And the next season after tasting it, in 1914, Paul Stark packed his bags, embarking on a journey of more than 1000 miles by train and horse to find it.
The only way to get to the Mullins farm was via a narrow gauge railway. And it stopped 25 miles from their property in Odessa, West Virginia. Paul Stark had to rent a horse and buggy. Later, he had to ditch the buggy and saddle up the horse, which he rode to the Mullins property on Porter's Creek.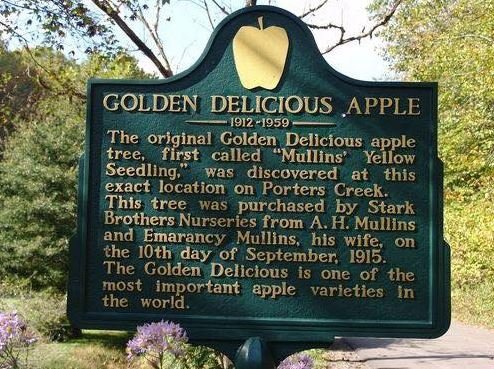 The historical marker sign at the Mullins farm in West Virginia. Source: Clay County Golden Delicious Festival.
When Stark arrived at Mullins' cabin, there was no one home. He waited and then decided to have a look around. In the distance, he saw a spot of yellow on a hill and walked towards it. In his own words, as quoted later in his company's catalog, Paul Stark described what he saw:
"There, looming forth in the midst of small leafless barren trees, was one tree with rich green foliage as if it had been transplanted from the Garden of Eden. That tree's boughs were bending to the ground beneath a tremendous crop of great, glorious, glowing golden apples. I started for it on the run, a fear bothered me. Suppose it's just a Grimes Golden apple after all. I came closer and saw the apples were 50 percent larger than Grimes Golden. I picked one and bit into its crisp, tender, juice-laden flesh. Eureka! I had found it!"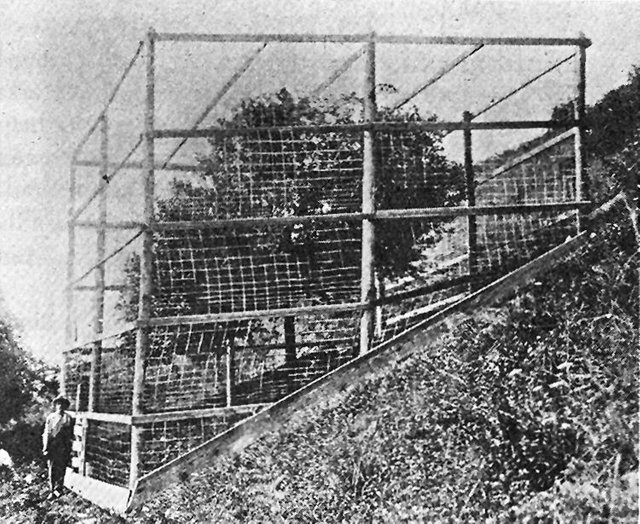 When Mullins arrived, Stark paid him $5,000 for the rights to the tree and had it fenced for protection. He went back to Missouri with scion cuttings to graft. Two years later, the Stark nursery had trees producing Golden Delicious apples. The color, the sweetness, the juiciness, and the texture: this was something new and novel for the American consumer. The nursery, which already had the (unrelated) Red Delicious apple, marketed the two of them together. And a whole industry was born.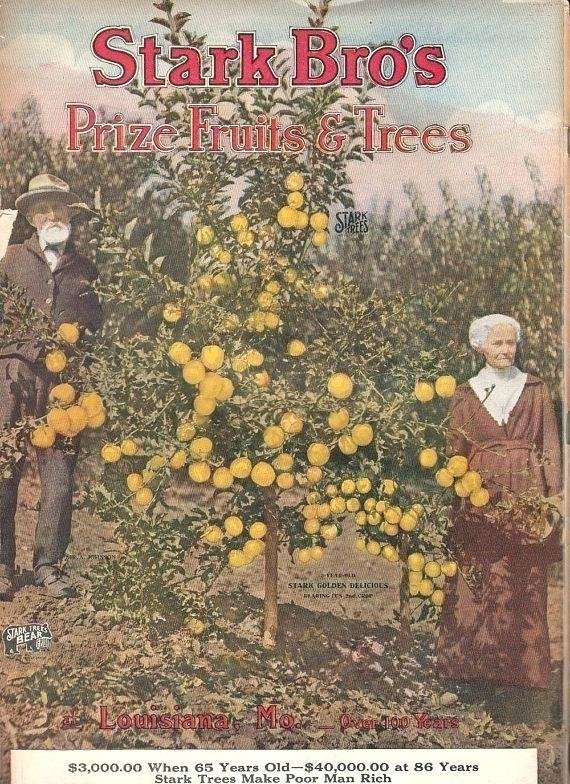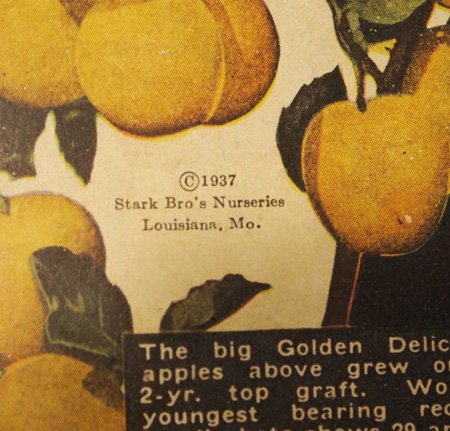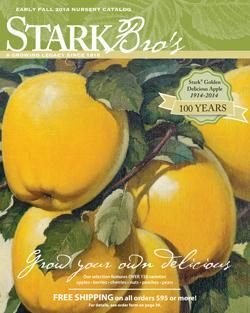 The Jonagold
The second kind of apple I have in the fruit basket is a perfect example of how important the Golden Delicious became. Not only has it been a hugely popular apple in its own right. But it has also spawned a lot of crosses of newer varieties. This Jonagold is one of these.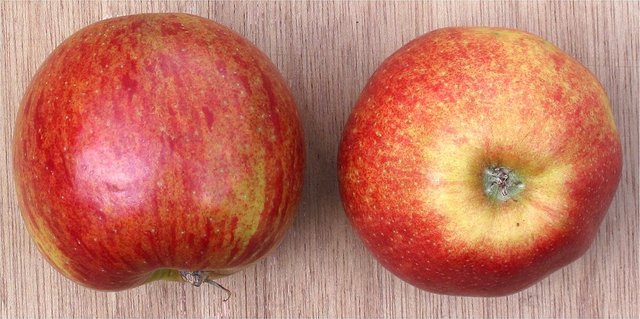 Jonagold apple. Creative Commons via Wikimedia.com by Rasbak.
The Jonagold is a huge apple, probably 30-50% larger than most. It is a cross of the Jonathan and the Golden Delicious varieties of apple. If you've ever had a Jonathan, then you're one of the few who have tasted it. Jonathans are tart and flavorful. Golden Delicious apples, meanwhile, are sweet and juicy. It was a cross made in heaven. More specifically, it was created in 1968 at the New York State Agricultural Experiment Station in Geneva, New York, which is the birthplace of many of the great apples cultivars we know today.
Jonagolds are one of my favorite apples, but only when eaten fresh. At that time, the Jonagold still has some green on it, overlaid with lots of red striping on the ones from my area. I've seen Jonagolds in other places that look much different. Some look like large, blushed Golden Delicious apples and others more like its Jonathan parent (or like a McIntosh) with complementary green and red blotched areas. When Jonagolds still have some green, the flavor is best. And these apples are extremely juicy; you simply cannot eat one without spilling some drops of it.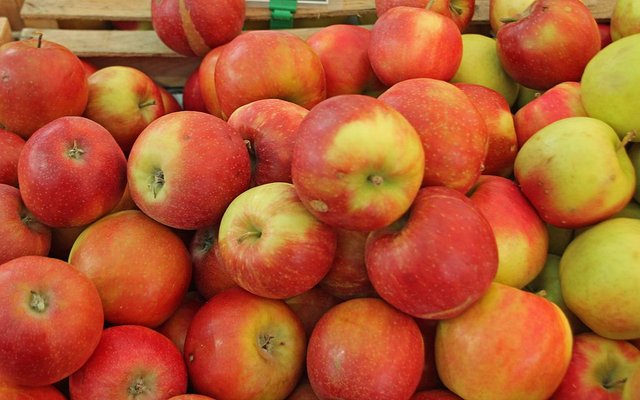 Within weeks, this apple goes from exceptional to plain. The ones we see in the stores a month later are mostly golden with red striping. And they taste like a spritely Golden Delicious, which doesn't excite me anymore. The exceptional taste, for the most part, is gone by then.
I like to eat these when they first get picked. I like to refrigerate some to prolong that goodness. And I shed a tear (or is it a drop of juice?) when the base color turns from green to golden. Because at that point, it's time to move on to another variety of apple. Some stores keep trotting these out on the shelves for many months. But they are only enjoyable to my tastes for a few weeks at most.
For those few weeks, just after being picked, this is as good an apple as I have ever tasted.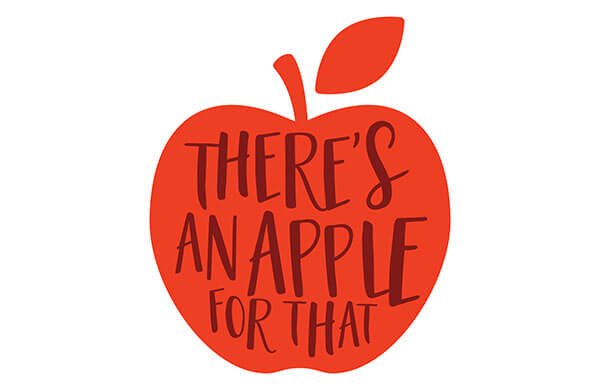 All images are public domain or from Stark Brothers nursery catalogs and labels unless otherwise credited in the text. The "There's an apple for that" logo above comes from the fruit distributor stemilt.com though I don't think it is trademarked.
References:
https://en.wikipedia.org/wiki/Lloyd_C._Stark
https://www.nytimes.com/1974/11/01/archives/paul-stark-nurseryman-dies-found-golden-delicious-apple-bought-tree.html
https://en.wikipedia.org/wiki/Golden_Delicious
http://www.wvgenweb.org/clay/goldendeliciousapple.htm
http://www.applesfromny.com/varieties/17-jonagold