This Christmas was my first time roasting up a whole turkey. I knew it was gonna be similar to roasting a chicken yet needed to think of what flavors it would go well with.
Turns out it was pretty simple especially when you've got the right ingredients and a super good oven. I thankfully had both with the latter a professional 3 tier oven that can go up to tempretures of 350 degrees.
Safe to say I had a very cripsy skin poultry to feast on :D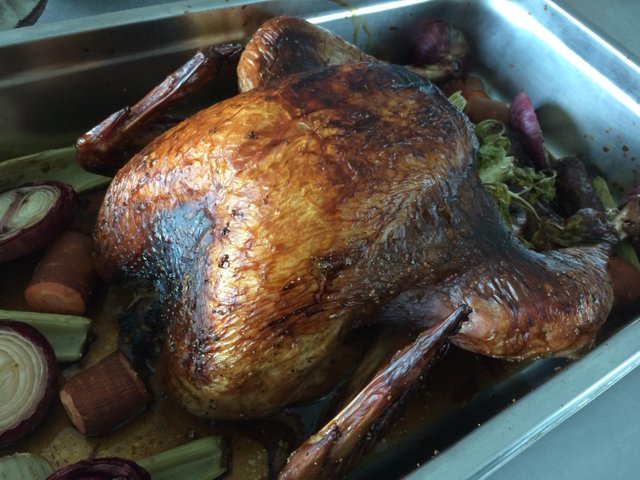 \
I roughly chopped up some carrots and onions just to give it some aromatic vegetable flavors to the bird and instead of the traditional chesnut stuffing, I did mine purely with vegetables which were inexpensive carrots, celery and onions.
I did a wet marinade for this one. Since it's my first time, I had the choice of brining, dry rub or a wet marinade and I went with the last option. I'll probably try a dry rub next time but this was pretty good for my first try.
My marinade included soy sauce, black soy sauce and black pepper. Left it overnight, about 10-12 hours in the fridge.
I roasted this at 165 degrees for about 3 hours. It could've been 15 minutes too long as it came out a little dry on some parts but was really good for shredding which was what I was gonna do - a pulled turkey burger.
Final results were good and the burger was awesome.
Check out the burger on and earlier post I did here
Anyway, I had fun doing this and I'll get better at it the next round.
Happy New Year everyone and see you on the other side of 2019!
-