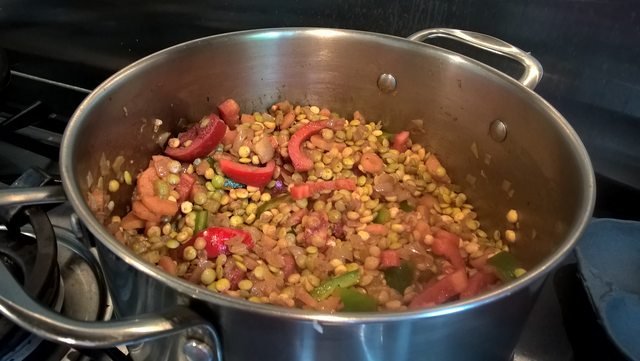 Do lentils give you gas? They are a miracle food but you need to treat them right. Read on and bear with me to discover a cheap, digestible (no gas) scrumptious recipe for comfort food at its best. Healthy comfort food.
---
My hubby agrees with me that the combination of Cauliflower Cheese and Spanish Style Lentils is the cosiest of comfort food ... which is just as well as I broke the news to him this evening that I had put diesel in my little car today ... and it's supposed to have unleaded petrol 🚗 – Aargh!! Fuel Doctor to the rescue, drained tank, car OK, wallet a lot lighter. Thank heavens for cheap comfort food. 🚒 🍰
---
Unfortunately, the wonderful lentil is high in phytic acid, which is regarded as an anti-nutrient. That is to say, it can reduce your ability to absorb minerals. Simply soaking the lentils for 24 hours will radically reduce the phytic acid, increase their nutritional value and make them much more digestible.
I adore lentils in their various guises: red, green, brown, puy, vertes ... We eat them often and in many different ways. Moussaka, different dhals with rice, soups and this Spanish style recipe that I am sharing with you today.
So, this recipe begins by rinsing and soaking your lentils in a big bowl of water with a dash of cider vinegar or a squeeze of lemon juice. Let the magic begin and leave it them to soak for 24 hours.
You will need:
300 - 350 g (10-12 oz) green lentils or a mixture of green lentils and yellow split peas or chana dal.
125 g Chorizo
1 teaspoon of paprika + 1 teaspoon of sweet smoked paprika
3 onions, chopped
4 carrots and 4 good ribs of celery, diced (I love celery so often add more)
2 red peppers or one red and one green (whatever you fancy)
2 cloves garlic
1 tablespoon tomato puree
4 large tomatoes diced or tinned will do ... depends on how tomatoey you want it to be.
150mls sherry, red wine or white wine
1/2 teaspoon of dried thyme or a tablespoon of fresh leaves.
Bay leaf.
Season to taste with salt and pepper
Action:
Drain and rinse your pre-soaked lentils.
Boil the lentils in UNSALTED water, about 2 inches above the lentils ... don't put too much in as this liquid goes into the soup. * If you add salt before the lentils are cooked, they will be tough. They won't be fully cooked at 20 mins but will carry on cooking when you add them to the veg mix.
Pop a tiny dash of olive oil in the pan and fry the Chorizo gently for about 8 minutes to brown and release its oil.
Remove the Chorizo from the pan and use the oil to fry the onions gently and slowly until soft.
Then add the celery and carrots and thyme and bay to the onions and fry some more (another 5-10 minutes)
Add the garlic, peppers and paprika and fry for one minute over a low heat and then the sherry.
Then add the semi-cooked lentils and the cooked Chorizo.
Now add the tomatoes
Add a chicken or vegetable stock cube and enough liquid to make it right. Don't add too much, you can always add more later.
Cook for 20 minutes or longer if lentils are not done.
I'd say it's better the next day when all the flavours have melded, so I would definitely prepare it ahead.... so it takes 48 hours from start to finish.
This freezes really well. I will often take a bag of this frozen concoction to work, let it defrost while I slave away all morning and then heat it up in the microwave at lunchtime. We had this last night with broccoli and boiled potatoes and this evening with Cauliflower cheese and sautéed potatoes (left over spuds from last night). Tomorrow it's Spanish omelette; using the last of the potatoes. Well, I'm half Irish, so what do you expect? 🍀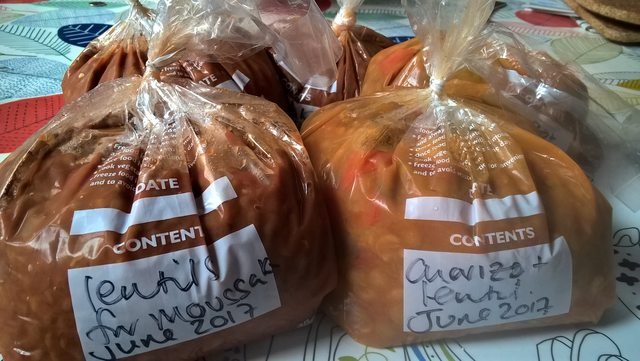 I often make this recipe without the Chorizo – I am just working on a few tweaks to see how it can be improved. I might see if a little Tamari or mushroom stock gives it that much needed umami kick. If anyone has any suggestions, please let me know.
Any vegans out there with some top tips for the ultimate umami hit, please get in touch as I am on a quest to ditch meat entirely.