Przewiń w dół do języka polskiego / Scroll down for Polish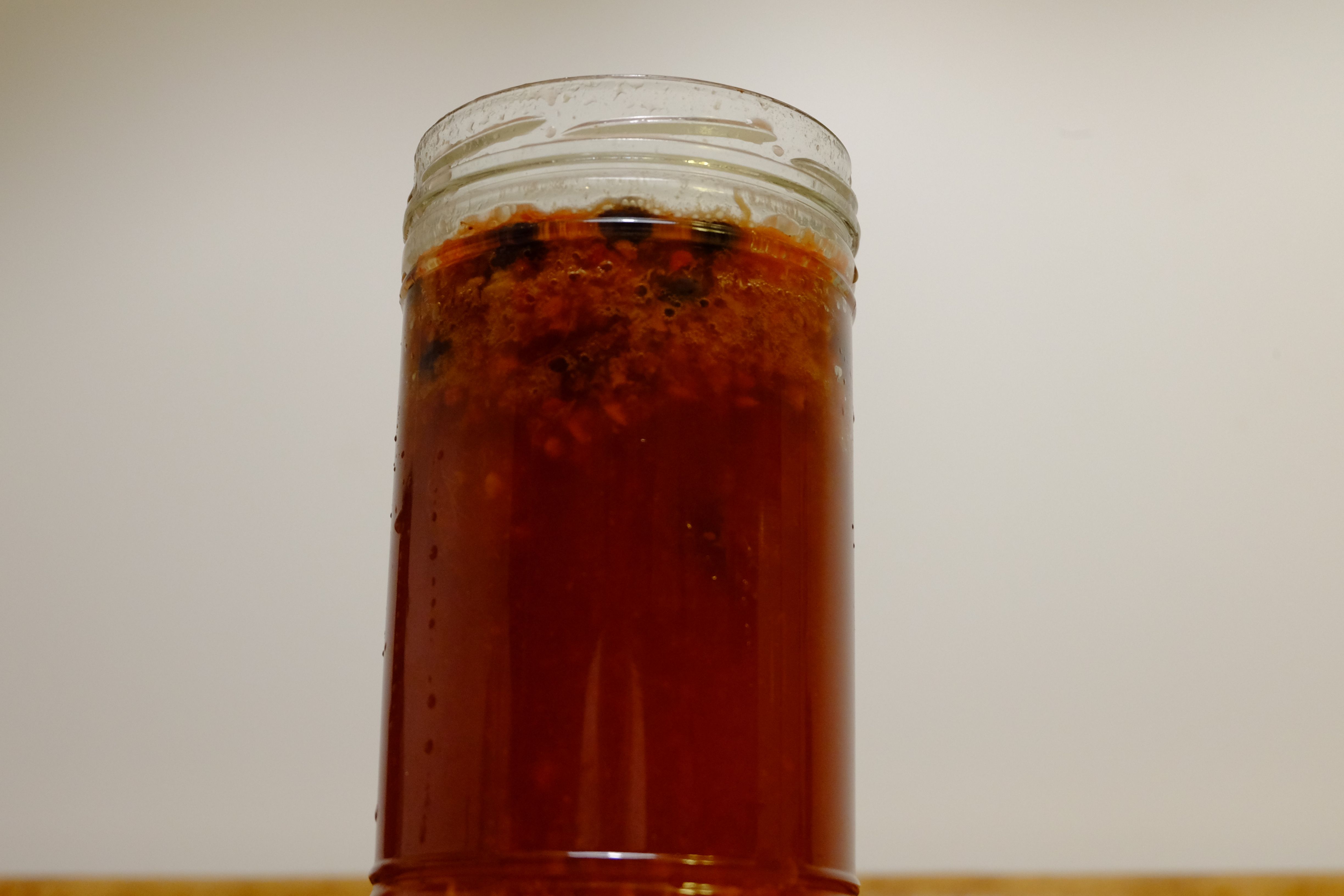 English
Boy is it hot! The coolest room above ground in my Parents' house has the air temperature of 28-29C and I am working from home. I have moved into the basement. 20 C is like paradise, I'm sitting in my Dad's man cave (work in progress) and get to study his St Barbara Miners' Fest beer mug collection and such, accompanied by a single cricket. Have I told you that I admire my Dad? He's incredible.
OK, yeast water. I couldn't make up my mind whether to feed it honey or raspberries, so I did both. Throughout the day it was bubbling happily.
I planned to make some bread using a recipe from The Fresh Loaf, but we got back home too late and I would need to skip the night. I prepared the ingredients and reviewed the recipe, so that I'm not like the usual me, messing things up by ignoring the instructions (recipe source). It should be ok, quite a low hydration and Polish flours instead of British ones. In UK I always need to remember to remove 10% water from the recipe. And I almost always forget when it comes to baking.
Planning
30 minutes autolyse, 2.5h bulk proof (with stretch and folds, so don't go anywhere), preshape, 20 minutes, shape, 1 hour on the work top, 8 hours in the fridge. Baking for 40 minutes. Together it's about 13 hours. Add 30 minutes manual work.
I used a banneton for a final proof. If you don't have one, use a strainer and a flour-dusted clean kitchen towel.
Ingredients
I have a big basket so I have doubled the quantities, but here they are unchanged.
198 g wheat bread flour (in Poland type 850, in UK strong white)
158 g wheat all purpose flour (in Poland type 390-450 tortowa, in UK plain)
40 g wholemeal wheat flour (in Poland type 1100 or more, in UK wholemeal strong)
8 g salt
266 g yeast water
Preparation
Mix flours in a bowl and add the yeast water. Make sure you incorporate the whole flour, but don't knead just yet
Leave covered with cling film for 30 minutes for autolyse - in very short it is the dough self-kneading. It uses the time for water to bind with glutenin and gliadin and form the gluten mesh. Enzymes activated by water enhance the process and further prepare the dough for proofing
Add salt and knead the dough. I keep a bowl with water next to the bowl with dough and dip my hand every now and then so that the dough doesn't stick. First fold the dough, then pinch it and fold again for a couple minutes
Leave covered with cling film for 50 minutes
Stretch and fold, leave covered with cling film for 50 minutes
Again, stretch and fold, leave covered with cling film for 50 minutes
Preshape the dough. I made a round loaf. Leave for 20 minutes
Shape the dough into a desired shape. In my case a batard. Pop it into a banneton or whatever you proof your bread in. Don't leave it in the open. If you had a quick rising bread, that could work. This one will wait nine more hours before baking. Leave it for one hour on the worktop in the kitchen
Put it in a fridge for eight more hours
Set the oven to 240C. Don't use the fan. Know your oven
Add steam, score the loaf (I usually make a single score along the batard in hope for a nice opening and an ear), put it into the oven
After 15 minutes release the steam and lower the temperature to 230C. Bake for 25-30 more minutes
Transfer the loaf onto a cooling rack until it gets completely cool
So that's the plan. I will need to adjust times as it's slightly too cold in the basement but too warm in the kitchen.
Follow me if you don't want to miss the baking result.
Previous posts:
Polish
Ale gorąco! Najchłodniejszy pokój nad ziemią w domu Rodziców ma temperaturę 28-39 stopni, a ja pracuję z domu. Przeniosłem się do piwnicy. 20 stopni jest jak w raju, siedzę w Taty skarbnicy, gdzie mogę studiować jego kolekcję kufli barbórkowych i takie tam. Towarzyszy mi jeden chrząszcz. Czy wspominałem że podziwiam mojego Tatę? Jest niesamowity.
OK, woda drożdżowa. Nie mogłem się zdecydować, czy karmić ją miodem czy malinami, więc użyłem obu. Przez cały dzień radośnie bąbelkowała.
Planowałem dziś upiec chleb z przepisu z The Fresh Loaf, ale późno wróciliśmy do domu i musiałbym zarwać noc. Przygotowałem składniki i przeanalizowałem przepis, żeby inaczej niż zwykle nie pogmatwać wszystkiego, ignorując kluczowe instrukcje (źródło przepisu). Wszystko powinno wyjść. Jest dość niska hydracja ciasta, a ja mam do dyspozycji polskie mąki. W Wielkiej Brytanii muszę zazwyczaj użyć 10% mniej wody niż jest w przepisie. I tak prawie zawsze o tym zapominam.
Planowanie
30 minut autolizy, 2.5h wyrastania wstępnego (ze składaniem ciasta, więc nie można o nim zapomnieć na ten czas), wstępne formowanie, 20 minut, formowanie, 1 godzina na blacie, 8 godzin w lodóce. Pieczenie przez 40 minut. Razem 13 godzin. Dodaj 30 minut obróbki.
Użyłem koszyka do wyrastania. Jeśli takiego nie masz, użyj durszlaka z oprószoną czystą ściereczką kuchenną.
Składniki
Ja użyłem podwójnych porcji, bo mam spory koszyk. Poniższe są niezmienione w stosunku do oryginału.
198 g pszennej mąki chlebowej (W Polsce typ 850, w Wielkiej Brytanii strong white)
158 g mąki tortowej (W Polsce typ 390-450 tortowa, w Wielkiej Brytanii plain)
40 g mąki pszennej pełnoziarnistej (W Polsce typ 1100 lub więcej, w Wielkiej Brytanii wholemeal strong)
8 g soli
266 g wody drożdżowej
Przygotowanie
Zmieszaj mąki z wodą drożdżową. Upewnij się, że cała mąka połączyła się z wodą. Jeszcze nie wyrabiaj
Zostaw ciasto przykryte folią spożywczą na 30 minut na autolizę - w skrócie to jest samowyrabianie ciasta. Wykorzystuje czas, aby woda połączyła się z gluteiną i gliadyną w gluten. Enzymy aktywowane przez wodę jeszcze wzmacniają ten proces i przygotowują ciasto do dalszej pracy
Dodaj sól i wyrabiaj ciasto. Ja trzymam miske z wodą obok ciasta i maczam rękę, aby nic się do niej nie kleiło. Najpierw składam ciasto, potem szczypię je i ponownie składam przez kilka minut
Pozostaw pod folią spożywczą na 50 minut
Złóż ciasto, pozostaw pod folią spożywczą na 50 minut
Ponownie złóż ciasto, pozostaw pod folią spożywczą na 50 minut
Wstępnie uformuj ciasto, ja zaokrągliłem. Pozostaw na 20 minut
Uformuj ciasto w ostateczny kształt. W moim przypadku owalny bochenek. Włóż do koszyka czy w czym tam wyrastasz swój chleb. Nie pozostawiaj go na płaskim. Gdyby chleb wyrastał szybko, to mogłoby zadziałać. W tym przypadku będzie czekał na pieczenie jeszcze 9 godzin. Pozostaw go na jedną godzinę na blacie kuchennym
Włóż go do lodówki na jeszcze osiem godzin
Nastaw piekarnik na 240 stopni. Nie używaj konwekcji. Znaj swój piekarnik
Zaparuj piekarnik, natnij bochenek (ja zazwyczaj robię jedno podłóżne nacięcie w nadziei na ładne otwarcie i ucho), włóż do piekarnika
Po 15 minutach wypuść parę i obniż temperaturę do 230 stopni. Piecz przez kolejnych 25-30 minut
Wyjmij chleb na kratkę do ostygnięcia
Oto plan na jutro. Będę musiał dostosować trochę czasy, bo w piwnicy jest troszkę za zimno, a w kuchni za gorąco.
Obserwuj mnie, aby Ciebie nie ominęła relacja z pieczenia.
Poprzednie wpisy: