Delicate fish in a crispy batter....
Hello my lovely fellow Steemians.
Prepairing food is an interesting and simple process . First make arrangement and then cooking.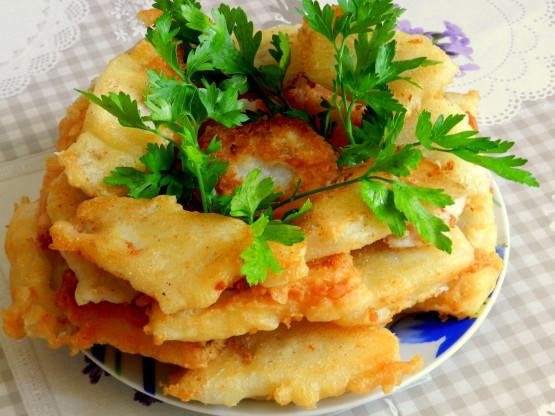 Ingredients:
white fish fillet-500 gr.
wheat flour-6 tbsp.
starch - 6 tbsp
salt-1 tsp.
cream - 1 tbsp
carbonated water-200 ml.
vegetable oil-to taste
Preparation:
In a bowl, sift together the flour, starch and salt.
Pour in the cream and sparkling water.
Whisk until smooth. The batter is slightly thinner than the batter for pancakes.
Fish fillet wash, well dry (optional), cut into small pieces.
Heat the oil well.
Dip each piece in batter and fry in deep fryer.
After frying each piece lay on paper towel to drained excess oil.
Then serve immediately.
Bon appetit!