WILD FERMENTATION | FERMENTED FIZZY TURMERIC GINGER ALE PACKED WITH GOOD-FOR-YOU PROBIOTICS 👾 👾 👾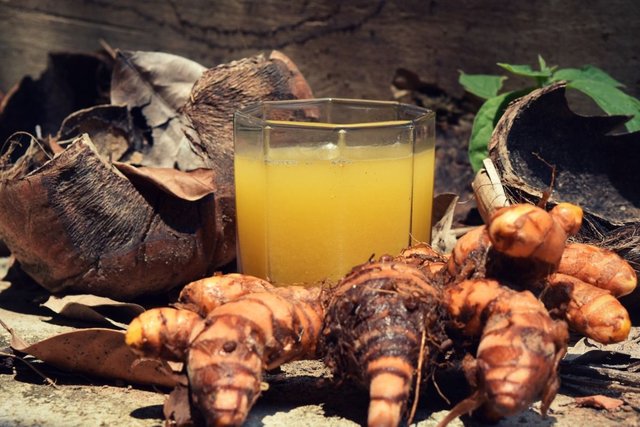 Hello! Hello! I am back with more fermenting adventures for the health-conscious fizzy drink lovers! Yesterday I shared the instructions on how to make a ginger bug to make fermented fizzy natural sodas, today its time to reveal my absolute favorite: Ginger Turmeric Ale or Soda... whatever you want to call it ;)
Though your options are endless when it comes to making fizzy fermented drinks, I always come back to this one made with ginger, turmeric, fresh orange and lime juice. So good. I had one with watermelon juice before and it was yum too but my hubby doesn't like melons :(
Why turmeric
---
If you are a regular visitor to health and food website than you may have heard about the amazing powers of turmeric. Often referred to as "The Queen of All Spices" or "The Golden Goddess," turmeric has been used in Chinese and Ayurvedic medicine to treat a wide host of health issues for ages.
Many scientific studies have come to the conclusion that turmeric is as good - in most cases even better -than most conventional drugs, yet pharmaceuticals with their many side-effects remain the number one treatment of many of our daily aches and pains.
Research has found that you might be better of using curcumin (or turmeric's active compound) instead of anti-inflammatory drugs, antidepressants (Prozac), chemotherapy, anticoagulants (Aspirin), painkillers, diabetes drugs (Metformin), arthritis medications, inflammatory bowel disease (IBS) drugs, and cholesterol drugs (Statins - Lipitor). Yet no doctor ever prescribes curcumin tablets or extracts to help people cure, maintain, or prevent disease.
Next to its healing powers, adding turmeric to your daily diet can help keep the body clean and prevent a lot of these issues.
AND it tastes great! So let's get started
FERMENTED FIZZY TURMERIC GINGER ALE PACKED WITH GOOD-FOR-YOU PROBIOTICS
---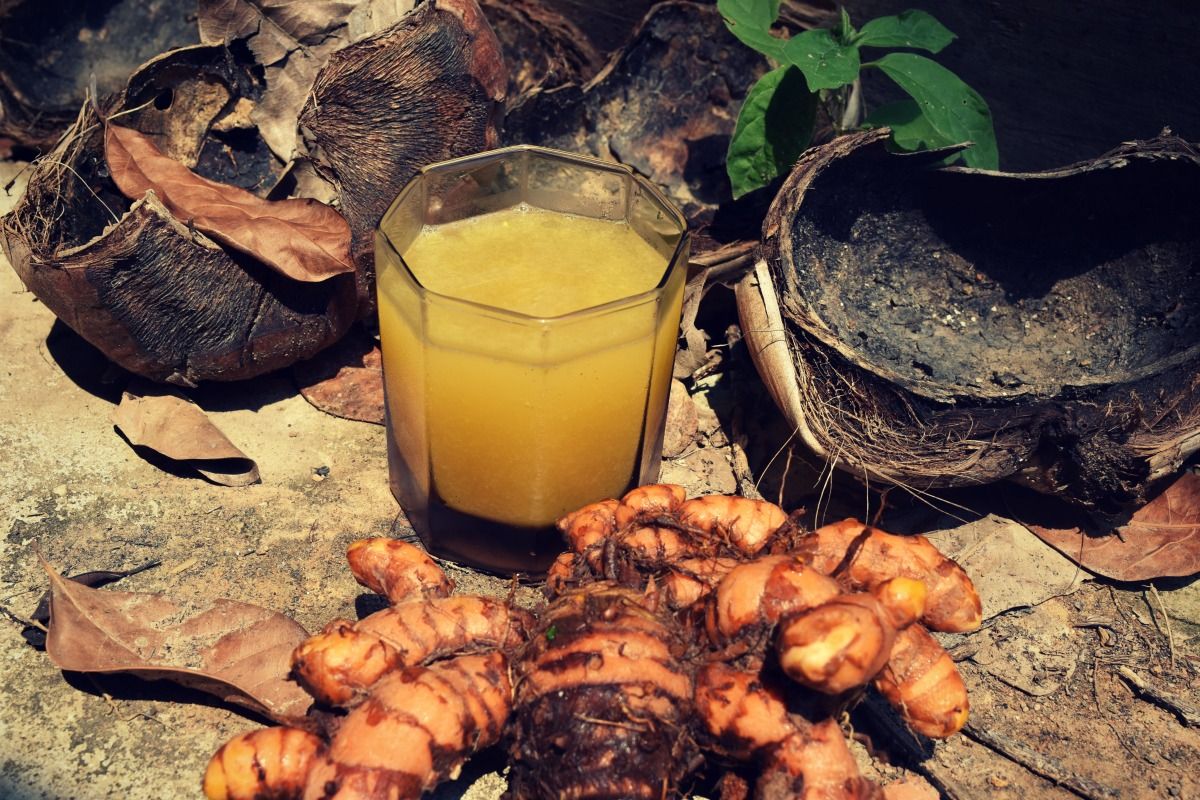 INGREDIENTS
---
½ gallon (or about 2 liters) filtered water
⅓ cup fresh turmeric root (or more), grated
1 cup sugar (white or raw palm sugar, sweeteners like honey or agave won't work)
2-3 oranges (or grapefruit or pomelo), juice only
4 limes (or lemons), juice only
Pinch of freshly ground black pepper (to improve the bio-availability of turmeric's active compound curcumin)
About 2 cups ginger bug (we used nearly all the bug we had)
FYI: CLICK HERE TO LEARN HOW TO MAKE GINGER BUG!
---
FYI: I know 1 cup sugar looks quite a lot but don't fear the bacteria will feast on this and almost none will be left in your end product!
---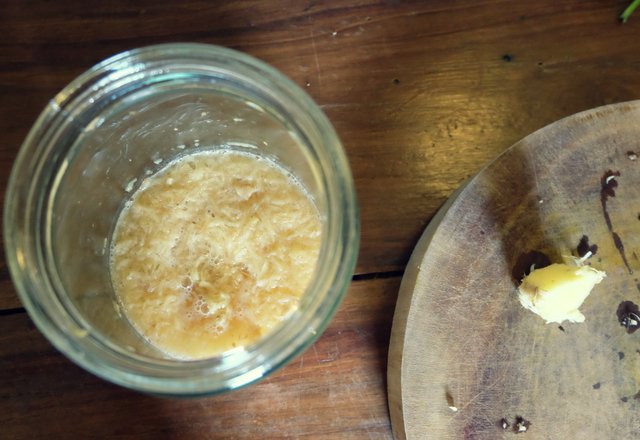 DIRECTIONS
---
First, make a healthy, bubbling ginger bug or starter culture.
In a large pot, bring water, turmeric, and sugar to a boil. Boil for 3 to 5 minutes. Remove from heat and allow to cool to room temperature.
Then add the ginger bug, black pepper, orange juice, and lemon juice. Stir well. Strain the liquid through a fine-mesh sieve to remove turmeric and ginger bug debris.
Pour the mixture into plastic or glass soda bottles that have swing tops or tight-fitting screw lids to carbonate the drink or create some fizz. Let sit for 1-3 days (maybe 4) on the counter. This will depend on the temperature. We live in the tropics so for us, it takes only 1 to 2 days to get a nice fizz in the drink. If using a glass bottle be careful that the pressure build-up isn't too strong as it may explode. That's why most people like to use a plastic bottle as you can squeeze the bottle and feel it harden as the fizz builds up. If there is too much pressure release the cap or lid and let it burb to release the pressure.
Once the bottles are hard and you have the desired amount of fizz, store the bottle in the fridge to stop the fermentation and carbonation process.
Once they are cold, they are ready to drink. You can store them in the fridge for up to a week or even 2 weeks. But our bottles never last longer than a week, though… it's too delicious to keep them in the fridge.
Once you get used to making your own fizzy drinks, you can start to experiment with adding more turmeric, ginger or use other fresh fruit juices instead. Watermelon is very delicious, just use your blender to make fresh juice out of the fruit and strain to remove seeds. Berries are another delicious option. Or add tea leaves to the boiling water. Or why not try to make your bug from other roots like a mix of turmeric and ginger (my fav), or why not try galangal. As you see your options of adding flavor are endless.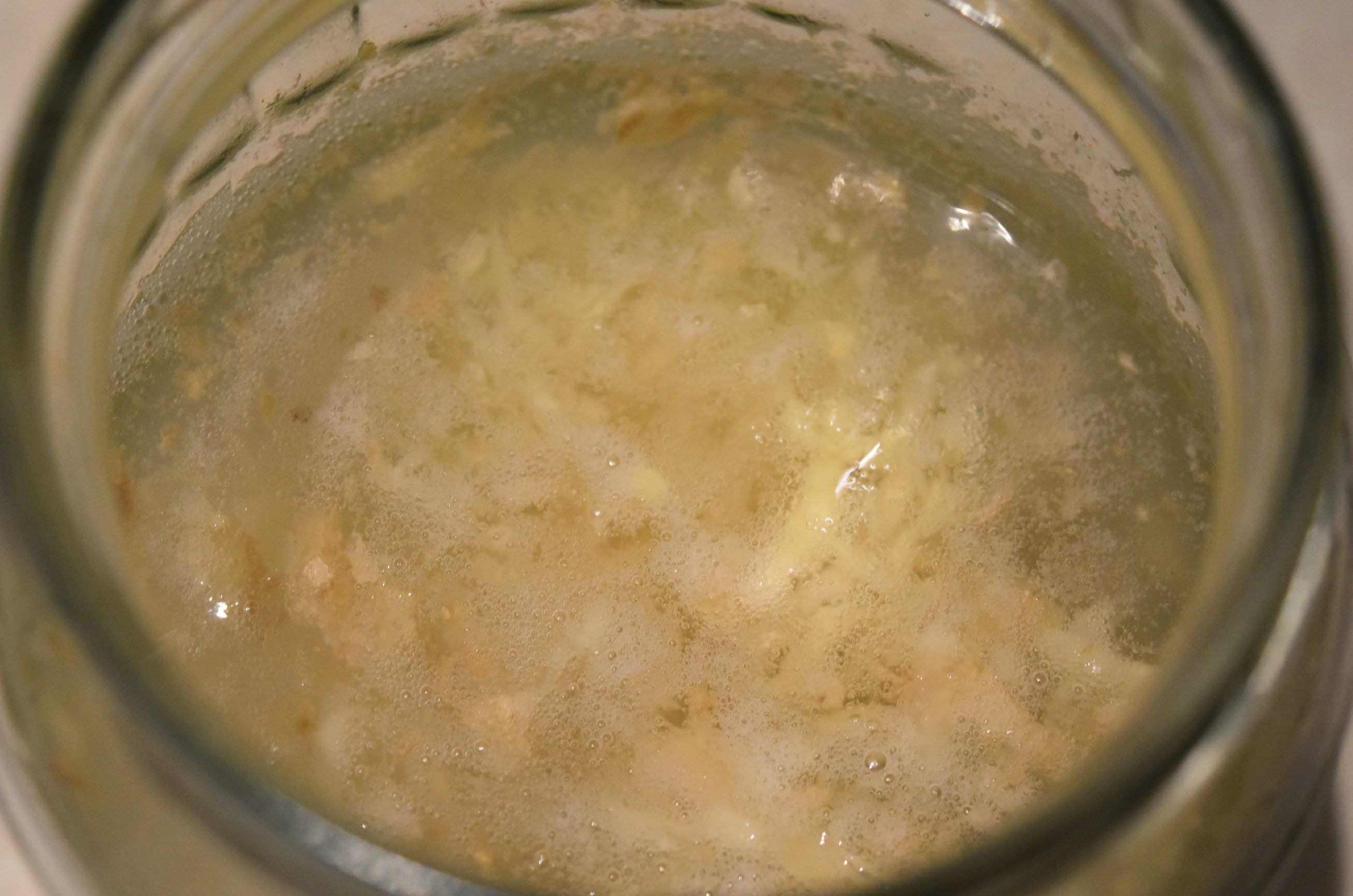 See how much fizz you can get in there. This picture (below) is from a previous batch but clearly shows how much fizz is in there.
---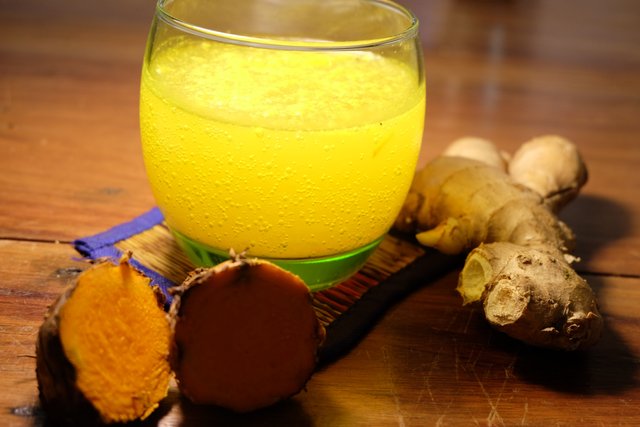 This is the one I made the other day. So refreshing on a hot tropical day!
---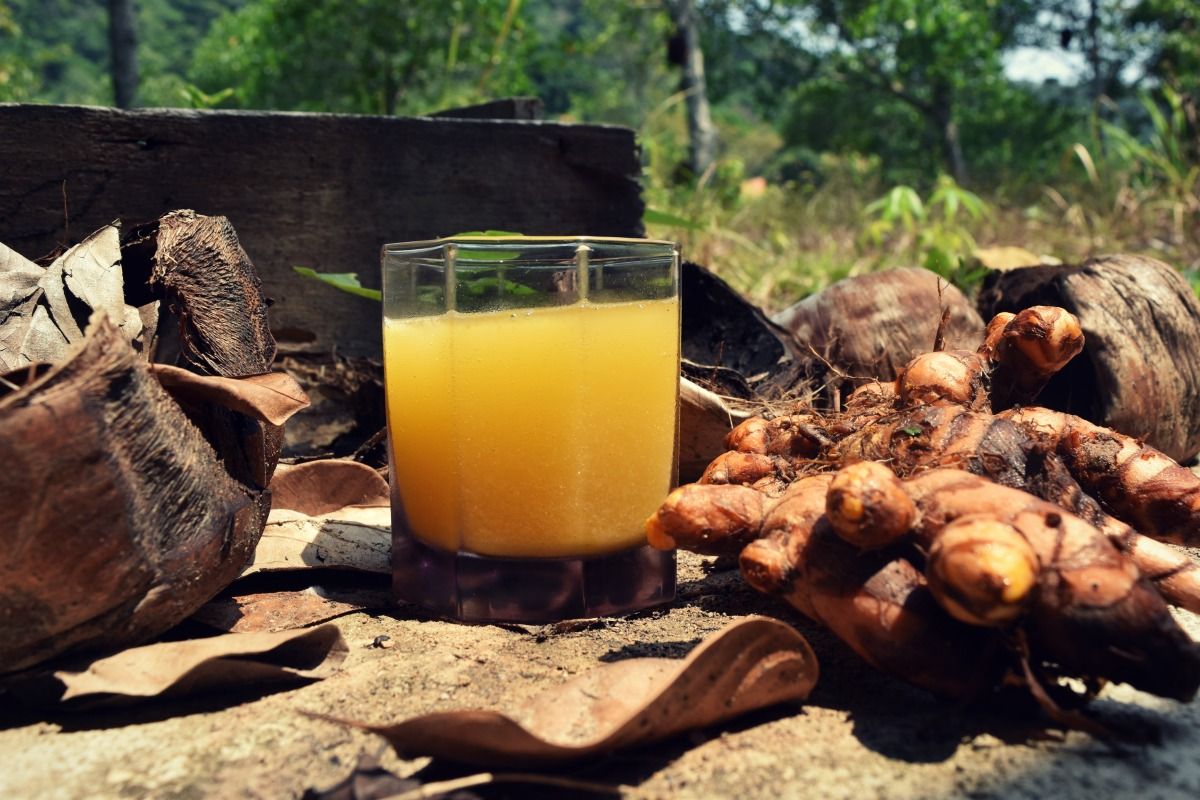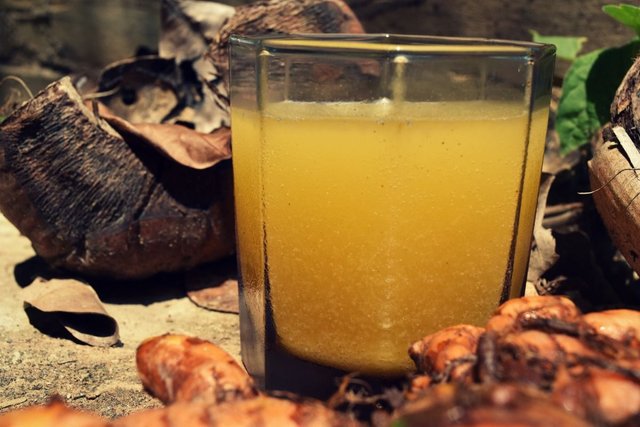 Have you ever made or are making your own sodas? What are your favorite flavors?
---
HAPPY FERMENTING!
---

---
ALL CONTENT IS MINE AND ORIGINAL!
PICTURE(s) TAKEN WITH NIKON D5600
---
LET'S CONNECT!
Website - Facebook - Google+ - Twitter - Pinterest - YouTube
---
FYI: For green smoothie tips, tricks, and recipes, download my FREE green smoothie eBook HERE!