Easy Weeknight Dinner: Easy Veggie Stew with Butter Beans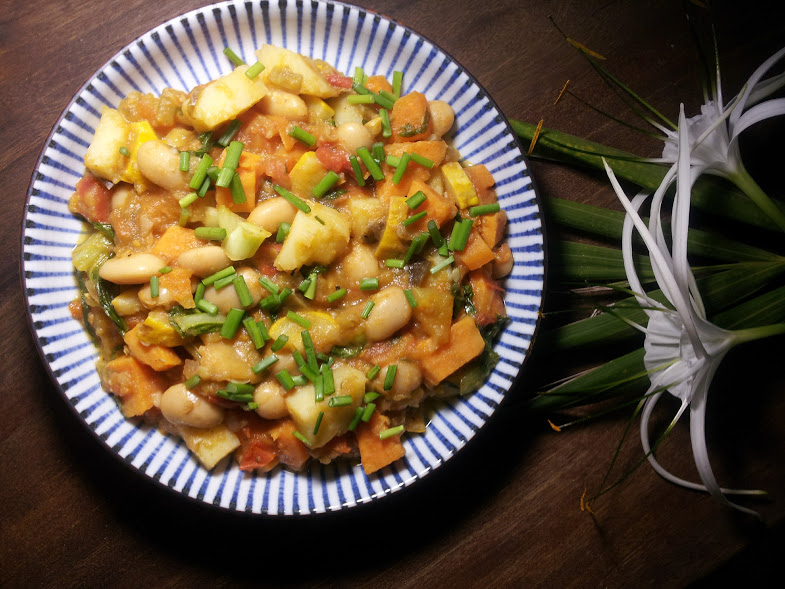 An easy, adaptable recipe the whole family will love. Excellent dish to clear out the fridge, so feel free to add whatever you have left in the refrigerator too. Sorry for the lower quality pictures. Because the battery of my camera was dead and I don't have a spare one, they are taken with my crapy phone (s2 or s3, can't remember, but it still works and does the job.
Ingredients (serves 2-3)
1 can butter beans, drained
2 cups bok choy
¾ cup yellow zucchini, chopped
¾ cup carrot, chopped
1 small sweet potato, chopped
1 small potato or another sweet potato, chopped (I only had 1 sweet potato left)
½ eggplant, chopped (about 1.5 cup)
½ big onion, chopped
2-3 cloves of garlic
2.5 cups tomato, chopped
1-1.5 cup water
Herbs: ground cumin seeds, dried thyme, and dried oregano to taste
Sea salt and black pepper to taste
¼ to ⅓ cup fresh chives, chopped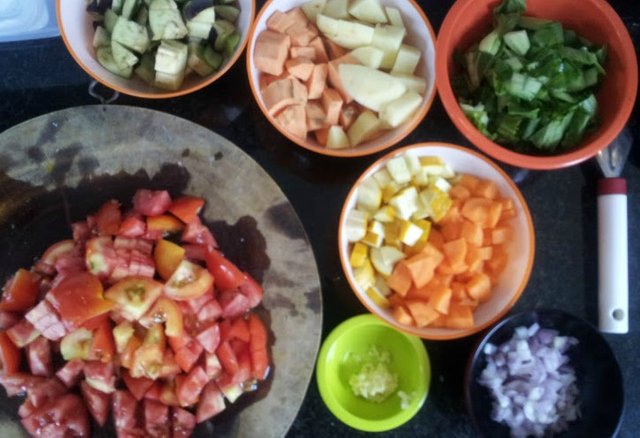 Directions
In a large pot, heat cooking oil over medium heat. Stir in onion and cook until translucent. Stir in garlic and cook for a few minutes more. Stir regularly.
Add zucchini, eggplant, and carrots, stir well and cook for 3-5 minutes while stirring.
Then add sweet potato, potato, tomatoes, and water. Season with herbs, salt, and pepper to taste. Stir well, reduce heat and simmer for 20 minutes or until potatoes are softened. Add more water if needed and stir occasionally.
Add butter beans and bok choy and cooked until wilted and heated through.
Garnish with fresh chives and serve.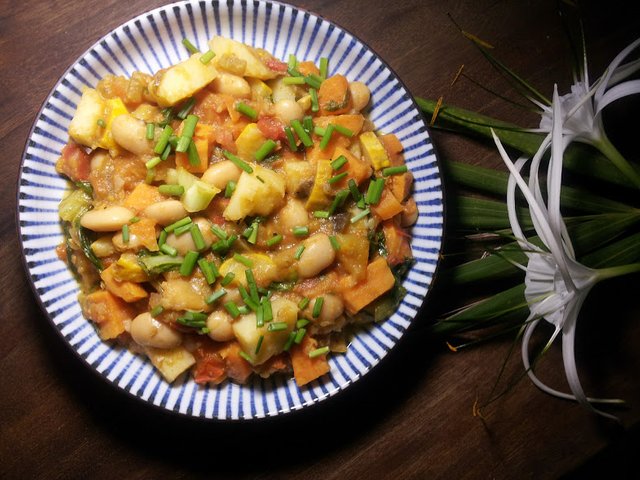 Bon appetit!
ALL CONTENT IS MINE AND ORIGINAL!
---