Just a few days after Ada wrote the post about creative and intuitive cooking , I find myself on my cabin with a nearly empty fridge.
🌱Luckily we know that with just a few veggies, some spices and a little magic, anything can become a satisfying meal.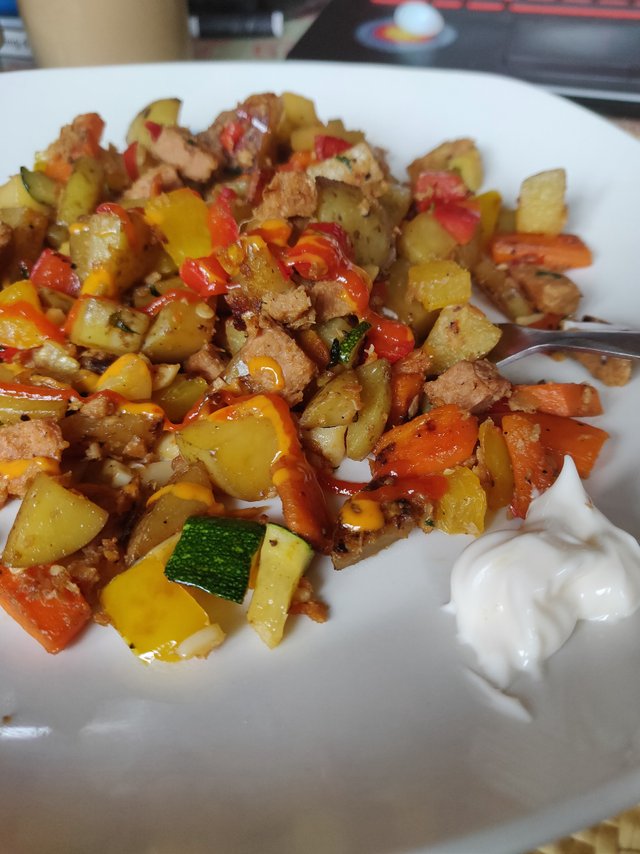 Norwegian & Swedish: Pytt i Panna / Finnish: Pytt Y Panna. Danish: Biksemad.
---
To be honest, Scandinavian food is not my favorite.
Of course, there is some amazing Scandinavian dishes; like the Swedish "Bullar", which is small meatballs (that we love to make a vegan version of.) or root vegetable stews.
But still, it seems like some Scandinavian people are somehow limited in their cooking, to the only vegetables we could get here 100 years ago.. Which is basically potatoes and root veggies among a few others. Though I must admit that I do love root veggies.. Root mash is one of our favorites!
We also have the thin pancakes, Norwegian waffles, and other desserts but I can not come to think about many appealing Scandinavian dishes except from those.
---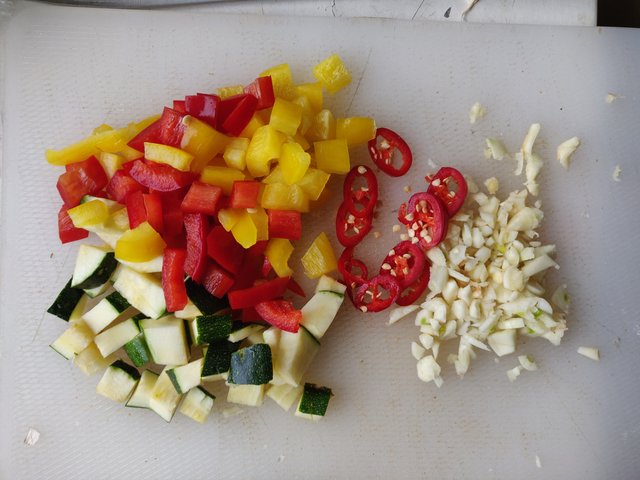 I am born in Norway, and have been a vegetarian for almost 10 years. So when I tell you that the most famous Norwegian dishes is made from brains and tounges, without going too much into details.. You see my problem here?
But some days ago, I was reminded a dish that most Scandinavians have close to their tummy's.


Pytt I Panna is a "hodgepodge" pan with basically what veggies you have at hand.
A google search tells me that "pytt i Panna" is translated to "small pieces in pan", but I would say that "pyt" means anything, and that " i panna" means in the pan.
My translation for Pytt i Panna is therefore "anything in the pan."
Not the most creative name for a dish, or maybe that is exactly what it is?
It is at least the perfect way to use up leftovers or veggies that needs to be used.
But enough talk about boring Scandinavian dishes and terms, let's get to an awesome breakfast/lunch recipe!
I sat up working on some art until 5 am last night, it is raining outside, and I don't have the craziest amount of energy.
I know it is those Sundays where I just wanna lay down and sleep again, that I really need some healthy, energizing and comforting breakfast!
---
Recipe: Pytt i Panna!


I would say to use whatever veggies you have at hand here, but the "authentic" Pytt I Panna is made with a base of potato, onion, and carrots cut into cubes.
In my case here, I am out of onion and have a fridge that looks pretty much like it needs a refill. But that doesn't worry me, I know that my 1 1/2 bell peppers, 2 carrots, potatoes, and 1/4 zucchini will make me an awesome meal if I just put some love into it.
Anyone can make this, no cooking skills needed. Time: 30 Minutes.
This is what I used to make 2 breakfast portions
Base:
8 small potatoes.
2 carrots.
Other veggies:
1/4 zucchini.
1 1/2 bell peppers, red and yellow.
1 Garlic.
1/2 Chili.
Spices:
Garlic powder.
Onion powder.
Salt & Pepper.
Coriander & basil, fresh or dried.
Vegetable bullion.
I also used 1/2 pack Vegan facon cubes that I had laying in the fridge.
---
Here is some pictures of the process: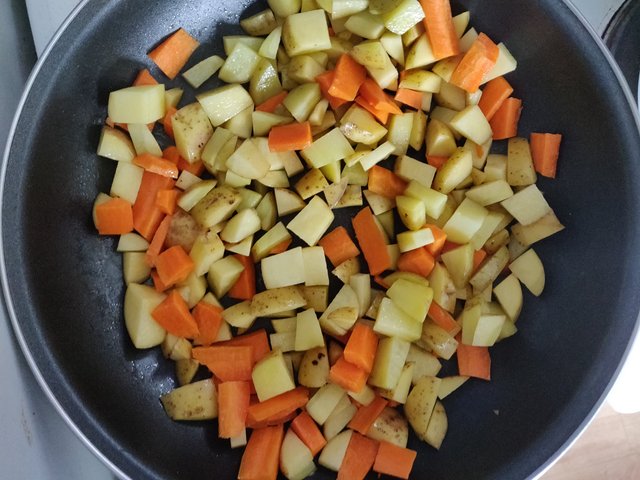 I chopped the potatoes and carrots and added them to a frying pan on medium high with some oil.
Then I fried it for about 15 minutes, adding some salt, pepper and garlic powder to fit my taste-buds along the way.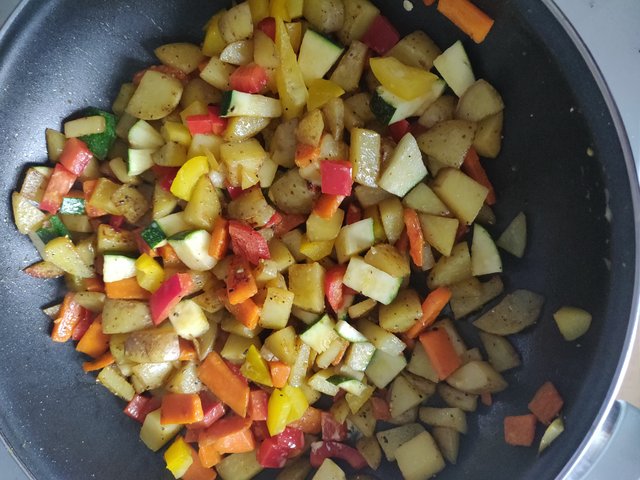 After about 15 minutes, when the potatoes got a softer consistency, I threw in the Zucchini and bell pepper.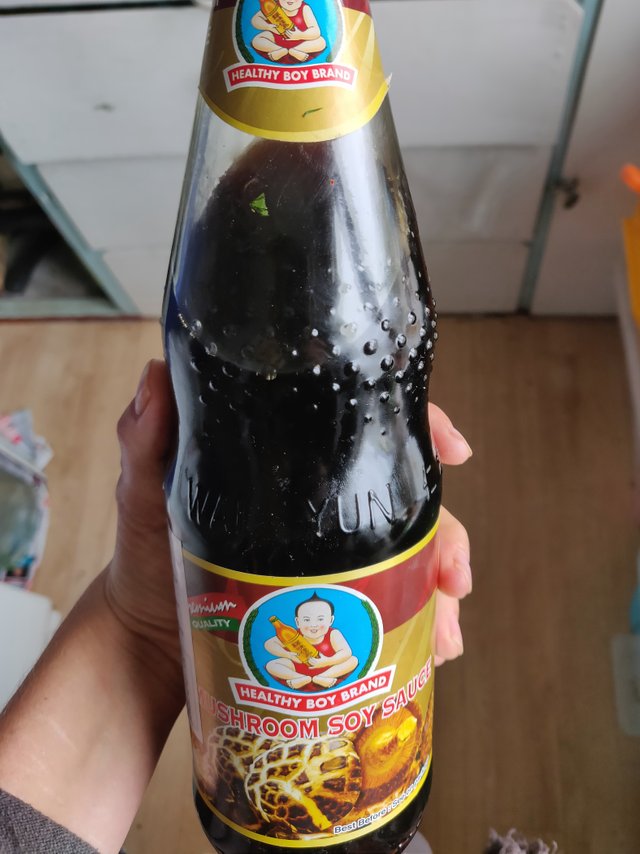 At this point, I must admit that I added a big chunk of vegan butter and a splash of mushroom soy-sauce.
This is of course optional, like everything else in this recipe!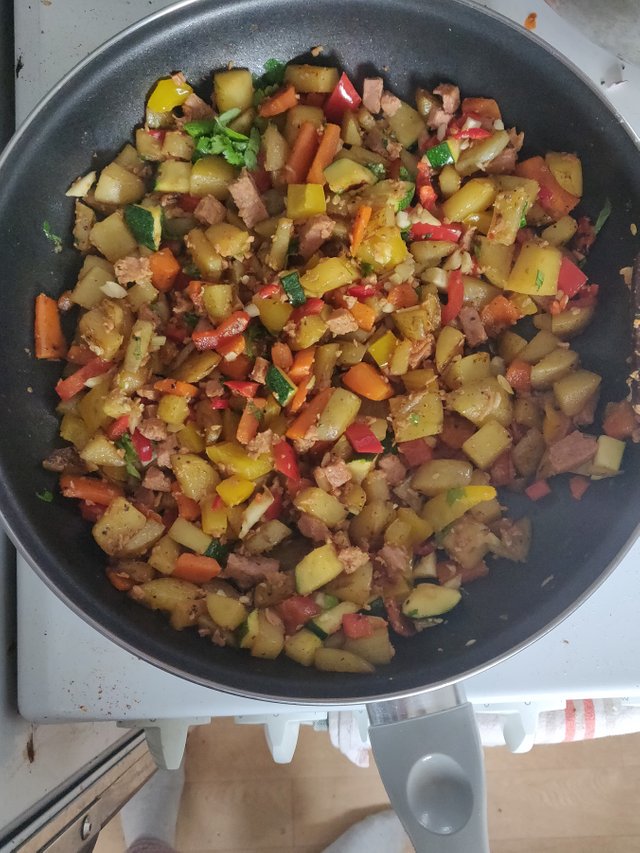 Now, I added the garlic, chili, herbs and the facon cubes to the pan. I also used used some more salt, pepper, garlic powder and mushroom soy-sauce. You just have to taste it to figure out how much spices you want.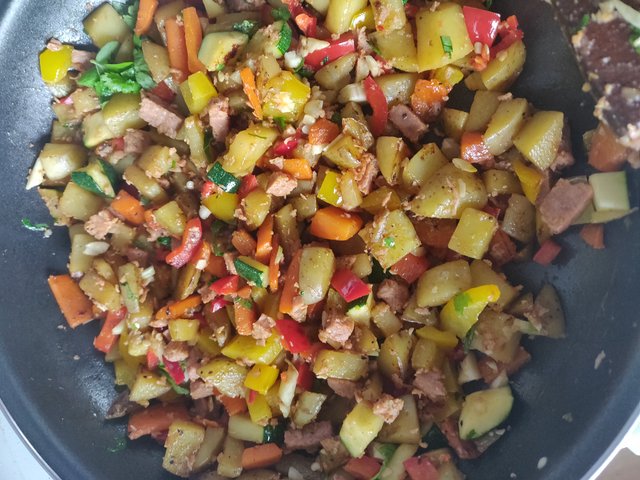 When it tastes like it's finished, it is. The potatoes need around 30 minutes in the pan in total. This recipe should definitely be made after your own taste buds and preferences.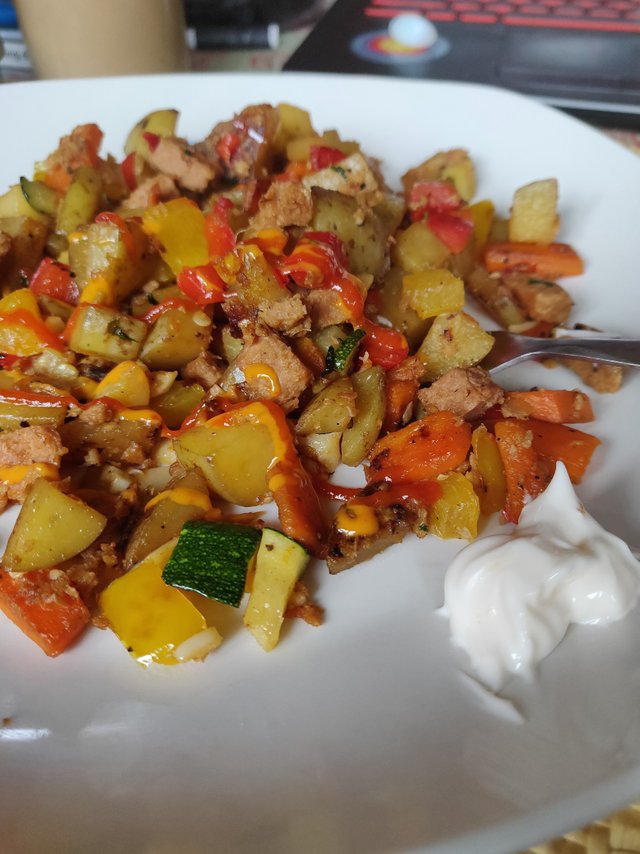 I served it with Sriracha Mayo, Garlic Sriracha and regular vegan mayo. (Im not addicted to mayo and sriracha at all...!)
---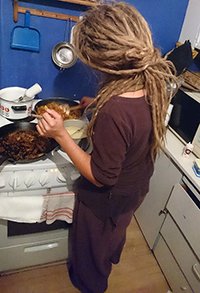 ---
Love and light, Emilie / @umulius - Ambrosia crew. 🧝‍♀️ 🎶 🕉️
---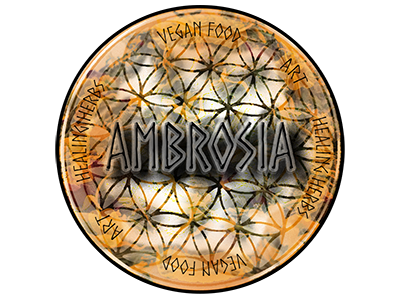 We are 'Ambrosia ~ vegan food and herbal healing.'
A small group of passionate beings with a burning desire to both share and gain more wisdom about nature, our bodies, and how they connect.
With our traveling vegan cafe, we are looking to accomplish many things, you can read more about our vision in our introduction post.
~Here is a link to our Facebook-page. ~
🌱Leave a comment or follow us if you wish to support our vision. 🌱