Easy Palak Paneer and Rice Recipe
One of my favorite, easy and super healthy dishes is palak paneer. It is an Indian dish that is basically, spinach, tomatoes, onion, garlic, paneer, which is an Indian cheese, and spices. The spices really make the dish but if you use fresh ingredients you get an amazing meal. As always I broke it down into easy steps with lots of pictures. With prep it shouldn't take you more than an hour to make and will feed 4 if you include rice. If you can get it, naan goes great with this as well.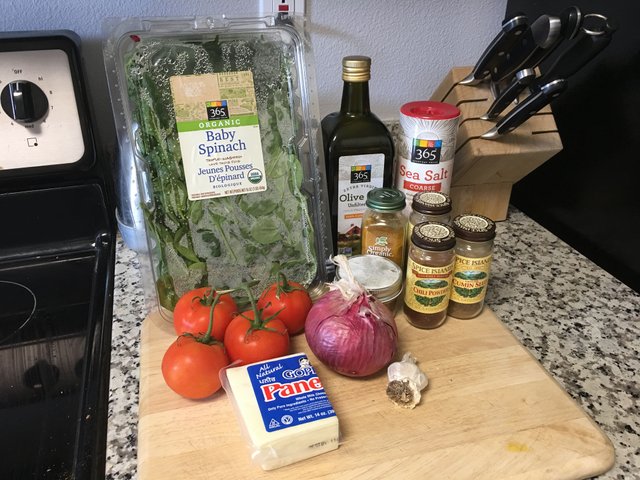 Ingredients
1 lb spinach, as fresh as possible not frozen
4 tablespoons olive oil
1 tablespoon butter
1/2 of a red onion, diced
3-4 smaller tomatoes, if you can find it on the vine in the store it will be fresher
2 cloves garlic
1 teaspoon cumin
1 tablespoon curry powder
1 teaspoon coriander
1/2 teaspoon chili powder
1 teaspoon garam masala
1/2 teaspoon salt
7 oz paneer (The only place I can find paneer is whole foods. They sell one type that comes in a 14 oz pack so I use half of it to make this dish)
Instructions
If you are making rice with this dish I would start making that first. Check out my Instant Pot rice instructions here if you are interested.

Start by mincing your garlic.


Next steam your fresh spinach over some boiling water. A full pound is tough to fit all at once but it should slowly condense allowing you to add more. This way not all of your spinach will be fully steamed.


Place the spinach in a food processor and blend until roughly chopped and mushy like the picture. Place in container for use later. Save about 1/2 cup of the water used to steam your spinach. The water contains a lot of nutrients from the spinach and we don't want that to go to waste.


Next blend your tomatoes until roughly chopped and liquidy like the picture and place in separate container.


Dice the onions.


Lastly cut the paneer into bite sized cubes.


Add 3 tablespoons olive oil and 1 teaspoon cumin to a saute pan and heat.


Next add your onion and garlic to the pan and saute for about 2 minutes.


Add the tomato, 1 tablespoon curry powder, 1 teaspoon coriander, 1/2 teaspoon chili powder, 1 teaspoon garam masala, and 1/2 teaspoon salt. Cook for 3 minutes.


Add the spinach and 1/2 cup of spinach water. Make sure it is bubbling on medium heat and cover for 5 minutes.


Lastly add the paneer, 1 tablespoon of butter, and 1 tablespoon olive oil.


Cook uncovered for another 5 minutes until most of the water has evaporated.


Hopefully your rice has finished by now. Plate some rice and add the palak paneer on top and serve with some naan if you have it.

Hope you enjoy! Let me know if you have any suggestions for other dishes I should make, specially if they are Instant Pot recipes. Also checkout my Minestrone Stew here. Thanks :)