Chocolate & Raspberry Pavlova
Chocolate & Raspberry Pavlova Recipe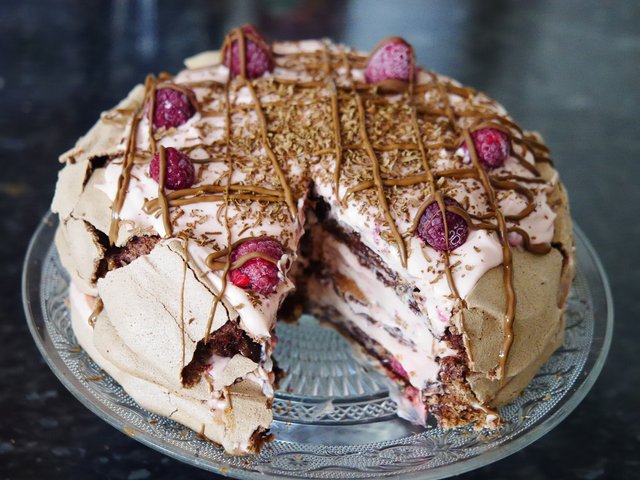 This 3 layered Chocolate Pavlova is a dream come true for real chocoholics. It is topped with Raspberry Amaretto cream and is perfect for any occasion.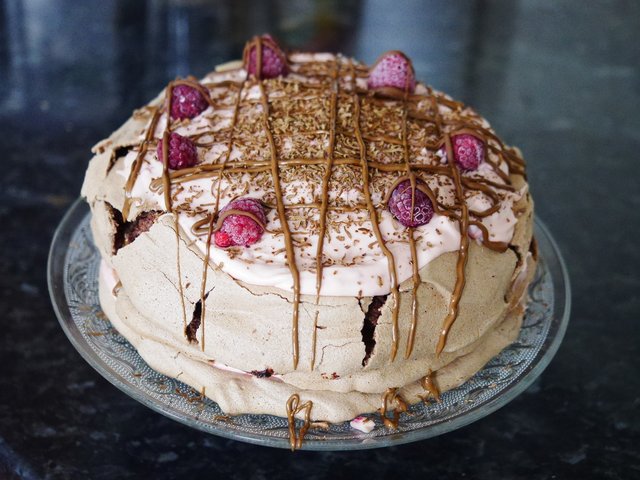 The cocoa powder and chocolate chunks colour the meringue beautifully and provide a strong chocolate flavor Finish your meal with this impressive dessert, with amazing cream and fresh raspberries. 


Perfect dessert for any holiday. A Pavlova is a light and airy dessert that tops a meringue cake with whipped cream and fresh fruit.

 I love how the outside crust of the sweet tasting meringue cake is nice and crisp yet inside it's so wonderfully soft, almost marshmallowy.


Ingredients

6 large egg whites
300 gr OR 2 cups icing sugar
4 tbsp unsweetened cocoa powder, sifted
1 teaspoon balsamic or red wine vinegar ( optional)
50 GR or 1/4 cup finely chopped chocolate

For the Toppings

600 ml or 2 cups double/ heavy cream
4 tbsp of icing sugar
1 shot of amaretto
1 cup of raspberries
grated dark chocolate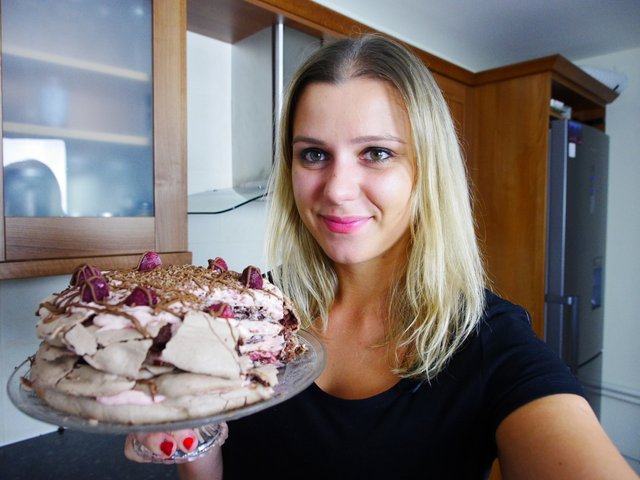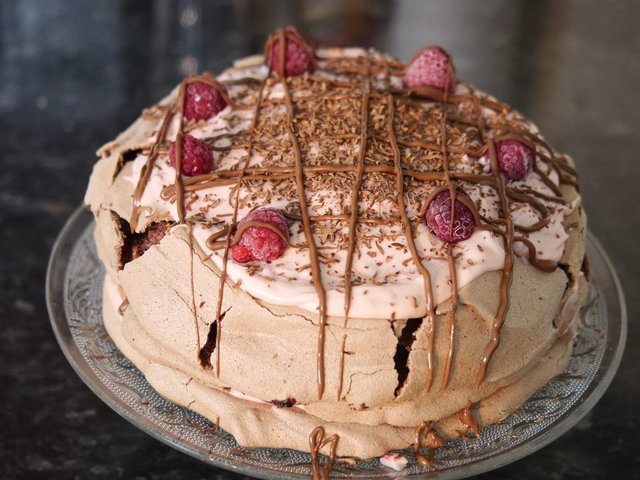 Directions 
Step 1 : Preheat the oven to 180°C/350ºF and line a baking tray with baking parchment.
Step 2 : Beat the egg whites until peaks start to form, and then beat in the sugar a spoonful at a time until the meringue is stiff and shiny. Sprinkle over the cocoa and vinegar, and the chopped chocolate. Then gently fold everything until the cocoa is thoroughly mixed in. 
Step 3 : Draw the same circles on your parchment paper. Add your meringue mixture smoothing the sides and top. Step 4 : Place in the oven and cook for about one to one and a quarter hours. When it's ready it should look crisp around the edges and on the sides and be dry on top, but when you prod the centre you should feel soft in the middle. Turn off the oven and open the door slightly, and let the chocolate meringue disc cool completely.
Step 5 : In a bowl, add your cream, amaretto, vanilla extract icing sugar and whisk until nice and fluffy. Then add raspberries and mix well. 
Step 6 : Add first layer of your meringue onto a serving plate, add the cream, top with second layer and carry on until its finished. Decorate as you wish. I topped it with more shaven chocolate and fresh raspberries. 
Step 7 : Place in a fridge to set or enjoy straight away!  
Enjoy the video here
Lots of love,
Alla xox