ADSactly Food - Winter Cous Cous Salad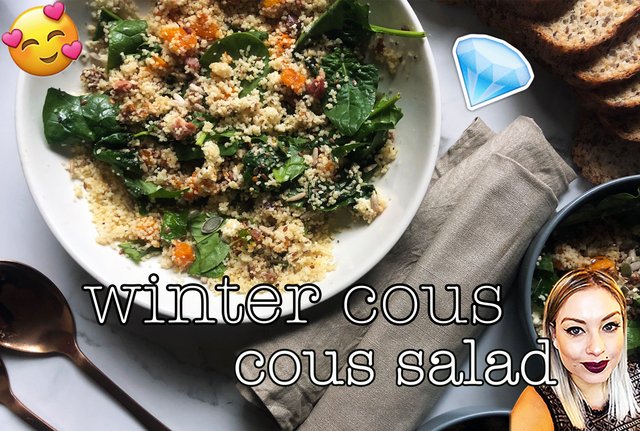 Happy Weekend, Steemians! I am very excited to share with you one of my very own recipes, that over time I have tweaked and perfected until it has become one of my favourite recipes, and one I am most proud of. I make it often in winter, as it's lovely and light, but very warming and comforting at the same time.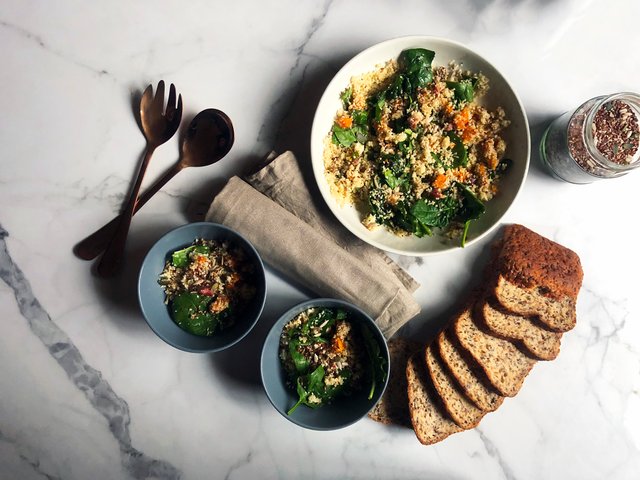 I was inspired to make this one Christmas as a stuffing to accompany my roasted chicken. It started with a bit more heavy flavours, like sage, and I had walnuts instead of the pumpkin seeds, but I liked the texture of the butternut squash and cous cous, so I did some experimentation to see what I could do to make it slightly lighter.
Of course cranberries are very Christmassy, but they added quite a lot of sweetness, along with the butternut, and so I added the salty feta cheese and smokey bacon. I think the juxtaposition of the smokey bacon and jammy cranberries is so amazing, and the herbs add such a lovely lightness. I am totally in love with this dish, and hope you love it too!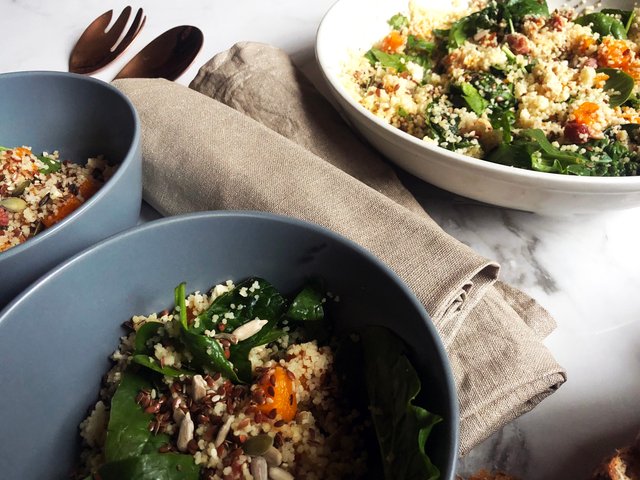 Let's make salad!
Serves Four as a Main, Serves Six to Eight as a Side or Starter
Prep 15 minutes
Assembly 5 minutes
INGREDIENTS:
800g Butternut, cubed
Large Handful Basil, finely chopped
Small Handful Rocket, finely chopped
20g Chives, finely chopped. (Approximately a quarter of an 80g punnet)
200g Bacon, cubed
50g Pumpkin Seeds
1 1/2 cup Uncooked Cous Cous Grains
Chilli Flakes, to taste,
Two Wheels Soft Feta Cheese
100g cranberries,
Salt and Pepper, to taste
Extra Virgin Olive Oil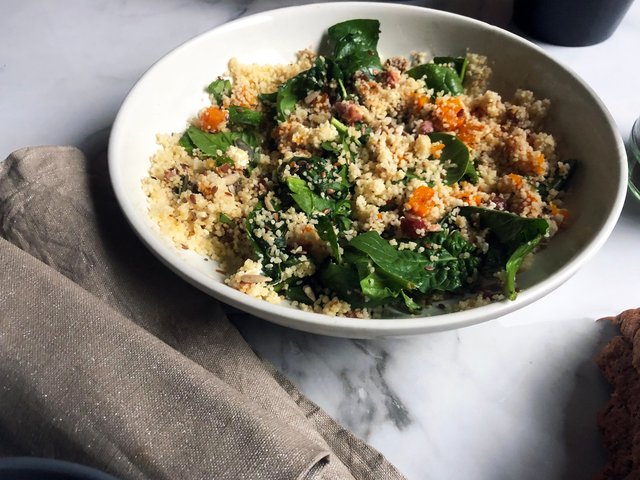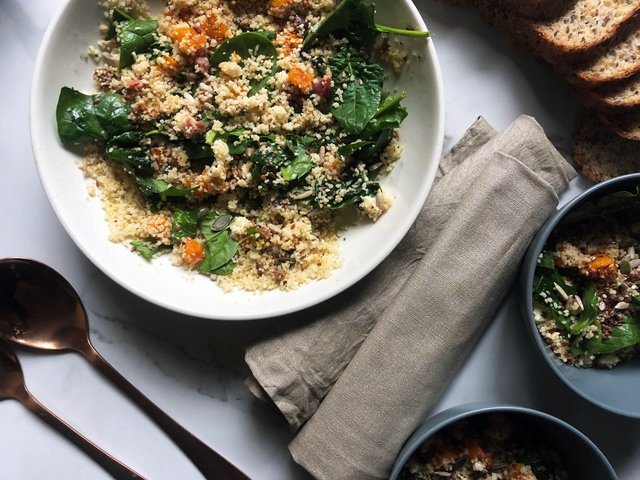 METHOD:
Preheat your oven to the grill setting. Boil a salted pot of water and cook the butternut to al dente. In the meantime, chop your herbs finely.
Once cooked, place your butternut on a roasting tray, and season with salt, pepper and chilli flakes. I am quite heavy handed with the chilli flakes, but this will come down to your personal taste. Drizzle the butternut with a bit of olive oil, toss and grill until golden with some crispy pieces.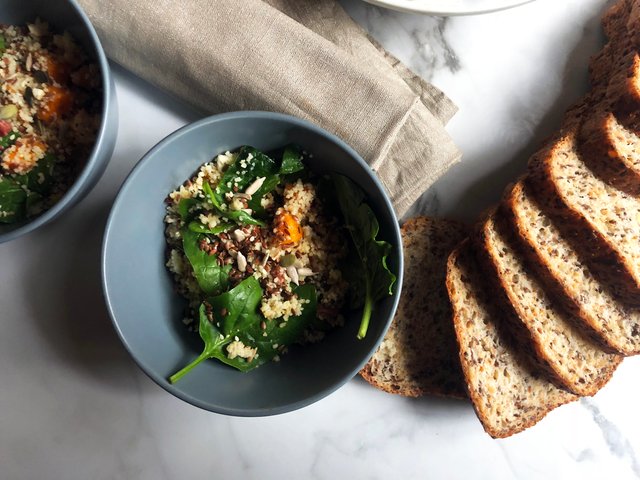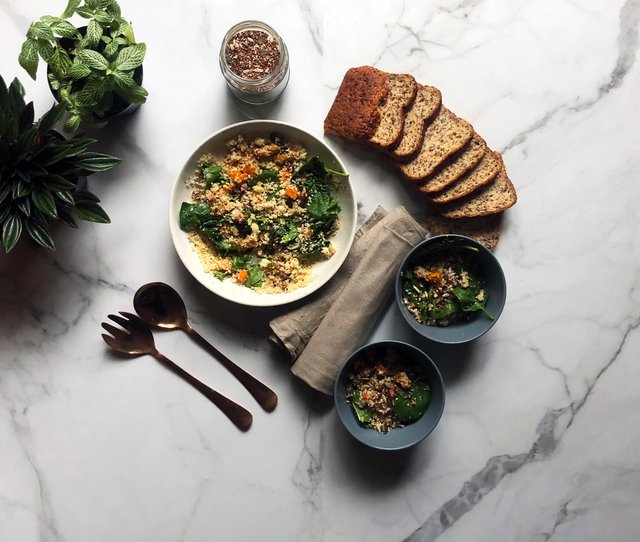 In another smaller pan, grill your bacon cubes until just crispy. Don't be like me and forget them while you're day dreaming at the window.
Boil the kettle, and add boiling water to the uncooked cous cous. I like to mix in a bit of salt and pepper to the uncooked grains, to ensure a nice even seasoning. Cover and leave while you place your pumpkin seeds in small roasting pan.
By this time the bacon and butternut should be sufficiently roasted. Remove from oven, and set down to cool for a few minutes.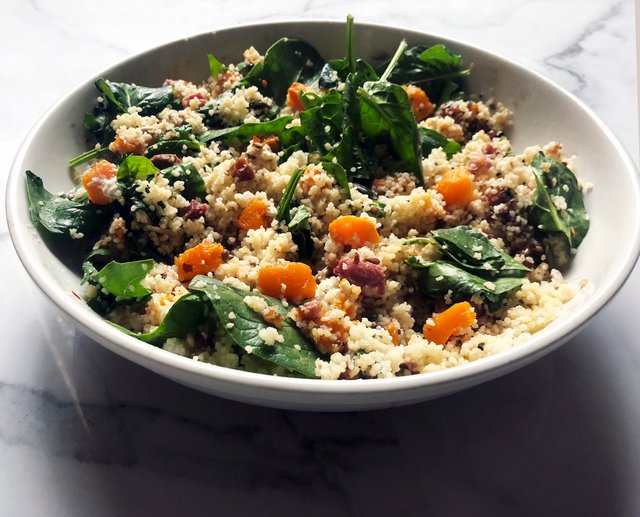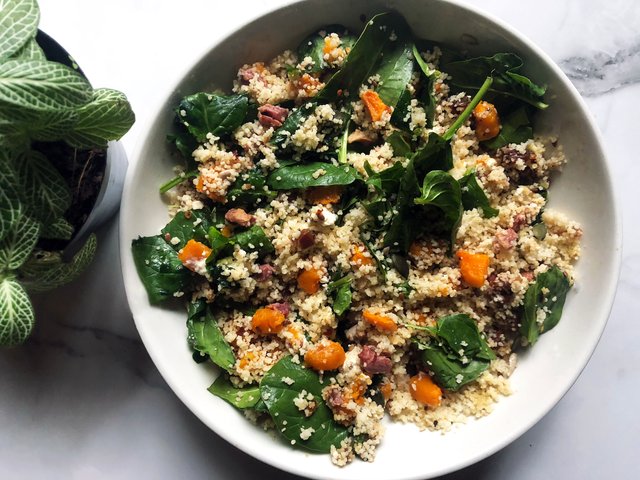 Dry roast the pumpkin seeds for a few minutes in the oven, tossing every now and then to ensure that they don't burn.
Drizzle a glug of olive oil over the cous cous, fluffing with a fork. You may want to add some salt at this point, but hold back until all the other ingredients have been added.
Crumble the feta and herbs into the cous cous. Mix with a fork. Add the cranberries, butternut, bacon and pumpkin seeds.
Toss the salad well. Taste and adjust seasoning according to your personal preference.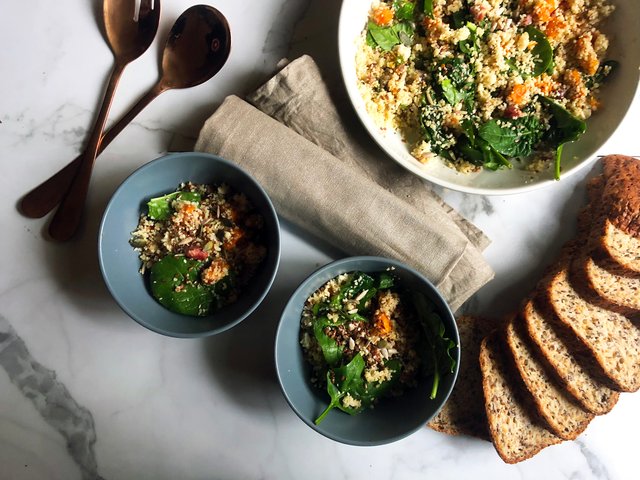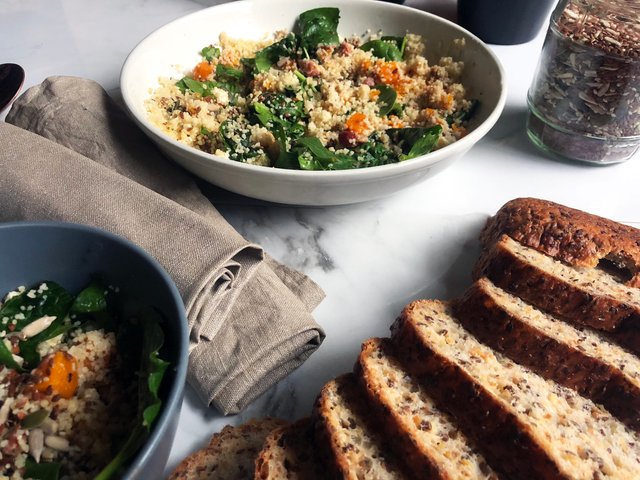 Garnish with a sprig of rocket and serve warm in winter for an aromatic, healthy meal in a bowl, or let cool and serve as delicious salad at the barbecue!
Enjoy! Hope you enjoyed my very own Cous Cous Salad!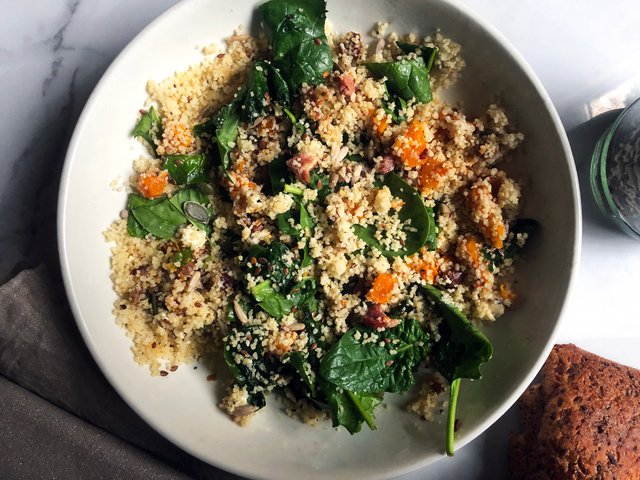 Please consider voting for @adsactly-witness as a witness. To read what we are all about - click here