**START THIS OFF RIGHT...CURRENTLY THE HIGHEST KEY HOLDER IN FOMO - ROUND 3**
I am brand new to the community and will be sharing my experience with DAPPs on different blockchains. The goal is to share how crypto assets could be used and the benefits of blockchain technology.
Okay, enough of the introduction. There are many high risk opportunities to increase tokens leveraging DAPPs. I am not sure if this is one of them or not, but will share my experience.
HITDAPPS currently has 5 games with more coming (LOTTO): P2P DICE, FOMO, DICE (classic), COINFLIP and PIXEL WARS. For this episode we are focusing on FOMO (time based lottery game). The goal of FOMO is to be holding as many "keys" as possible. The "keys" represent your share of the TRX raised (more "keys" = more share of TRX). Below you will see I purchased 10,103 keys for round 3.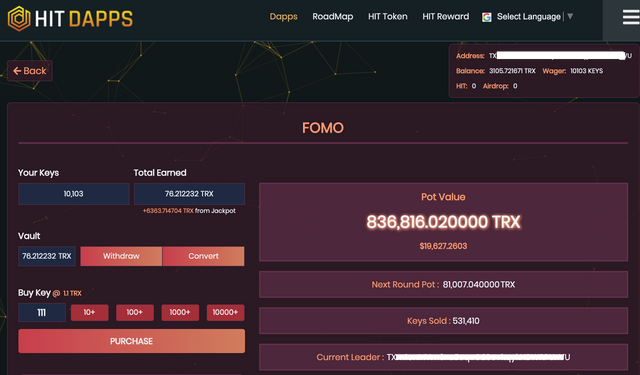 Let's see what happens tomorrow. In the meantime, let me know which of the 3 blockchains I should focus on first:
Tron (TRX)
Ontology (ONT)
Steem (STEEM)
If there are any DAPPs you would like me to review please leave it in the comments. Thank you.
PS if you would like to check out: https://www.hitdapps.com/fomo?ref=ano123