Guys - I wish I could take credit for this, but it was allllll thanks to my Mom :)
Doesn't it look fantastic??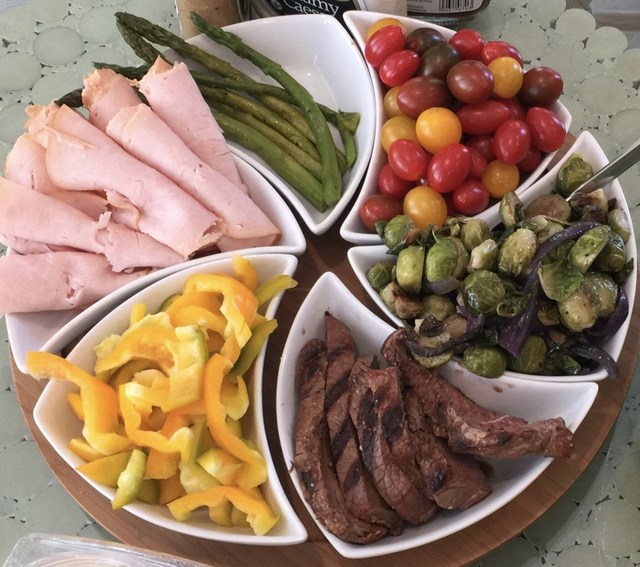 When I was home a couple of weekends ago visiting my family, right before I left to drive back to Santa Barbara my mom put together this healthy, tasty spread for my family to have for lunch…
It was such a great idea! She created a make-your-own "salad bar" for us, so everyone could mix up the ingredients whatever way we wanted!
She mixed fresh things in with leftover treats from the night before, so we used up what we had in the fridge and also got a hefty dose of fresh produce for a filling and tasty meal!
Everything was nice and cold, had different textures, colors and flavors, and was DELICIOUS :)
Plus, when you make things look pretty (which she did in these cute serving bowls), you're so much more likely to enjoy them!
Messy leftovers out of a Tupperware? No thanks… But arranged in fancy dishes so you can choose what you like? Yes please!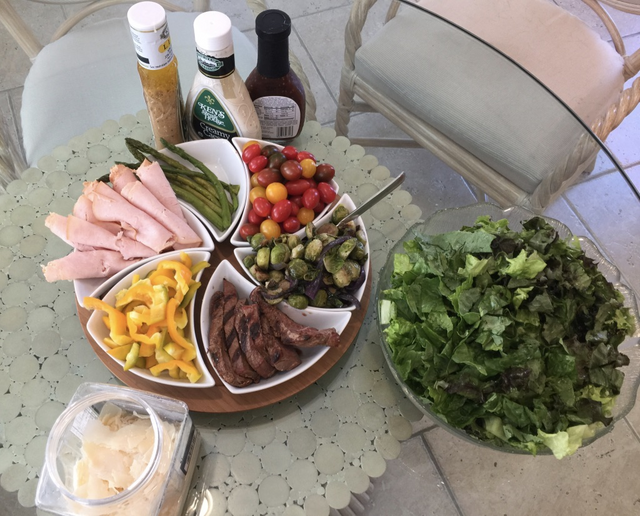 As you can see in the photos we had lean steak, grilled Brussels sprouts and red onions, and roasted asparagus, paired with baby heirloom tomatoes, yellow bell peppers, honey roasted turkey, and shaved parmesan cheese - all to be assembled on a bed of crispy romaine and red lettuces with choices of delicious dressings. Something for everyone!
I opted for a little of everything, of course, with a small drizzle of caesar dressing on top… It kept me happy and satisfied for my whole 4 hour drive home!
This is such a neat way to get yourself and your family excited about healthy food - we eat with our eyes first after all, so presentation is a big deal :)
How will you make your healthy meals fun, beautiful, and appetizing?
Please feel free to comment, upvote, or resteem if you'd like! :)