Introduction
Good day to all you @bananafish -ians, and those of you who might be joining us for the first time, for another day of Finish the Story Contest. You gave me permission to do something crazy and I did it.
I went to that strange island, found that bloke who took all of our treasure after stealing the secret plans held within the quest and had finished tying the last knot.
All was going well until I ran into the local natives who accused me of being a Christian who came there to kill them with the diseases they were not immune to and put me in a prison. For years, I slept on stone ground, ate what the rats ate, and endured many nights with that ... smell. However, I dug out a hole to the ocean and made my escape on a raft, only to be hoisted by a large wave onto a small island.
I ran across pirates who offered me a deal: (1) Kill this one, the thief, and you get to join the crew, or, (2) He kills you and he stays on the crew. My heart won't let me mindlessly kill but I couldn't tell him that.
I took my stance. He was ready to kill. He lunged. I bested him with a slight spin, an arm grab with a twist, and his knife fell in the sand. I was an eagle grabbing a mouse with my talons.
I explained to the leader that I wasn't there to take the life of a good man. He was useful. "Keep him and me. That gives you two able-bodied and skilled men." The leader agreed.
My new companion, @salvao thanked me and said, "we have to write together." That, we did.
Now on with the show
Try a Game in The Hall
by @f3nix
"Five.. twenty-eight.. twenty-two.. twelve.. seventy-nine.."
The marker's mottled surface is like that of a glass marble. It's hard to say where it starts and where the woman's fingers end. It flies on the large bingo card: a tablecloth covering the entire table, whose borders move in a capricious Moebius ribbon. Slender curls emerge rhythmically on the plasticised surface each time the marker grazes it. Now, the instrument is obeying to the imposed angle and pressure, producing the sound of a cat tongue licking a window. Between a number and the other, the woman clings to that image like a castaway anchoring to a slimy rock.
"Thirty .. thirty-one.. ninety-eight.. sixteen .. forty .."
The room has no windows but its walls are brightened by an arabesque of pulsating lines. When the plot detaches from the walls, it innervates on the orange rug and converges on a humanoid obelisk in the center of the hall. Thin wrists flex in synchrony, marking the numbers on the tablecloths every time that the obelisk punctuates them in a propagating fibrous echo. The fleshy organ of this creature is the only hallmark in an otherwise completely smooth mannequin's face. Its mouth unfolds through a complete circumnavigation of the dull head. Its lips are the valves of an agonizing oyster.
"Six .. thirty-three .. sixty-six .. eighty-six .. forty-one .."
The woman's slender fingers move a lock of hair back to the ear. In the time of a sigh, a caress lingers on her temple without the marker losing its rhythm. Sometimes, a new customer enters and takes a seat at a table sinking into one of the faux leather chairs. Soon enough, his face will begin to melt, dripping on the card's elusive signs, becoming one with them. In one of those ephemeral moments between a number and the other, the woman was able to raise her head and glance beyond the bingo door. The outside is the mute vowel of a blinding white expanse.
Sometimes, she struggles to remember her arrival. A cat licking a window reappears in her mind until a number sweeps it away. If there were windows in the hall, would that white nothing leak through them and fill the hall?
"Eighty-one .. thirteen." All in a sudden, the electricity of a look runs through her. It's a man from the table nearby. "..ty .. ninety-two.."
The marker hesitates in mid-air barely enough to make her lose a number.
- Collaborated Ending Between @tristancarax and @salvao -
It happened twice before. Losing a number ... The first time was when they were twelve He entered the room holding onto his grandmother's hand. They sat across the way from her, her mother and grandmother. It was obvious to her that he'd never played bingo before when he looked at the jumbled mess before him and impatiently started marking numbers. His hands and voice trembled with excitement and his eyes sparkled like a kid at an amusement park for the first time.
She wondered if he was reading her thoughts tonight. It was the first time he'd ever looked at her like that in all the years they've come to this hall.
The image of her second time missing a mark took center stage at the forefront of her mind.
Everyone was playing "Bonanza Bingo". The caller sent an unstoppable barrage of numbers spiraling one after the other, which can be likened to a thousand armies with battering rams slamming against a castle door. She gave up trying to keep up the pace with the caller and instead watched him. He was about to complete one of his cards when a premonitory twinge (at least that's what she thought) assaulted him in the exact center of his heart, paralyzing the beat that had for quite some time become a millimeter regularity. His heart stopped for a second time shortly after for a fraction of a second, barely noticeable, but stopped. She had caught it happening again a couple of times over the years, but he didn't seem to give it much importance.
Not once in twenty years had he spoken to her. When she'd tried initiating a conversation, he'd run away. Tonight was different.
The man looked at her, attempting to lock eyes for more than a mere glance. He wasn't quickly looking away like he'd done in the past. Sheepishly averting her gaze down, she immersed herself within the dots. A maze of sunflowers formed on the table. Behind her, the cat vigorously licked the window. When the cat let out a painful cry, she knew it had lost its tongue. She turned her head to see the tongue dangling from the glass pick. Bright white light mixed with the blood and scattering throughout her mind like stars peeking through the clouds.
Be present.
A bead of sweat tickled her chin. Looking back up at him, the expression on his face was that of someone who was sure that his purpose was about to be fulfilled. He was dressed entirely in black. His elegant bull-skin hat hung from the chair's armrest, standing out against the ever fading black background. He grabbed it slowly as he stood up.
She wanted to get out of there, disappear, although surely it was already too late for that. She sat paralyzed, static in the stillness, like a stone waiting to be hit by a hammer that may never fall.
He casually strolled up to her table, never letting his eyes waver from hers. She smacked her lips and tapped the marker rapidly on the table. He went to open his mouth, but, before he could utter a word, he grabbed at his heart and fell over dead.
The End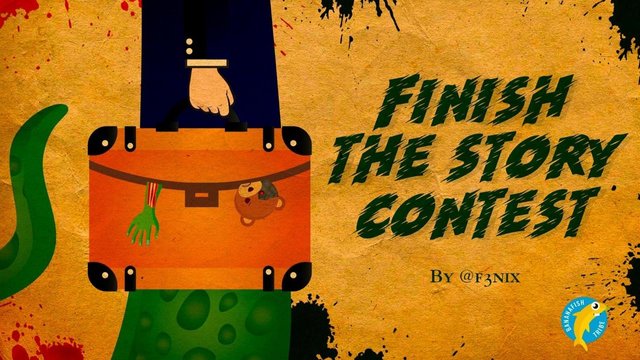 ---
There are some people who are shy about entering the contest because they can't write in English that well (I don't write a lick of other languages so I know how you feel). I asked @salvao if he'd like to enter by doing a collaboration piece and he agreed. It was very fun for me to work off what he gave me in Spanish (translating it into English with google). He gave me a little bit less than 300 words and I rapped off the rest. If you are someone who would like to enter this contest but you don't have the English skills, hit me up. Let's do some collaborating.
---
---
---
---
If you are enjoying my work, please -
===
Upvote my posts through steem auto and add the other people and groups you would like to support.

Support me and others through steembasicincome shares. (This also helps you because you will also get a share for sponsoring somebody.)
Affiliation links
Click here --> Steemmonsters. This is an official affiliate link. So, not only will you get awesome cards, but you will also be helping me out.
Drug Wars. Want to get paid for selling drugs without getting hassled/molested/tased/killed/tortured by the largest, organized gang, an entity that takes your drugs and sells them where you were going to, in the world? I'm not sure what else could be more alluring. Oh, yeah. Don't forget to watch your stash. Eyes will be watching and there will be people stealing/taking what is rightfully yours!
Primary Goal: Do you love the product? Will you use the product for yourself and/or get it for others? The first step is accomplished if you say yes to these questions.
Time for the next question, should you choose to go that far.
Secondary Goal: Sales: This is a unique team building opportunity followed by a very unique business plan. No one gets to the top alone. This option is for those of you who are ready to make a change in your lives simply by buying the things you already use everyday at the same or lower cost than many stores you currently get your everyday products from. After watching this brief introduction video, Atomy Business Plan, please, fish around some more. When you're ready, feel free to connect with me. I can help answer some questions, and I can get you signed up.
---
---
A project with me and the bananafish knights is yours to quest in.
Although the riddle has been solved by a magnificent sleuth, Quest in the Realms is out for you to explore.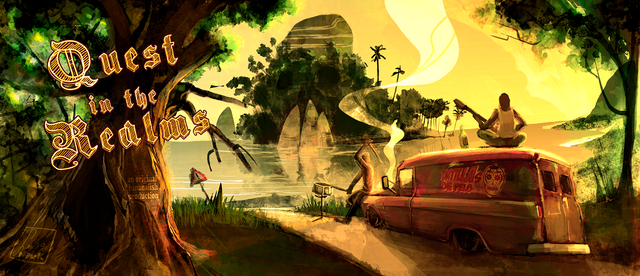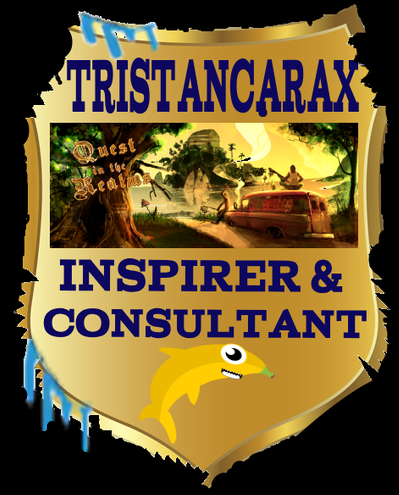 [created by @ brisby]
---
---
Tools:
---
---
Ongoing Contests