This is my entry into Finish the Story Contest hosted by @bananafish and continued by those brave story tellers who come back week after week for a new, exciting challenge.
Obstinancy
by @dirge
"I'm not going in there." Imani took a drag from her cigarette and put her muddy boots up on the dashboard. "I'm going to sit here until the sun comes up. I don't want to live anymore."
Isaac groaned. He glanced at his watch. They had twenty minutes till sun up. "Hiraam and Kat are inside waiting on us." He turned off the car.
"I hated Hiraam a hundred years ago and I hate him today. You know that."
"I know, Imani. But it's not like we have a whole lot of fucking options."
She scoffed. "Here you go. Angry as always. You know, you'd think that someone could handle their fucking anger issues after a few hundred years but. Well. You're kind of a living betrayal of that idea."
"Eloquently spoken from a drama queen," he murmured. Isaac rummaged through his coat pocket for a blunt. "What's it this time? General depression? PTSD from the bloodshed? Bored with the general state of things? Let me guess. It's just too hard now, right? Now that they've all gone and dropped the bioweapons on each other? Now that they're too sick for us? Just too much work for little Miss coffeeshop revolutionary. Little Miss Make A Revolution For Fun."
"Far more interesting to participate in their history then sit around painting all day." Imani tossed her cigarette out of the window and lit another. Isaac lit his blunt and stared at her smoking. So beautiful in the moonlight, her black skin was smooth and supple after their recent kill. It was this time that they'd usually go back and enjoy themselves, let out whatever violent energy that had on each other before blacking out.
"You're not serious," he said. "This is just-"
"You're right." She turned to him and he saw between the growing high that she was serious. "You're right. I don't want to bother. There's hardly any of them left anymore, and the ones that are still alive are all armed and fighting. It's too much work, Isaac."
Isaac hit his blunt and thought it over. She was right. It was different now. He glanced up at the sinking moon. The sky had shifted from the starry blackness to a deep bruised purple. Isaac was ready to speak again, to try and change her mind, when the door to the warehouse opened. Hiraam stepped out, his hands up in that universal sign of surrender. Behind him stepped three men in camo. One held a shotgun to Hiraam's back.
"Shit!" Isaac ducked and pulled Imani down.
"How many?" she asked.
"Three."
"Human?"
"Didn't see."
Isaac opened the car door. Imani hesitated. He pulled her out of the car. They ran behind trees.
Imani sat as he scouted. His eyesight shifted to inferred. The man with the gun and his buddy flared hot red. But the third one was ice blue. "Two humans," he said, creeping back down. "The big one with a beard is vamp."
"Smell pot?" the vamp asked
=== MY ENDING ===
The two humans sniffed the air, but all they smelled was the early morning forest air. The car was new to them though.
"Expecting company, Hiraam," the vamp said in a cold voice that matched his body temperature. Then he raised his voice so that those around could hear him. "Imani and Isaac."
"Fuck!" Imani and Isaac exclaimed in a hushed voice.
Vamp: "Nice of you two to show up. Saves me the trouble of coming to find you to rip your hearts out for releasing, what was it, doctor?"
Hiraam: "Botulinum Toxin."
Vamp: "Type H. That shit has killed off most of our food. All for your damn revolution, Imani!" the vamp's booming voice shook the trees. "Ten minutes until the sun rises. Doesn't give you much time. Tick-tock, tick-tock." He then instructs everyone back inside. The doors close.
"We should run," Imani said. "He's no good to us anyway."
"Our food's dying; we'll die. We could wait ten minutes and die that way."
Imani hadn't given real death much thought outside of being angry. Her game of drawing out the vamp worked. They didn't plan on the vamp being able to find the antidote to their mess. "Fuck you. Let's eat."
They sprinted the west side of the mile-long, two-story warehouse to where the Aluminum stairs were, entering the door at the top of the stairs. They entered into a garden with plant vines growing all over the place. Kat's experiments were successfull, thought Isaac.
Making their way to an adjacent door, the vines reached out for them. Isaac slashed each one with the machete he held in his hand.
Out the door, into the main area of the warehouse, they were shot at from across the way from an office. They scaled down cantilever racks and made a beeline down a long row. Isaac, out in front, got clothed-line by the vamp's arm when they reached the end. The vamp hissed as he ground pounded Isaac.
Imani broke off, heading to the humans who sprayed a hail of bullets at her. She grabbed an unopened bottle of milk lying out on a table, throwing it at one of the men firing from behind a forklift. Hitting him square in the face, the man stumbled back, blood pouring down his face. He stopped moving as paralyzes quickly immobilized his body. He stood, dying.
Breaking the emergency glass in a flash, Imani grabbed a fire extinguisher. She sprayed the area where the other human shot at her from, creating a wall of fog that only she could see through with her vision. The man felt the bite in his neck moments after his gun made a clicking sound, an indication of it being time to reload.
Imani dropped him, relieving him of his M16 and the extra clips.
She was fast but watching the liquid movements of the vamp was hypnotic. The vamp landed his fist square to her sternum, sending her ten feet up in the air. She landed in a dump hopper with metal spikes, which perforating her body. She screams.
The vamp seated himself on the edge of the container. "You wanted me. Here I am."
THE END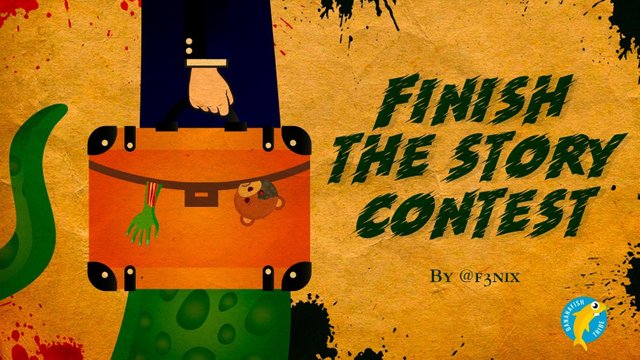 ---
---
---
If you are enjoying my work, please -
===
Upvote my posts through steem auto and add the other people and groups you would like to support.

Support me and others through steembasicincome shares. (This also helps you because you will also get a share for sponsoring somebody.)

Click here --> Steemmonsters. This is an offical affiliate link. So, not only will you get awesome cards, but you will also be helping me out.

Send steem directly to me! because you want to. 8-)
---
---
Coming to you from arcange, a friendly warning to all who want to be successful on the steemit platform:
A bit of paranoia is the basis of security.
There are a few simple rules to follow in order to avoid having your account hacked:
Rule 1: NEVER, I repeat, NEVER use or give your owner key or password!
Rule 2: Use your posting key to login, post and vote on trusted websites like steemit.com or busy.org.
Rule 3: NEVER give your active key as this key allows to control your funds! Only use your active key for special operation like money transfer or account update on trusted websites like steemit.com.
Rule 4: Anywhere else, if you are requested to provide any of the above key: RUN AWAY!!!
---
---
Tools:
---
---
Ongoing Contests