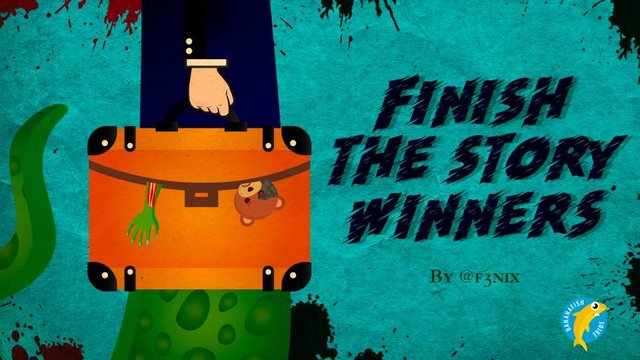 Hoist the colours, proud fiction writers!
I don't want to write. It's your fault. Why, why and then *why* you write such bloody accurate, coherent, original and entertaining pieces? Can't you just dump in the steemit blockchain a shitpost like everyone else? Shame on you!!
So, yes, I don't want to write. Consider my sentence above as a sufficient meal for your writer's ego, for today. It's late and the last bit of my father's birthday tiramisu cake is watching me from the pillaged terrine with a smooth and seducing gaze.
I don't want to write. God, I'm knackered. Worn out by 13 amazing entries, of which SIX received a well-deserved curie vote. A total record. Oh, and welcome to our new members of this potassium enhanced family:
@sevendust04
,
@maparari
,
@jadams2k18
. And, of course, welcome back
@randomwanderings
(and thanks for your final coup de grace by not linking your story :-P) and it's awesome to see you again with us
@erh.germany
!
I don't want to write also because I spent a good hour debating and brainstorming with
@calluna
- our skilled co-writer of this week's edition - about the winners and reading again all the entries. And you all know how her multi-quantum brain CPU works. And that's why I'm writing: because writing sometimes doesn't depend on someone's will but it's just an act of necessity.
[Insert here, for a dramatic effect, Ludwig van Beethoven - Symphony no. 7 in A major, Op. 92 performed by Von Karajan]
[For a further dramatic effect, if you want to particularly torture yourself, insert here a random looping scene from Бронено́сец «Потёмкин»]

... And the winners of this potassium laced edition are:
And that's all banana-folks! See you tomorrow with a gem by @gaby-crb and the precious curation of @ntowl!

Sustain the @bananafish project through your delegations! We're a selfless inclusive and decentralized community, we put our heart in what we do and a lot of passion and everyone will be abundantly rewarded for their generosity as the @bananafish will keep growing. Here you may find a guide by @marcoriccardi on how to delegate or join the trail
A special thanks to @gwilberiol, @dirge, @tristancarax, @theironfelix, @raj808, @brisby, @maverickinvictus, @cyemela, @marcoriccardi, @hidden84, @calluna, @oivas, @ntowl, @f3nix, @felt.buzz, @khasa and @vdux for their precious delegations, making this project a reality! If you like this contest..SPREAD THE GOSPEL! We're grateful for your resteeming and word of mouth. Everything helps to grow together!