Korean cinema strikes again and this film is something you definitely do not want to watch with your parents unless you have a very different relationship with yours than I do with mine.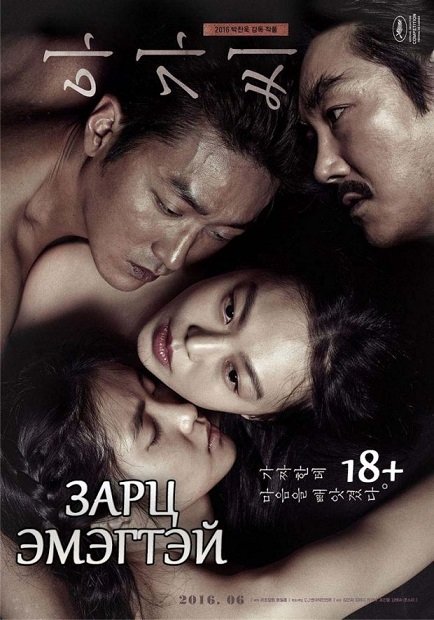 it says 18+ for very good reasons
The story takes place in Japanese occupied Korea although the exact time is not made clear. It is a story of a poor Korean girl who works with people who dabble in not-exactly-legal practices like counterfeiting, pick-pocketing, and overall con artistry. One of the young girls in this con artist family is Sook-hee who has been selected to take part in an elaborate plan with a fake aristocrat named Count Fujiwara to seduce a Japanese heiress, get her to marry him, then have her committed into an insane asylum in Japan. Sounds difficult, right?
Well it is difficult to explain this movie without spoiling it so I will do my best to not do that.
Basically, the movie is told from 3 different perspectives and just once you think you know what is going on, it gets turned around on you. This is what I LOVE about Korean movies. For most of the Korean films I have bothered to watch the viewer never knows exactly how the story will end. This is extremely uncommon in Hollywood where 99% of the time you know the good guys are going to win, it is just a question of how.
You need to be made aware that this is categorized as an "erotic psychological thriller" - which in case you don't know, means there is going to be boobies and sexual situations in it.
The cinematography is just stunning, the music is perfect, the time-period costumes are all spot on, the set design is second-to-none, and the acting is flawless (and how difficult must it be to find people that speak Japanese and Korean but are also great actors?)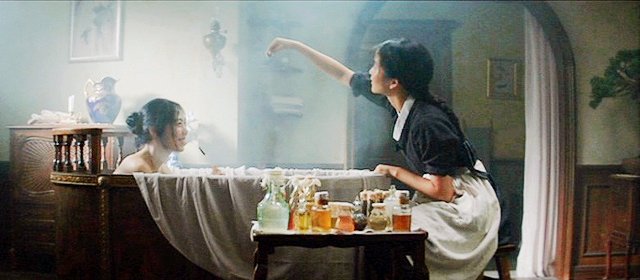 the heiress is in the tub and the handmaiden is well, next to it
This movie is a bit long but to be honest I wouldn't say I was ever bored except maybe during some of the library sequences where the heiress' perverted uncle invites other rich people to listen to "erotic stories."
The film received almost entirely positive reviews and went on to win a bunch of awards in Korea and also (which isn't common) to win a bunch of international awards as well. This includes being nominated for 3 awards at the Cannes Film Festival and winning one of them.
This trailer doesn't really tell you a lot about the film because well, if they showed much more it wouldn't be allowed to air anywhere and also it really is hard to talk about this movie without spoiling the twists. This is the same reason that I have intentionally not said very much about it.
This movie is on a bunch of official critics top-ten lists of all time. It really is a good film unless you are a prude or will get in trouble for having boobies on your screen.
9 / 10