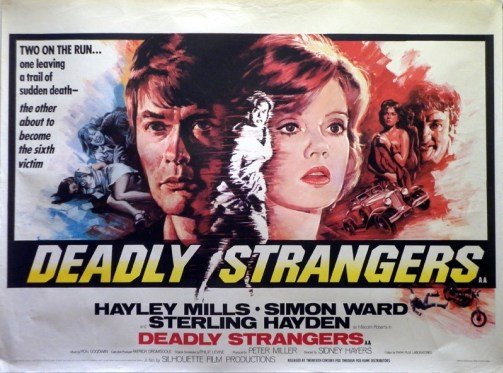 Source: MoviesAndMania.com
---
One nurse and one doctor are incapacitated after the escape of an inmate from the Greenwood Mental Hospital. The escapee then steals a car and kills the owner, vanishing into the night.
Cut to the interior of a local truck stop, where the beautiful Belle Adams (Hayley Mills) arrives, having just missed her train, and looking for a ride. She catches one with lorry driver Jim Nicholls (Ken Hutchinson), but fights him off when he tries to rape her as payment for his services. Fortunately for Belle, she's able to get away from him. Also fortunately(?), she's picked up by a young man named Stephen Slade (Simon Ward) who saw her in the truck stop earlier, and who offers her a ride since they happen to be travelling in the same direction.
What Belle doesn't realize, but the audience does, is that Slade is driving a car identical to that of the one stolen earlier in the film. She does notice, however, that he's acting quite erratic and is desperate to avoid any encounters with local law enforcement. He claims it's because he's had a bit to drink, but Belle isn't oblivious to his strangely voyeuristic ways when it comes to peeping on a female gas station attendant, nor his sudden violent outburst when a pair of bikers don't allow him to pass.
Belle and Stephen's lives have intersected fatefully in rural England, and the police are on the hunt. But can they catch up before another victim is added to the growing pile of bodies in their wake...?
---
If you only know Hayley Mills from her Disney days, from her wholesome comedic roles in films like The Parent Trap, Pollyanna, and That Darn Cat!, then Deadly Strangers will take you by surprise. Director Sidney Hayers does his level best to help her shed that "good girl" image, offering up a script with twists, turns, and even a couple of nude scenes. Did you know Hayley Mills ever took her clothes off for the screen? Because I sure didn't.
This is an 88-minute cat-and-mouse game which does an excellent job at keeping the audience guessing at the eventual outcome, and just when you think you've got it figured out, Philip Levene's screenplay yanks the rug out from under you again. It's good this film is so short, as two hours would be far too long for this kind of feature. An hour and a half though? Perfect length, allowing not only for a great build-up of suspense but also just enough down-time for us to re-consider what we think we know about our leads.
Following this film and a few other thrillers that didn't really go anywhere, Mills returned to the "good girl" image which had served her so well early in her career: a teacher in the single-season Good Morning, Miss Bliss television series (which morphed into the sitcom Saved By the Bell), a trio of made-for-television sequels to The Parent Trap, guest appearances on shows like The Love Boat and Murder, She Wrote, and other family-friendly fare. It is for these roles that she's best-remembered today, but now you've got the chance to see her taking a walk on the wild side thanks to Deadly Strangers: