CHRONICLES OF THE UNNAMED WANDERER 7
Open the gourd and pour me a calabash of water. The sun's thirst is upon me and my throat is parched. The earth is hard as baked clay and my hoe could barely scar her skin. I could not plant a thing, my beautiful one and the seeds are rotting. I met those cattle herders living at the edge of the village. They were coming from the stream. It is dry my dear. The blood of our land has dried to dust, my beloved. They were leaving, they told me. They had their property on their backs and their faces were turned away from the sun's shadow. There will be no dried dung to fuel our evening fires now. There will be no milk to cool our lips when the heat becomes a second skin on our skin but this is not the worst of it. Mataki, the king's steward's first born? He is dead.
Silence.
---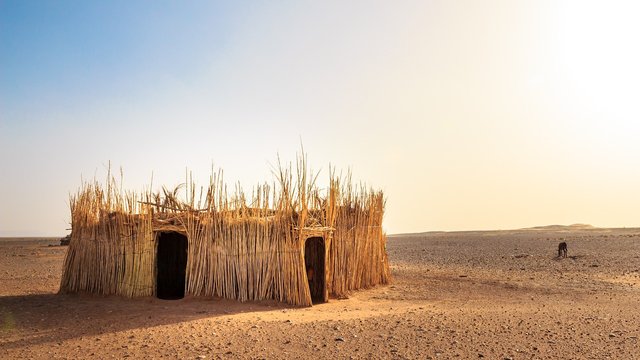 pixabay : Free-photos
---
Are you okay, my wife? Here, have some of the water. Did I say something wrong? Why are you so pale? The heat is too much, I swear. It is as if the gods seek to punish us for something we did. Where are you going to? The palace? Why? You think I would lie about such a thing as the king's steward losing his first son? What sort of man do you take me for? I saw the body with my own two eyes. What is wrong with this woman? You act as if the boy was your brother or a close friend. Wait! Oh Nadiri! Oh not this, Nadiri! Not this. You cuckolded me with Mataki? Oh you fool! What have you done? What have you done!
Tears, sniffles, more tears.
Your tears mean nothing. You know what this means, don't you? We would have to be cleansed and you will be asked. What will you tell them? That you allowed Mataki to climb on top of you and play with the hair between your limbs? You have killed me, you know that? I gave you everything. I married you against the wishes of my family. I fed and clothed you in rich wrappers and the sweetest fruits. What more could a man do for a woman? If you didn't love me why did you marry me? A priestess asked you to marry me? Why? Tell me why? Nadiri come here! Nadiri! Na...
---
I open my eyes to darkness. I shudder as the smell of rotting flesh hit my like a physical thing. The heat is thicker than the smell and I can hear the scratch of rats as they devour the body near me. I shift as much as I can, my manacles clanking, drawing the attention of the rats. They raise their heads in unison, stare at me then they turn away, back to their meal. The fingers of the blind old man have been eaten clean and his knuckle bones gleam white in the tendrils of moonlight sipping through the spaces that serve as windows.
Island of bones. That phrase has bothered me since it returned to my thoughts. I know of no island that is made of bones or an island filled with bones. Besides what are the bones made of? Are they human bones or the bones of birds? I have never liked tricks and the like. This quest is beyond me besides I doubt if I will leave the space that I have found myself. I struggle to a sitting position and the knuckles catch my eyes again. The hand is curved as if it is carrying something inside it, as if it is about to cast bones or cowries for divination. Suddenly I knew what it means. I need to get that hand away from those rats. I almost laugh when I consider what I was going to do except it wasn't funny.
I struggle close to the smell and tried to ignore the red eyes staring at me. I study the wrist of the hand and consider that it would be impossible for me to break it with the meagre strength I have at the moment, so I turn around looking for something heavy to break the wrist off the body. I find nothing heavy enough to get the deed done. I sigh and turn away when one rat that I had not noticed attack my feet. I am not fast enough for it gets my tight big toe between those knives it has for teeth and begins to worry my flesh and bone. I struggle with it and kick it off but it holds on with all that it has and soon the other rats seeing my predicament and probably smelling my blood in the air, begin to inch forward. Then one takes a piece of my thigh and another, a piece of my arm and then they rush at me in frenzy.
Have you ever fought desperate giant rats eager to eat your flesh and drink your blood? It is not some story to tell little children. I killed rats, I tell you. I was a great warrior that day. I break spines and tear heads from torsos. I defeat hordes upon hordes of inhuman monsters and when it is done and I am alone, I realise that I have been fighting and thrashing by myself. There was no rat, not one. My skin is still intact. Oh wait no! My big toe is gone. Where it used to be is now a healed wound. I know I was under a spell but I didn't know who did it or how to get out of it. I have no power. The only thing that still remained true in my world at that moment is the body and it still stank as bad as I had thought or dreamt.
I struggle to the body and grab the hand. I sruggle with it, bending it back and forth but my strength is not enough then I see my manacles and I begin to use it on the bones. Luckily the manacles are heavy as they are meant to help prisoners sink fast if tossed into the sea. The wrist soon cracks and the hand separates from the body. As soon as I hold the hand, a voice speaks in the darkness;
"He wanders between life and death,
Killer and redeemer.
He is lost within himself but
He seeks to find and save the world.
Wanderer from sea to shore,
From desert to oasis.
Toss the bones and see,
Toss the bones and begin."
I look at the bony hand in mine and in the middle, the cupped hollow, are knuckle bones of a little child. I pick them from within the bony hand and I toss them. They are five knucklebones in number and they land in a circle. I begin to laugh even as a hole opens in the air, even as the hatch opens and someone climbs down the ladder, even as man steps through the hole in the air and calls me by my name.
---
©warpedpoetic, 2019.