Strong hands grab me under my armpits, lift me up and toss me over broad shoulders. I watch the ankles of the huge man that carries me as he moves through the undergrowth by the shore. The old man walks in front of us, humming a tune. I feel pity for the virile young man that has come in contact with me. Except the old man knows some remedy, the plague will have him by night fall. I fade out of reason and fall into darkness. In that place, Nadiri waits for me.
---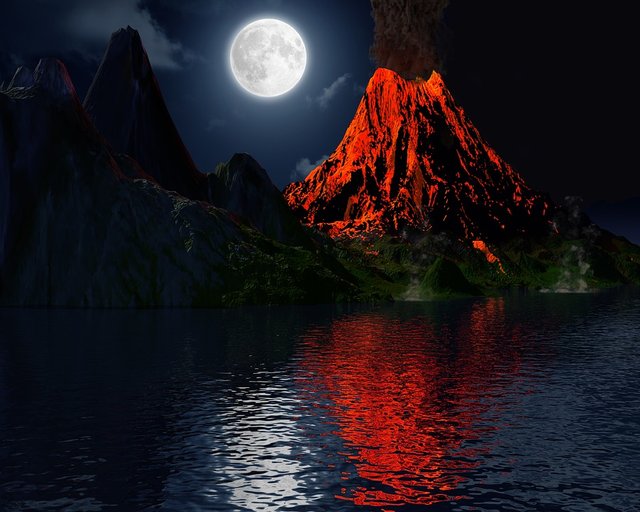 Pixabay: Alex Antropov86
---
She is dressed in black, her beautiful ebony skin covered in ashes and dust as those who mourn cover themselves. She sits on a stone by the shore of the sea that bounds our island home. How I hunger after those green trees and the volcano that sits in the middle silent for ages since. How I hunger to listen to the sea rushing to kiss the shore and rushing away in different tides. How I long to pick pebbles and cowries, clam shells and crabs from the shore as I used to do in what feels like another life ago. But I am more focused on the figure of my late wife spread before the wild sky and the setting sun. I want to run to her and hold her, wipe her tears and tell her that I am fine but something holds me back. There is something that whispers at the back of my head. This dream is different. She turns to look at me and I know this to be true.
"How the mighty have fallen, wanderer." She whispers. It is her lips that moves but the voice is not hers. Something is very wrong.
"You are not Nadiri. Who are you to dare invade my dreams?" I ask in a bluster.
"Dare? You think I dare? You who have invaded my dreams and that of many for thousands of years? You who have invaded my waking hours for longer, you speak of dare?" the anger that suffused the face subsides to a soft smile and Nadiri gets up from her perch and wanders to me.
I stumble backwards trying to get away from the thing that has invaded this private space where I can relive the cherished wishes I never saw come true. She keeps on walking towards me, the sea roaring behind her. Her braids weave with the wind at first then they curl and spread away from her face and turn to face me. The tips of the braids have eyes and tongues. They have become snakes. This is no longer a joke. I turn as I move backwards and I realize that we were no longer on a shore but on the mouth of the long dormant volcano at the center of the island. The thing is, it is no longer dormant. I am stuck between bad and evil and evil seem to control my dream. I could have screamed if I had control over my vocal chords but my throat is locked and dry.
"You know you primitives have a certain bravado that I would have enjoyed spending time to understand and maybe catalog but I don't have time to exchange notes with you. I would like to know this, what did she tell you?" the thing pretending to be Nadiri asks.
I shake my head but I do not mean it as a refusal to speak but rather as a refusal to believe that I, destroyer of peoples, denier of gods, the last groit of a race, I am fighting for my existence within a dream of my own making. It would have been hilarious if this is happening to someone else but it is happening to me and it is not funny.
"You deny me still?" the thing asks and before I can catch my wits, Nadiri's right hand is wrapped around my throat and I am lifted over the mouth of the happily bubbling volcano. "What did she tell you?" The thing asks.
"You will make him go mad, Medusa. You lack subtlety. Get away from him." A voice, I have never heard speaks from behind me.
The thing immediately drops me and Nadiri looks at me and smiles;
"Why are you standing there? Come and sit by me, let's talk." She says.
I stare at her in horror. Sit by her? Did she not want to throw me into boiling lava a few seconds ago?
"What is it my love? You look scared to see me." She says; a soft mischievous smile on her lips.
"You are strong to have created such a bubble. Not many in my time can achieve the perfection that you have made here. Yet all you do with this power is to recreate a life that is false." The voice says.
I have forgotten the voice. I turn to where I can hear it and see nothing. There is no one there.
"I am not in your dream, wanderer. If I come there, you will die." The voice says.
It is not a threat, I know it. It is a statement of bland fact. I know fear at this moment. I turn to look back to see Nadiri talking away as if nothing is different. I suddenly realize the stupidity that lies at the base of this bubble of memory that I have claimed as true. I have been trying to replay a past that never existed. It is a waste of power. I begin the ritual of banishment. It was time to erase the memory of Nadiri from my dreams.
"You have learnt something, have you not? We will meet wanderer, you and I. You will not destroy all that I have built." The voice says.
The ritual complete, I watch as the memory of what could have been shudder and fall as dust to my feet then fly with the wind into the raging sea. I feel a part of me go with it. I let myself go and I open my eyes to see a monkey peering at me. The shadow of a fire flickers on the wall beside me, giving the monkey a bigger shadow than it needs. The monkey jumps back on seeing my eyes open. I raise my torso up slowly, worried that my drowning and the rough sea might have broken something.
"There is food. Eat and gather your strength." The old man says.
I turn to the sound of his voice and see him. He is seated on a mat, and before him are bones spread in the same manner as my cowries spread when I seek to understand the world beyond the physical. He is a seer and he uses bones instead of cowries. I look closely and shrink back in disbelief. He uses human bones to spy the future.
As if reading my mind, the old man raises his head and peers at me. His eyes are milky white with blindness but he seem to see me well enough. He smiles
"Your cowries are bones of sea animals; small, minute, unwieldy. They scratch the surface of the veil. Human bones take you through the veil and you get see things for yourself not the recreations of spirits who often times have their own agenda." He says.
I hear footsteps and turn to see a door push open and the night air rush in. It is soon blocked by the body of the huge man who carried me early on. He comes to where I sit and drops a plate of brownish looking liquid swimming with some suspicious looking bits and pieces. I ignore the plate and study him instead. He looks hale and hearty enough, no different from the last time. The plague is not working on him.
"Yes, the plague; your weapon of choice. It won't work here. We are not in your time." The old man says.
I wonder how he is doing it, reading my mind I mean.
"What do you mean by you are not in my time? How many times are there?" I ask.
The old man chuckles and gathers the bones from the mat and pours them into a leather bag sitting by his side.
"When you drowned, you were moved from your time to a time before your time. In this time, the plague does not exist. You are powerless here. Eat wanderer." the old man says, pointing to my plate.
I suddenly know that I am going to die here. Someone must be laughing because this is some cosmic joke. Then something clicks; the bones. The bones... I have heard something about bones somewhere but for the life of me, I can't remember.
---
warpedpoetic, 2019.