Punker Notes [Original Novel]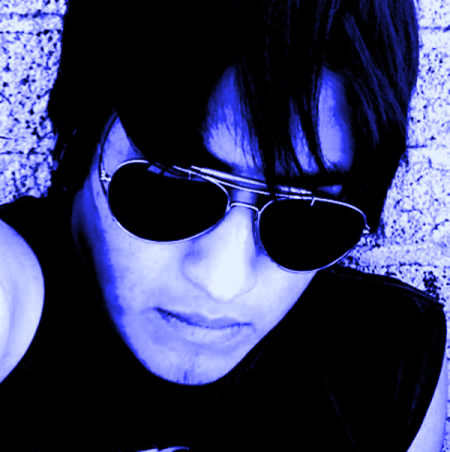 Part Two: Road Trip
Note #19
We
head out of Muskegon on a rainy Monday September morning. Me and Jenkins take the acid as soon as we're on the freeway. Rolling along with a classical radio station on the Cadillac's Delco sound system. We're just enjoying moving down the freeway, the smooth ride of the Sedan Deville and grooving to some Mozart.
Soon the acid kicks it. It's mellow, not too speedy, but not real strong either. There probably won't be any major freakouts on today's journey.
"Look dude, behind us. It's the Blue Highway," Jenkins points in the rearview, the wet road in the mirror appearing blue.
"You know I almost died, on the blue highway," I respond singing the Billy Idol song.
"Yeah...," Jenkins takes the next line, "I lost my lame-ass sold-out hide on the blue hi-ighway."
Jenkins has the tape recorder on the floor trying to record warning vibration sounds as we pull up to a toll booth on the Indiana Toll Pike. The sounds are coming from grooves that have been carved into the pavement with the aim of alerting drivers that they are going to be stopping soon.
"My Uncle Junior said he heard some of those that sounded like they were sayin' real low like, 'slowww dowwwn,' " I comment.
"He musta been drunk."
Deep in Illinois, the sun low over cornfields insects buzzing around just above the crops in golden beams. The heat of a blazingly hot day still hangs in the air. Yellow rays skirt the tops of cornstalks in clear early evening brightness. The weak acid still in my head, I trip out on the serenity of a rural mid-west sunset coming on.
We pull into a rest stop near Cairo, Illinois to crash for the night.
I get out of the driver's seat and climb in the back. Stretched out on the big seat of the Sedan Deville I'm asleep in no time.
Next morning, we stop in Memphis for gas and breakfast then head straight into Arkansas. At Little Rock we veer south hoping to make it to Jenkins' grandmother's house in Harahan, Louisiana by nightfall.
We take the 49 to U.S. 10. Then we're cruising past and above miles and miles of swamp this part of the interstate being a causeway.
"Fuckin' be so cool ta go out there drive around and trip out," I mumble.
"Yeah, some coon-ass probly grab us, put us in a cage or somethin'."


Photo by CirrosisAguda