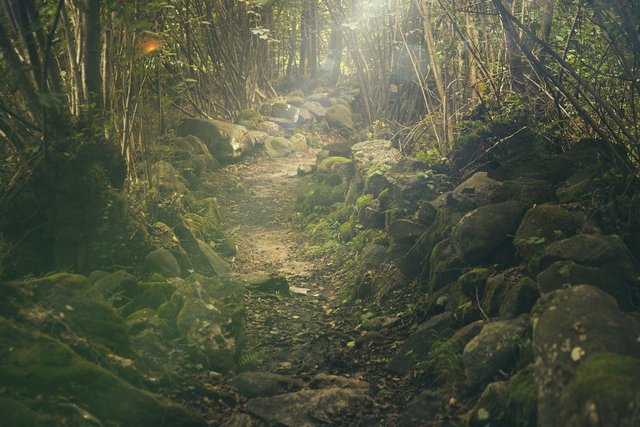 image source
Fatigue made me stop for a while from this far enough journey. That tiredness just came to make my heart beat vibrate faster. The blood flow pump was so intense. This salty sweat poured into my naked body at the time.
My legs seemed to be frozen feeling an unbearable feeling of cramps. Even though I just started this journey through the valley. When the sun was so hot and seemed to burn my body that didn't work. I was tracing the valley to find a new life and get out of city life that made me feel bored.
A splashing sound of water flowed not far from where I was sitting to break away all the fatigue on my body. There is no shady place for me to ride to lay down this body that feels weak. Around me I only saw large, stiff, unmoving rocks. The journey of my new life was so painful it made me feel desperate to continue the journey.
The birds I had never seen before flew from a tree far from where I was sitting. I have tried to distance myself from the dark city life. There is no word to reverse my mind. Life in the city really made me feel like I didn't find the meaning of this life.
Bad man's behavior has tarnished the beauty of the city where I live. In that city, I have lived for decades. When I was a kid, the city was still beautiful and not touched by evil hands. I want to unite my body with this uncontaminated nature. As far as my journey enters this valley I just feel tired.
I started the trip from the city on foot. I tried to leave all the luxuries I had in that city. My car and house in that luxurious city I have left with an air of heart. I was looking for many new things that I had never met while breathing in the city.
Before I had time to think whether I was sure to leave the city. A moment later I began to put my confidence to get out of the city. No family knows about this. Because I was intentional to keep this a secret to everyone. But no, now you know it haha ​​... lol ...
It feels like my body is almost destroyed in the sunshine. I have been silent for a long time near large rocks. Finally I decided to go to the sound of the river. My body began to stand up and swing the steps slowly. My leg is still in pain, I forced it to continue to run until it reached the source of the water.
I began to breathe irregularly, feeling so thirsty. Sometimes when I swing a step, I smile to overshadow what I have done to penetrate this valley. These weak legs continue to swing towards the flow of water. From a distance I saw a river so wide in front of me.
I smiled again and this time even I almost hit hard. There was a sense of pleasure that suddenly appeared in my feelings when I saw this river. My body has sunk and merged with this liquid. I rubbed my naked body with so clear water.
I tried to lay my body on the edge of the river which had two faces of this stream. I can't imagine if I could lay down my tired body on a soft and luxurious mattress. It's possible, because I can make new mattresses from some young tree leaves.
'.....end ....'
[INDONESIA]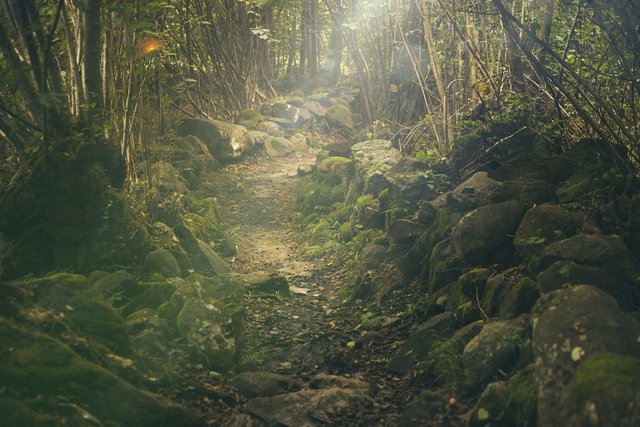 image source
Kelelahan membuatku untuk berhenti sejenak dari perjalanan yang cukup jauh ini. Rasa lelah itu datang begitu saja membuat denyut jantungku bergetar lebih cepat. Pompa aliran darah itu terasa begitu mendebar-debar. Cucuran keringat yang terasa asin ini telah membasahi tubuhku yang telanjang di kala itu.
Kakiku seakan menjadi beku merasakan rasa keram yang tak tertahankan. Padahal aku baru saja memulai perjalanan ini menelusuri lembah. Ketika panas terik matahari begitu menyegat dan seakan membakar tubuhku yang tidak berkain. Aku sedang menelusuri lembah untuk mencari sebuah kehidupan baru dan keluar dari kehidupan kota yang telah membuatku merasa bosan.
Suara gemercik aliran air terdengar tidak jauh dari tempat aku duduk untuk meleraikan seluruh rasa lelah pada tubuhku. Tidak ada tempat yang teduh untuk aku tumpangi merebahkan tubuh yang terasa mulai lemah ini. DIsekelilingku aku hanya melihat bebatuan besar yang kaku tak bergerak. Perjalanan kehidupanku yang baru ini terasa begitu menyakitkan hingga membuat aku merasa putus asa untuk melanjutkan perjalanan.
Burung-burung yang tak pernah kulihat sebelumnya berterbangan dari atas pohon yang jauh dari tempat aku duduk. Aku telah berusaha menjauhkan diriku dari kehidupan kota yang kelam. Tidak ada kata untuk membalikkan pikiranku ini. Kehidupan di kota benar-benar telah membuat aku seperti tidak menemui arti dari kehidupan ini.
Perilaku buruk manusia telah menodai keindahan kota tempat aku hidup. Dikota itu aku telah hidup hingga puluhan tahun. Dulu ketika aku masih kecil kota ini masih asri dan tidak tersentuh oleh tangan jahat. Aku ingin menyatukan tubuhku ini dengan alam yang tidak tercemar ini. Sejauh perjalananku memasuki lembah ini aku hanya merasa kelelahan.
Perjalanan itu aku mulai dari kota dengan berjalan kaki. Aku berusaha untuk meninggalkan segala kemewahan yang pernah aku miliki di kota itu. Mobil dan rumahku di kota yang mewah itu telah kutinggalkan dengan hati lapang. Aku sedang mencari banyak hal baru yang belum pernah aku temui selama bernapas di kota.
Sebelumnya aku sempat berpikir apakah aku sudah yakin untuk meninggalkan kota itu. Sesaat kemudian aku mulai menaruh keyakinan untuk keluar dari kota. Tidak ada satupun keluarga yang mengetahui tentang ini. Karena aku memang sengaja untuk merahasiakan hal ini kepada semua orang. Tetapi tidak, kini kalian telah mengetahuinya haha...lol...
Rasanya tubuhku ini hampir hancur di bakar sinar matahari. Aku telah terdiam begitu lama di dekat bebatuan yang besar. Akhirnya aku memutuskan untuk pergi kearah suara aliran sungai. Tubuhku mulai berdiri dan mengayunkan langkah secara perlahan-lahan. Kakiku yang masih kesakitan ini kupaksakan untuk bisa terus berjalan hingga sampai kesumber air.
Aku mulai bernapas tidak teratur merasakan dahaga yang begitu perih. Terkadang disaat aku mengayun langkah, aku tersenyum membayangi apa yang telah aku lakukan untuk menembus lembah ini. Kaki yang lemah ini terus kuayunkan menuju aliran air. Dari kejauhan aku melihat ada sebuah sungai yang begitu luas di hadapanku.
Aku kembali tersenyum dan kali ini bahkan aku hampir bertetiak keras. Ada rasa senang yang tiba-tiba hadir dalam perasaanku ketika melihat sungai ini. Tubuhku telah tenggelam dan menyatu bersama benda cair ini. Aku mengusap badanku yang telanjang ini dengan air yang begitu jernih.
Aku berusaha membaringkan tubuhku di pinggir sudut sungai yang memiliki dua muka aliran ini. Aku tidak bisa membayangkan jika bisa merebahkan badanku yang lelah ini di atas kasur empuk dan mewah. Mungkin saja iya, karena aku bisa membuat kasur baru dari beberapa dedaunan pohon yang masih muda.
'...end....'

---
Posted from my blog with SteemPress : http://ponpase.com/2018/09/18/about-a-search/
---
**********
Thanks to : @rok-sivante
**********
The Youth Steem Indonesians Community : @pojan, @adilvakhri, @bangmimi
https://steemit.com/~witnesses
---
---
By : @ponpase | From Indonesia
For : Science, Life, Spirituality, Inspiration, Nature, Philosophy.
---
If you like sevenfingers in giving a curate you can also follow sevenfingers CURATION TRAIL Here
---
"Thank You"

---

---

---
---