Jane was trying to have fun. New Year's Eve was special enough. Food had been delicious; everybody laughed, told jokes, kissed, hugged. The fireworks were the best part; they had been an electronic trick on a huge screen; no dead birds or her cats under the sofa.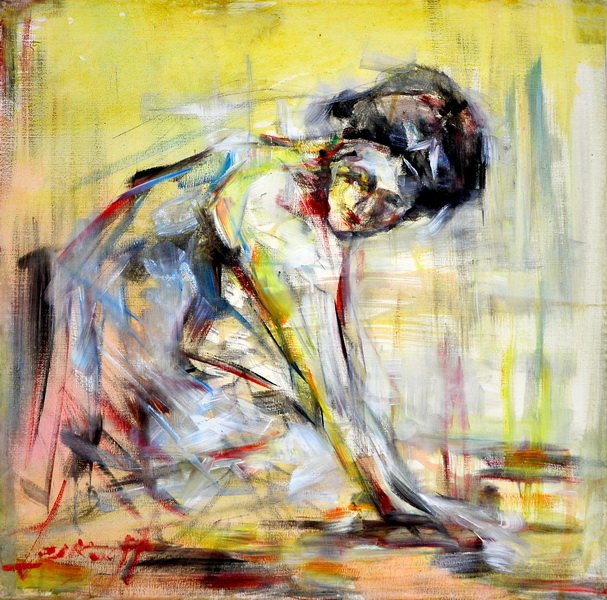 A lady cleaning the floor
by Goran Gatarić (2015) - Image free for commercial use (CC4.0)
She was not the kind of woman—or the kind of person—you would invite to a party. She had a grave countenance and seldom laughed. When she was just a teenager, she had to take care of all of her siblings because their parents had died in a accident; her youth had been a quick visit among floors to clean and food to cook.
A dear friend (George, her high school sweetheart) she had not seen for years had come to town and just showed up at her door. She thought he was about to give her a bad news, but he took a small present out of his bag and said, "Happy New Year!" But there was something he did not say; she could tell but would not say a word, not at the moment. She invited him in and spent a whole hour examining his every gesture, his every word. Everybody was having fun but her.
After she had had a stressful doctor's appointment last week, suddenly her folks wanted to spend the holidays with her. Her brother Mike was the doctor she had seen. What did he know about those tests? Doubts began to annoy her seriously.
They all were cheerful and had brought delicious dishes but no gifts, as if they did not want to waste them in somebody who would not make any use of them?
After merrymaking and all kinds of New Year's celebrations, the morning came, and she got a call from Mike. She had been expecting it; that is why she could not sleep well. He wanted to speak to her, personally and privately (He asked if George had stayed the night and was still there.) He said he did not want to give her anything at the dinner party because everybody was there, and it would have been quite uncomfortable.
All of her aunts had died from breast cancer. She had been having the symptoms; she knew. She thought about suicide. Why not right then, right there? She had the motivation and the pill, only that she was too fond of Mike as to do that to him, be the first to deal with the horror.
Finally, Mike arrived. When she opened the door, he had an envelope in his hand. She knew; however, she decided she would let him speak first.
There were actually two envelopes. One containing the test results, and the other one, his Christmas gift: a check for $50,000. She was healthy but was getting too old to have a baby, so he decided she should relax, meet somebody and have the life she had been wanting but could not have, just until now.

Image Source
A lady cleaning the floor by Goran Gatarić (2015) - Image free for commercial use (CC4.0)


Thanks for reading.
---
Posted from my blog with SteemPress : https://marlyncabrera.timeets.com/2019/01/01/new-year-a-story/
---

Imagen diseñada por @wilins ♥