Our book Voices in the Darkness: Tales from the Steem Blockchain is out! It's alive :) It's electronic!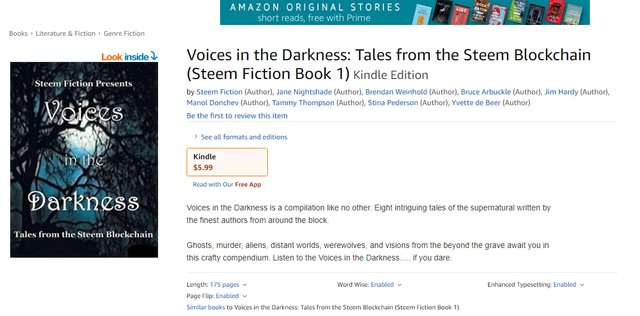 It's supernatural!
Stories authored by:
@janenightshade
@improv
@felt.buzz
@jeezzle
@manoldonchev
@stinawog
@giantbear
@blueeyes8960
Huge thanks to everybody involved, to our ninja editor, to the initiator @jeezzle and the @steemfiction, and to everybody else supporting our work!
What's mine about?
It was actually quite complicated. I decided to work on the task to create a world where nobody can live through the day. Where rebirth is a practical thing. When a lot of things are obsolete. But were they all bad? Is the present worse?
Maybe it's the reader's choice.
I will write some more about it soon enough.
Take care!
Yours,
Manol