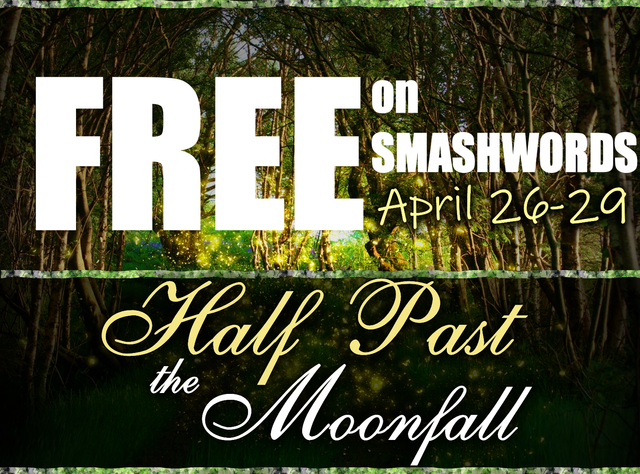 It is said that you should never follow the Min Min Lights; they will lure you away never to be seen again.
So, what does Katéa do? Chase after them of course!
Determined to capture the myth and make her fortune, this young Australian stumbles out of the bush and into a fantastical new world filled with pixies, dragons and perpetually drunk villagers, and even falls in love.
But, not all is ever as it seems. An awakened evil stalks the land and Katéa finds herself in the centre of malevolent misfortune. Can she deafen this disaster she unwittingly helped summon, or will the world be shrouded in darkness forever?
Warning: Contains sexual themes, crude language, and Australian humour.

My
#freewritemadness
novel,
Half Past the Moonfall
, is currently available for FREE at Smashwords!  
Coupon Code: EY47H
Created during NaNoWriMo 2018 via prompts from the @freewritehouse, Half Past the Moonfall is a quirky fantasy romance that won't be the best thing you've ever read, and you may even cringe in a few spots -- I know I do! But it's available for FREE and you might as well add another ebook to your collection, am I right?
😉
I am rubbish at selling myself, obviously. So I'll let @ntowl and @carolkean do it for me. 😅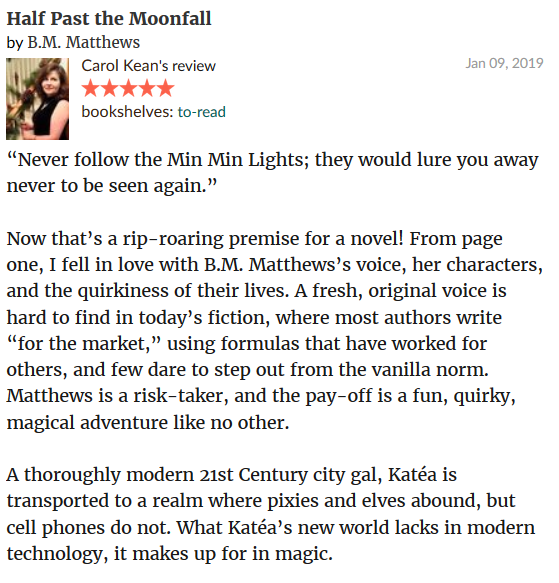 Read more of Carol's review at Goodreads
I would love to add more reviews to this post, but there are none. Maybe you could change that? 😉 ~ If you pick up a copy, I'd love to see a review from you whether you loved it or hated it!
I, the author, don't believe this to be a 5 star novel, so I am prepared for whatever 1 star reviews you have to give me. I am a firm believer that ALL reviews are good reviews, whether they are positive or negative. You know why? Because a lot of people's negative reviews that I've read, of other novels, have been my personal positives!
⭐Our differences make the world go 'round!⭐

Pick it up at Smashwords at the following link:
https://www.smashwords.com/books/view/932861
And the coupon code is on the page! But just in case, here it is again: EY47H

Thank you for stopping by!!!
😀😁😀