IMPORTANT LESSONS FROM THE BLACK PANTHER MOVIE
It was the close of work on Friday and I couldn't be happier.
I had the weekend to enjoy to myself.
Do laundry, eat, and of course, sleep.😜
I had no intention of going out, at least, not for the week.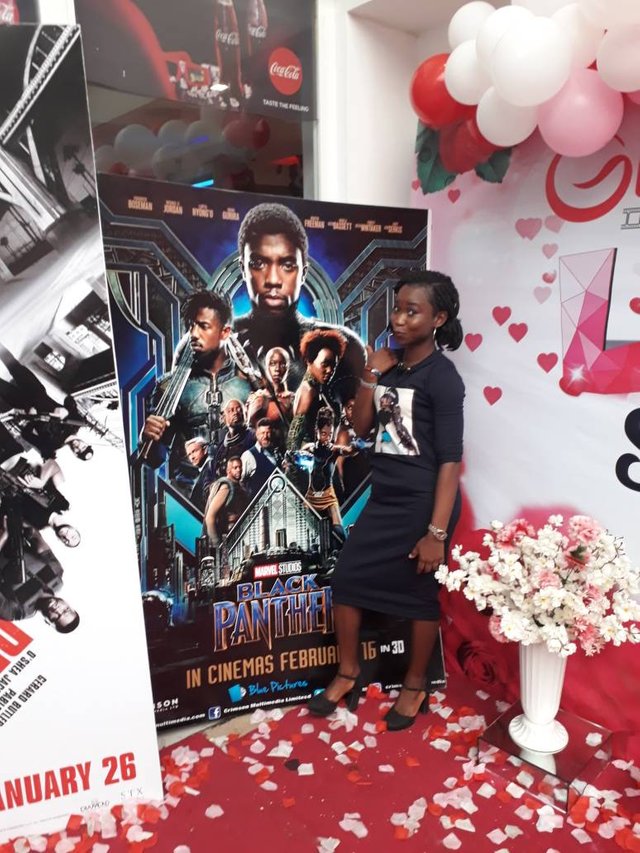 5:03 am on Saturday, while still enjoying the chill of the moment, my phone rang and behold, it was a call from a friend I wasn't even expecting....and the following conversation ensued....
Friend: Hey Juliet, what's up? Long time. You just abandoned me because of last time abi?(Well, last time is a story for another day)
Me: Wow! Good Morning. So you can still call me? Which abandon you? Abi it's you that abandoned me. Please cut the slack.(hissing)
Friend: Ore mi that can vex for Africa. How are you doing na? I know you're angry with me that's why I called to make it up.
I wanted to go see a movie today...Black Panther....so I was wondering if you'd love to come along.
Me: (Excited) Oh yes, of course I'd love to. My friends have been raving about this movie all over the Internet.
Where and when please.
Friend: Okay, I'd love to do my laundry first. It's a 135 minutes movie, so 3:15pm wouldn't be a bad idea, would it?
Me: No No. Not at all. 3:15 is fine by me.
See you then.
I'll call you before I leave home.
.......................................................................................................................................
You needed to have seen the surge of excitement all over me. It was like I had just won a jack pot. I was blushing like a 15 year old who probably just had her first kiss.😉 I was overly excited.
Well, one, I had never gone to the cinemas before. Yeah....I'm just naive like that. And hey, I'm an introvert. So I really do stay indoors a lot. So going to the cinemas for the first time, was definitely something to look up to.
Plus, hello! It's Black Panther....
I mean, it's been the talk on the Internet since it's release date and even before it was officially released.
@ewuoso and other friends on Whatsapp were frequently raving about it like we were aliens who hadn't seen it.
So, I wanted to see it so bad.
......................................................................................................................................
I couldn't get back to sleep as I kept turning and tossing on the bed till it was finally day light.
I immediately jumped off the bed to do my laundry humming as I did so.
And in no time, I was done and ready to leave.
Fast forward to 2:30 pm and we were at the venue about to purchase tickets for the movie, only to be told "Tickets sold out"
What? I silently screamed.......
It's not possible o.
I must see that movie today.
When I had bragged to a couple of friends already that I was going to see Black Panther.
This has got to be a joke.
My friend saw the disappointment on my face and made to enquire if there'll be another time for the same movie and we were told there's one for 4:30pm only if we could wait.
Well, do I have a choice?
I chose to wait and had to go find something to fill my stomach as it had already starting singing wacky songs.
I actually forgot to eat before I left home....🤔🤔🤔
Who does that?
For the love of Black Panther.😜
Well, 4:30 almost didn't come and I almost got infuriated by waiting but eventually, it did come and off I was to take a sitting position just where I could see everything "as e dey hot". Lol....
After all the series of annoying adverts, the movie finally took off.
I was able to pick up a few lessons which is actually the essence of this post.
Yeah, I always pick a lesson from any and almost every experience.
But before we go into the lessons, let's quickly have a feel of some the characters of the movie.
T'challa is the Black Panther and the young king of Wakanda.
Nakia is T'challa's ex girlfriend
Erik Killmonger is T'challa's cousin whose father was killed by T'challa's Father.
Shuriis T'challa's sister and a technology savvy lady.
Ramonda is T'challa's mother
Okoye is the head of the Dora Milajae( Female Warriors)
W'kabi is Okoye's love and T'challa's friend.
M'baku is the leader of the Jabari people(One of the tribes that makes up the Wakanda empire). Gorilla city.
Zuri is a trusted friend and adviser of the king(T'challa and his Father).
Wakanda is the name of the city and they mostly made mention of Vibranium.
A Vibranium, according to research is a strong metal which can never be penetrated by any weapon.
Now, let's dive into the lessons....
Courage:
I was awed by T'challa's irrepressible courage whenever a challenge presented itself. He almost didn't give it a second thought. he was always ready to face the fight.
This can be applied to life as, for you to succeed in this life, you must be extremely courageous. Just erase any iota of doubt from you and have faith that you'll be successful.
Strategy:
Ramonda was one of T'challa's advisers when any problem arose.
Whenever they needed to execute anything, they sat together and planned a strategy which would be used in executing their enterprise.
Never venture into anything without a laid down strategy. Without a feasible strategy in place, your plans may flop.
Loyalty
I love the loyalty displayed by the head of the Dora Milajae's. Even when Killmonger became the new Black Panther, they remained loyal to him.
In life, there's one person we must remain loyal to, no matter what. And that is, the God factor in our lives.
Preparation:
It took Killmonger, about 9 years after his father died to prepare to take revenge for his father's death. According to him, he killed several people just so he could kill T'challa and overthrow him.
Preparation is very key in whatever pursuit we engage in this life. Don't say there is no time. If you want to be great at anything, you must be extremely prepared to be the best.
I've heard of great athletes who prepared for years just to achieve a certain victory.
Know When To Keep A Secret And When To Tell It
It was the secret that Zuri opened up to T'challa that gave him an idea of Killmonger's mission.
Some people don't know how to keep a secret... And others don't know when to speak up.
There are some secrets that are meant to be kept forever and some that should be revealed at some point.
Know when to do which and act accordingly....
That'll be all for the lessons.
I ho gae that you picked a thing or two from this.
And if you've watched the movie and learnt something not included here, please share with us in the comments....
Thanks for following through....
I remain....yours truly, Juliet Israel.