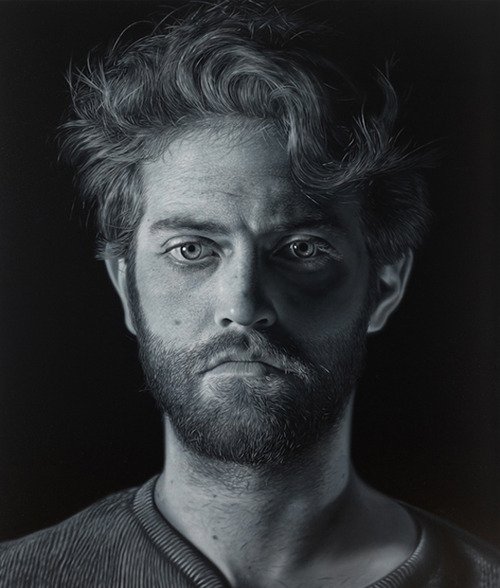 the abyss you stare into and that stares back at you is your reflection
in the mirror - we all have it - that shadow self - that dark heart


I never liked myself—even as a child. I always felt an imaginary audience watching me—applauding or hissing my every move.
Mostly hissing.
I was hypersensitive and painfully self-conscious and those inhibiting qualities led me, I believe, to enter a rather boring profession—I became a used book dealer in downtown Toronto.
Although well educated and a lover of books, I never ended up the hero of my own story. I always felt my temperament constraining me, holding me back, and preventing me from achieving my true potential.
I think it was more this than anything else that led to my great lie.


Walter Towne, a local artist, was in need of a copy of Machiavelli's Mandragola—I found him a rare copy and in gratitude, he presented me with a wonderful ink portrait of me.
It was a sketch really, but seemed to elevate and ennoble my features. I hung it on the wall above the fireplace and would stare at it evenings, a glass of Medoc in hand.
Whatever became of the dream Richard?
I asked myself that question every night.


One night I decided to do something about it—something daring and slightly risqué.
I opened a Twitter account using the pseudonym Scott Finney—an amalgam of my two favorite authors—Jack Finney and F Scott Fitzgerald.
But I needed an occupation befitting my real potential.
I opted to be a psychiatrist—and not just any shrink, but a truly noble soul—I imagined myself going to the Third World on mission trips to aid traumatized victims in war-torn areas.


I was to be a true Doctor Without Borders—Doctor Scott Finney (Psy. D.)—Itinerant counsellor to the downtrodden.
In lieu of a picture, I uploaded the sketch.
I had no idea how people would respond, or if the ruse would succeed.


But succeed it did, beyond all expectation—in my first week I had six hundred followers—in two months, I had ten thousand.
My Klout score was in the mid-seventies and on that basis, found myself being offered free meals in restaurants, paid luxury suites in hotels and discounted air fares.
Then it happened, late one night when I felt reckless and arrogant, a woman, Marie Sevigne, began tweeting to me.


You should write a book. Your advice has helped me so much in my personal life.
How should I respond? The suggestion was absurd.
I haven't time right now with all my commitments – maybe in the future.
She persisted: We need your expertise and advice, Doctor Finney – I'll start an on-line petition.
And so it went, night after night, until finally, I relented.


Within a month I scraped together enough money to self-publish 500 copies of Reaching Your Potential. I had them published at a small vanity press and offered them for sale on Amazon.
They sold out the first day.
I went back and placed a rush order for 2,000 and they sold within the week.


Suddenly, my book sales went to the top ten on Amazon.
Barnes and Noble, Book Off USA and Books-A-Million were requesting huge shipments to meet demand.
I found myself traveling to book signings in New York and Chicago and even at the large Chapters bookstore in downtown Toronto.
It was then that the dream began to unravel.
To be continued...
© 2017, John J Geddes. All rights reserved
Photo