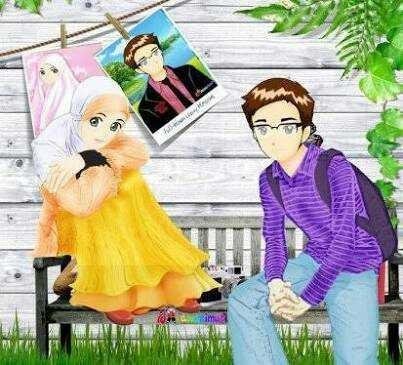 Source image
Pagi kembali menyingsing tatkala aku bersimpuh diri di atas sajadahku. Aku bangun, aku harus melakukan hal besar hari ini. Aku memutuskan untuk menemui Fajar hari ini. Aku ingin akhiri semua cerita cinta yang salah ini, aku tawakkal dengan apa yang akan berlaku setelah ini. Setelah aku bersiap-siap, aku kirim sms untuk dia, aku bilang aku ingin jumpa sekarang dan seperti biasa, dalam hitungan detik dia membalas sms ku untuk memenuhi ajakan ku. Aku jumpai dia, di taman tempat kami sering berjumpa.
morning back dawn when I kneeling self above mat me. I wake up, I have to do great things today. I decided to meet the dawn of today. I want to end all love story wrong this, I resignation with what will happen after this. once I get ready, I send SMS to him, I said I would like to see you now and as always, in seconds he reply SMS me to meet the call me. I have met him, in the Park where we often met.
"bg, putri mau kita sudahi saja cinta yang salah ini. Insya Allah, kalau memang abang jodoh putri kita akan dipertemukan lagi walau kita tidak pacaran. Putri rasa ini salah, tidak ada cinta sejati sebelum menikah." Aku memulai pembicaraan, tanpa basa basi.
"putri, kenapa putri harus mengeluarkan kata- kata itu lagi. Putri sudah berjanji tidakkan melakukan hal yang sama seperti tiga kali yang sudah putri lakukan untuk mengakhiri hubungan ini. Karena putri tahu kan, kalau abang cintakan putri dan abang gak mau pisah dari putri". Ungkap Fajar.
"iya bang, putri tahu abang cintakan putri tapi cinta kita ini salah bang. Putri harap abang mau mengerti, karena ini untuk kebaikan kita bang." Bela ku.
"okay, kalau memang putri ingin akhiri semua abang tidak akan merayu putri panjang lebar seperti yang abang lakukan sebelumnya, karena putri sudah berjanji tidak akan mengulangi hal ini lagi, tapi nyatanya putri lakukan lagi. Abang terima dan penuhi semua permintaan putri, tapi ingat setelah hari ini anggap kita tidak pernah kenal dan mungkin kita tidakkan bertemu lagi. Aku (sebutan abang berubah jadi aku, dan dia tidak memanggil nama ku lagi, tapi "kamu") gakkan mengatakan panjang lebar lagi pada kamu, karena kamu sudah tahu. Bagiku, kalau sudah berakhir gakkan bisa disambung lagi". Jelas nya
Aku dengan air mata mengalir, tetap mencoba meyakinkan dia:"abang, jangan lakukan itu. Kita ini hanya pasangan yang belum dihalalkan, jadi tidak pantas abang mengakhiri hidup abang hanya karena ini, atau abang keluar dari agama yang benar ini. Aku yakin, kalau memang abang berjodoh dengan putri, kita akan bertemu lagi. Abang harus jadi orang yang dekat dengan-Nya karena itu adalah impian putri. Putri bukan tidak mau berhubungan dengan abang, tapi andai abang halalkan putri, putri bersedia."
"percuma, kamu silahkan pergi. Tinggalkan aku disini, biarkan aku hirup udara hari ini nanti malam aku putuskan apa yang akan aku lakukan pada hidupku. Aku telah dilukai oleh gadis yang begitu aku sayangi, jadi aku tidak ada alasan untuk hidup dengan baik. Karena, segala sesuatu yang telah patah pasti akan tajam. Kaca kalau sudah pecah, pasti akan melukai. Begitu juga dengan hatiku yang telah dihancurkan".
"abang"
Pergi kamu, aku gak mau lihat wajah pembohong seperti kamu lagi". Bentak Fajar. Aku begitu ketakutan melihat dia begitu marah, karena sebelumnya dia gak pernah membentakku seperti ini.
Aku pun pergi meninggalkan dia, sepanjang jalan aku hanya menangis. Aku tidak menghiraukan orang- orang melihatku. Biarkan lah aku menangis untuk terakhir kali nya untuk cinta yang salah ini. tadi malam aku sudah menuliskan surat untuk fajar, sebelum aku pulang ke kos aku mau antar surat ini ke kos dia. Aku letakkan depan pintu kos dia. Setelah itu aku kembali ke kos. Di sana, Nurul menyambutku dengan beribu pertanyaan karena dilihatnya kondisi ku yang memprihatinkan. Tapi aku tak hiraukan pertanyaan dia, aku hanya berlalu menuju kamar ku.
Sementara Fajar, dia menangis karena gadis untuk pertama kalinya. Di taman itu, semua terlihat kelabu dalam pandangan nya. Gadis yang selama bertahun- tahun dia cintai, sekarang telah pergi. Lalu apa arti hidupku sekarang, tanpa dia. Teriak nya. Setelah puas dia luapkan semua emosinya, dia pun kembali ke kos nya. Di pintunya ditemukan sebuah amplop yang berisi surat. Awalnya dia tidak ingin membaca surat itu, tapi karena rasa cinta nya pada putri dia tidak ingin membuang surat itu.
"Dawn, Putri want us to end this wrong love. Inshallah, if indeed your soul mate will be reunited even though we are not dating. Princess is wrong, there is no true love before marriage. "I started the conversation, unceremoniously.
"Daughter, why princess should put those words out again. The princess has promised not to do the same thing as three times the princess has done to end this relationship. Because the princess knows, if you love the princess and you do not want to be separated from the princess ". Reveal Dawn.
"Yes Dawn, the princess knows you love me but our love is wrong. Putri hope Dawn will understand, because this is for our good, "I said.
"Okay, if the princess wants to end all I hope you will not seduce princess as long as you did before, because princess already promise will not repeat this thing again, but in fact daughter do again. you receive and fulfill all the princess requests, but remember after today we assume we never know and maybe we will not meet again. I (the Dawn name changed to me, and he did not call my name anymore, but "you") make a long talk to you, because you already know. For me, when it's over can be connected again ". It's clear
I with tears flowing, still trying to convince him: "Dawn, do not do it. We are just a couple who have not been justified, so it is not proper for you to end life just because of this, or you get out of this true religion. I'm sure, if you're a match with a princess, we'll meet again. You must be someone close to Him because it is a princess dream. The princess is not unwilling to connect with you, but if you do the princess, the princess is willing. "
"It's useless, you please go. Leave me here, let me breathe the air today tonight I decide what I will do to my life. I've been hurt by the girl I love so much, so I have no reason to live well. Because, everything that has been broken will definitely be sharp. Glass when it breaks, will surely hurt. So also with my heart that has been destroyed ".
"Dawn"
Go away, I do not want to see a liar face like you anymore ". Bright Morning. I was so scared to see him so angry, because before he never snapped at me like this.
I went away from him, all the way I just cried. I do not mind people looking at me. Let me cry for his last time for this wrong love. last night I've written a letter to dawn, before I go home to boarding I want to inter-letter this to his boarding. I put him in front of the boarding door. After that I went back to boarding house. There, Nurul welcomed me with a thousand questions because he saw my condition that concern. But I ignored her question, I just went to my room.
While Dawn, she cried because the girl for the first time. In the park, all looks gray in his gaze. The girl she had loved for years, now gone. Then what is my life now, without her. He shouted. Once satisfied he blew out all his emotions, he went back to his boarding. At the door was found an envelope containing a letter. At first he did not want to read the letter, but because of his love for the princess he did not want to throw the letter.
"assalamuaalaikum wr. Wb.
Abang, kalau surat ini sudah sampai di tangan abang itu artinya hubungan kita telah berakhir. Putri tahu, ini berat untuk abang, tapi abang harus tahu juga ini berat untuk putri. Putri lillahi taala mencintai abang, tapi ini tidak bisa dilanjutkan lagi bang, ini semua salah. Dalam islam tidak dibenarkan pacaran, dan kesalahan terbesar putri adalah mengenal cinta terlalu cepat. Putri tahu, abang mungkin tidak akan mau jumpa dan lihat wajah putri lagi. Tapi, putri mau minta satu hal pada abang.
Kalau benar abang mencintai putri, relakan hubungan kita berakhir dan abang harus buktikan bahwa abang adalah laki-laki shaleh yang putri inginkan. 5 tahun lagi, abang datang kerumah putri, pinang putri jadikan putri kekasih abang yang halal. Putri akan tunggu abang untuk jadikan putri sebagai makmumnya abang dalam membangun keluarga yang sederhana, karena putri yakin abang cintakan putri dengan sebenarnya cinta.
Salam,putri
"assalamuaalaikum wr. wb.*
Fajar, if this letter is up in the hands of you that means our relationship has expired. daughter know, this weight for you, but you should know also this weight for daughter. daughter lillahi taala love you, but is not able to continue again, it all wrong. in Islam not justified courtship and the biggest mistake daughter is to know love too quickly. daughter know, you may not going to want to see you and see the face daughter again. but, daughter want to ask for one thing to you. if true you love daughter, relax relationship we ended and brother have to prove that you are male shaleh the daughter want. 5 years again, you came to home daughter, apply daughter make daughter lover halal. daughter will wait for you to make daughter as a congregation you in building family simple, because the daughter sure you love in the daughter with actually love. greeting
Itulah isi surat yang ditulis putri untuk Fajar. Semalaman Fajar berpikir tentang surat itu, apa dia harus tetap hidup untuk membuktikan cinta nya pada putri atau harus mengakhiri hidupnya sekarang. Dilema besar melandanya, tapi setelah dicerna isi surat putri memang ada benarnya. Lalu dia bertekad akan membuktikan kalau dia memang mencintai putri dan akan menghalalkan putri untuknya. Dari sinilah hidup Fajar terasa hidup lagi, dengan semangat membara.
that's letter written daughter to faj. overnight faj think about the letter, what he had to stay alive to prove love his daughter or should end of his life right now. dilemma big hit him, but after digested letter daughter is there a point. ago he determined will prove that he did love daughter and would justify daughter for him. this is where life faj felt life again, with the spirit of burning.